The Surprising Brain Benefit Of Pickleball, From A Neurophysiologist

mbg Beauty & Wellness Editor
By Jamie Schneider
mbg Beauty & Wellness Editor
Jamie Schneider is the Beauty & Wellness Editor at mindbodygreen. She has a B.A. in Organizational Studies and English from the University of Michigan, and her work has appeared in Coveteur, The Chill Times, and Wyld Skincare.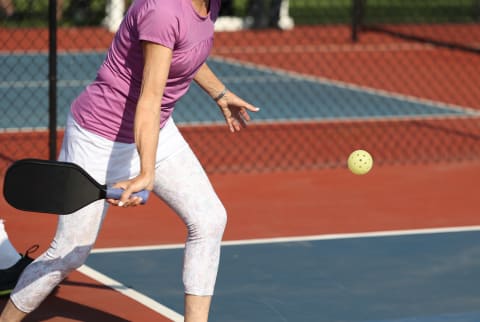 Image by Ron Alvey / Stocksy
May 6, 2023
Our editors have independently chosen the products listed on this page. If you purchase something mentioned in this article, we may
earn a small commission
.
Pickleball's publicist officially deserves an MVP award. The game—a mix of tennis, ping pong and badminton—was officially announced as the fastest-growing sport in America for the second year in a row by the Sports & Fitness Industry Association (SFIA), and it likely won't lose its title anytime soon. More than 4.8 million participants nationwide have become enamored with the exercise (almost double the amount from five years ago, according to that same report from SFIA), and it's easy to see why: it's relatively easy to learn, a great way to get outdoors, and, well, it's a solid workout—especially for those looking for some low-impact movement.
And according to neurophysiologist Louisa Nicola, founder of Neuro Athletics, the game might also have some brain-healthy benefits. Below, discover another reason to pick up the paddle.
Advertisement
This ad is displayed using third party content and we do not control its accessibility features.
The brain health benefits of pickleball 
Nicola is a neurophysiologist who focuses on the intersection of neuroscience and physical performance—and the best exercises are ones that challenge your body and mind. "There is this sub-category of exercise which falls under cognitive exercise [called] proprioceptive training," she shares on the mindbodygreen podcast. "It involves all of your senses: light, sound, touch…everyone should be involved in this type of exercise."
Basically, proprioception is the sense of where your body is in space; your body uses cues from the outside environment to send to your brain, then your brain tells your body how to react. Your proprioceptive function declines as you age1, but training those abilities has been shown to improve functional mobility, balance, gait, and risk of falls2 in older adults.
"You cannot achieve anything without understanding where you are in space and time," Nicola notes, whether you're an elite athlete hoping to enhance performance or someone who just wants to improve cognitive longevity. No matter your specific fitness goals, she encourages regular training exercises that strengthen your body awareness.
For example, she recommends a "really easy drill" in which you throw a tennis ball against the wall and catch it. "You're training [your] visual acuity, because you have to see where the ball is going. You are training depth perception, which is part of the visual system. You're training reaction time and hand-eye coordination," she explains. "You're doing so many different things just with this easy ball."
Now, where does pickleball come into play? Well, the sport doesn't train your visual acuity the same way as the aforementioned tennis ball drill, as catching a ball with your hand requires much more precision than whacking it with a paddle. But in pickleball, "you do have to have hand-eye coordination," says Nicola. "You have to know where you are in space and time, which is a huge thing for proprioception."
Not to mention, pickleball is a social sport—it's a slower-paced game on a smaller court, played in teams—and spending quality time with family and friends is one of the most important ways to protect your brain from cognitive decline. Loneliness is one of the biggest risk factors of dementia, after all; in fact, a study published in the Journal of American Geriatrics Society earlier this year found that social isolation was associated with a 28% higher risk of developing dementia.
It's no wonder, then, that sports like pickleball have been shown to promote mental health3, as well as heart health and improved balance. Pair the practice with a nootropic memory supplement to promote overall brain function, and you're golden.
The takeaway
If you've recently picked up pickleball, you're probably doing your brain health a favor. Not only does the sport help with hand-eye coordination and proprioceptive function but it also doubles as a social activity—and we likely don't have to remind you how crucial social bonding is for longevity. Feel free to browse our favorite paddles here for more power and control. And if you can't gather a group to hit the court, don't worry; a simple game of catch can also work wonders.
Advertisement
This ad is displayed using third party content and we do not control its accessibility features.