Body Mists Are Back & Better Than Ever: Here's How To Wear Them Well

Beauty & Health Editor
By Jamie Schneider
Beauty & Health Editor
Jamie Schneider is the Beauty Editor at mindbodygreen. She has a B.A. in Organizational Studies and English from the University of Michigan, and her work has appeared in Coveteur, The Chill Times, and Wyld Skincare.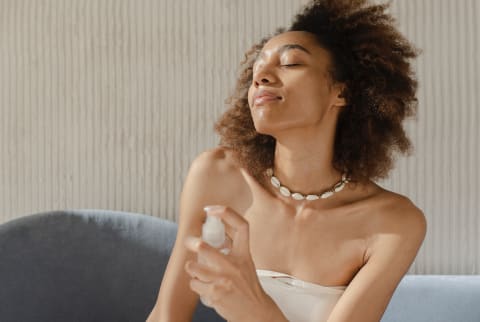 Image by Asya Molochkova / Stocksy
July 27, 2023
We carefully vet all products and services featured on mindbodygreen using our
commerce guidelines.
Our selections are never influenced by the commissions earned from our links.
My middle school memories reek of spun sugar. I know I'm not the only one who hoarded bottles and bottles of an unmistakably saccharine body spray (you know the one), practically bathing in it each morning after fashioning an everyday smoky eye (no? Just me?).
Thankfully, this chaotic routine is very much in the rearview, but it seems body mists are back on the table—and they're better than ever. Imagine the nostalgic body sprays of your youth with an elevated, modern twist.
Behold, the best body mists of the moment, plus expert-led tips that will have you smelling exquisite.
What sparked the body mist revival?
With Y2K inspired, well, everything (spiky buns, frosted lids, chunky belts…the list goes on), it only makes sense that body mists would re-enter the beauty chat. And for those who did experience the body mist boom back in the day, snagging one of these modern versions can help you tap into your whimsical, youthful side.
"There's something about body mists that is easy, lighthearted, and fun," notes Bee Shapiro, founder of Ellis Brooklyn. They're typically less concentrated than your standard eau de parfum, which means they don't have as much longevity, so you can feel free to spray with abandon without fear of overpowering your senses. It's more about an immediate splash of scent than one that develops with wear.
This casual application makes them ideal for summer spritzing, says Debi Theis, president of Henry Rose, especially for those with more active lifestyles. Why? You see, body mists tend to be way more hydrating than other types of fragrance, so they can easily double as a skin refresher.
"They're formulated with water as their base, as opposed to eau de parfums which are [typically] alcohol-based, making them refreshing and cooling to the skin; allowing for liberal spritzing throughout the day and all over the body and hair," Theis explains.
Yet don't mistake their laid-back, less concentrated nature for simplicity—body mists can be layered and complex. They typically focus on a single note, but it's still important to balance out the olfactory experience with other key aromas, and that's what keeps them smelling sophisticated.
So let's stop believing body mists are inferior to perfumes; it just depends on which fragrance experience you're craving on a given day. "I work with master perfumers for both formats—they are just different expressions of scent," adds Shapiro.
How to layer a body mist 
So should you wear a body mist or perfume? Our take: Why not both? When layered correctly, your body mist can enhance your favorite fragrance notes and make you smell divine.
First thing's first: "Make sure that the body spray scent plays well when applied underneath the eau de parfum, and when reapplied on top of it throughout the day," says Theis. As a general rule, you don't want to layer two very strong competing fragrances. It may even be helpful to choose a body mist and perfume with a common note, so they can work together.
For example, Shapiro loves layering the Ellis Brooklyn SAND Body Mist with her SALT Eau de Parfum. Both contain sandalwood and musk, so you know they'll pair well, but it still gives the experience a little something extra. "I think of the body mist as an accent on top that can give an eau de parfum a different energy," she says. "SAND has a sweetness to it, and with SALT's beachy character, it takes SALT into sunset drinks for me." I mean, swoon.
"The juicy, fruity notes of Blonde Barry Body Spray also layer very well with the clean, watery freshness of Jake's House Eau de Parfum," Theis adds. They both contain orange-based notes (neroli in Jake's House, blood orange extract in Blonde Barry), so they'll complement each other beautifully.
Once you have your pair, Theis recommends starting with a liberal spritz of body mist as a base, followed by perfume on the pulse points. From there, you can reapply body mist as needed throughout the day. You can find our full guide to fragrance layering here, if you'd like a full breakdown.
The takeaway
Body mists are undoubtedly back, if they ever left. But unlike the sprays you might have spritzed in your youth, these modern confections are luxurious, elegant, and oh-so sophisticated. Looking for the perfect eau de parfum to layer on top? Here, find some staffer signature scents.

Jamie Schneider
Beauty & Health Editor
Jamie Schneider is the Beauty Editor at mindbodygreen. She has a B.A. in Organizational Studies and English from the University of Michigan, and her work has appeared in Coveteur, The Chill Times, and more. In her role at mbg, she reports on everything from the top beauty industry trends, to the gut-skin connection and the microbiome, to the latest expert makeup hacks. She currently lives in Brooklyn, New York.