These Hangry-Proof Breakfasts Keep Your Blood Sugar Balanced All Morning Long
With our ever-growing to-do lists and packed schedules we are more fatigued than ever before. But our constant exhaustion is doing a number on our hormones, and in turn, our blood sugar. In my experience as a functional medicine doctor, I often see blood sugar imbalance as one of the biggest causes of hormonal problems. This blood sugar roller coaster will leave you feeling irritable, exhausted, and hungry and anger's evil spawn: hangry.
It's easy to rush out the door, grabbing something quick that is most likely packaged, devoid of nutrients, and loaded with unhealthy junk you can't pronounce, but when you start your day off by fueling your body with proper food, you are setting yourself up for success and laying the foundation for balanced blood sugar throughout your day.
Here are just a few of my favorite breakfasts that leave me feeling full and energized to take on my day of patients. And bonus: Most of these can be made ahead of time for easy grab-and-go!
Fat is the building block of a healthy and happy blood sugar level. Your brain is also made up of 60 percent fat and is the main source of your energy. By feeding your brain exactly what it is made of, you train your body to be a fat burner rather than a sugar burner. Sugar gives you a quick burst of energy but leaves you dragging later. Fat, on the other hand, is like a log on a fire: slow-burning and long-lasting. Get your healthy fats in through everybody's favorite fruit—avocado!
Ingredients
1 medium avocado
2 pasture-raised eggs
Sea salt and pepper to taste
Shredded grass-fed cheese (optional)
Preheat oven to 425°F.
Cut open avocado, remove the pit, and scoop out a little bit while still leaving enough to eat.
Place in muffin tin to keep stable. Crack open eggs and place in each half of avocado. Sprinkle with salt and pepper to taste and cheese if desired. Bake 15 minutes and enjoy.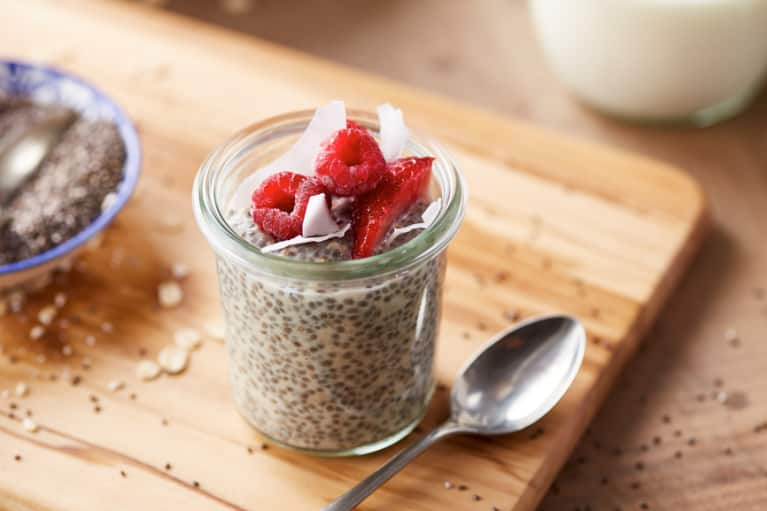 This is the perfect make-ahead option and great for those who would rather stick with plant-based choices in the morning. Healthy fats are abundant in this pudding in the coconut milk, chia seeds, and nuts. Protein is another key nutrient when it comes to blood sugar balance by helping slow the absorption of sugars into your bloodstream, which you will get from each of these ingredients as well.
Ingredients
2 cups unsweetened coconut milk
½ teaspoon vanilla extract
½ cup chia seeds
¼ cup desired sweetener (honey, maple syrup)
2 tablespoons peanut butter or other favorite nut butter
¼ cup chopped walnuts or almonds
Place coconut milk, vanilla, sweetener, and peanut butter together in a blender, and blend until smooth.
Stir in chia seeds and chopped nuts.
Pour into desired container and place in refrigerator for between 4 and 24 hours.
Clean protein and even more great fats are plentiful in this easy-to-throw-together frittata. It's a perfect dish to make on a Sunday to enjoy a slice each morning for the rest of the week. Add in some mushrooms and greens to aid in promoting healthy methylation detox pathways to help your body fight off the toxins you come across the rest of the day.
Ingredients
1 tablespoon coconut oil
½ cup mushrooms, diced
⅓ cup onion, diced
3 slices cooked organic turkey bacon, chopped
1 cup ground organic grass-fed sausage or grass-fed ground beef
2 cups kale or spinach
8 large pasture-raised eggs
½ cup almond or coconut milk
Preheat oven to 350°F.
Whisk eggs together with milk, and season with salt and pepper to taste.
Heat coconut oil in skillet over medium heat. Add in onions and mushrooms, and cook for about 3 minutes, then add in greens.
Add in eggs, bacon, and sausage, and cook until the edges and bottom start to set.
Place in oven and bake for 10 to 15 minutes.
Adaptogenic Green Smoothie
For those who want a lighter breakfast, smoothies are a fantastic option. I usually prefer to drink my breakfast, and this smoothie is packed with all of the fats you need and not all of the sugar like other fruit-based beverages without lacking in flavor. Adding in reishi, this powerful adaptogenic mushroom, will give you additional blood sugar support with its ability to down-regulate alpha-glucosidase, the enzyme responsible for breaking down starches into sugars.
Ingredients
½ avocado
1 cup spinach, kale, or other greens of choice
1 tablespoon coconut oil
½ green apple
2 cups full-fat unsweetened coconut milk
1 teaspoon reishi powder