Why You Should Blend Oil & Moisturizer Together From A Clean Cosmetic Chemist
mbg Beauty Director
By Alexandra Engler
mbg Beauty Director
Alexandra Engler is the Beauty Director. Previously she worked at Harper's Bazaar, Marie Claire, SELF, and Cosmopolitan; her byline has appeared in Esquire, Sports Illustrated, and Allure.com.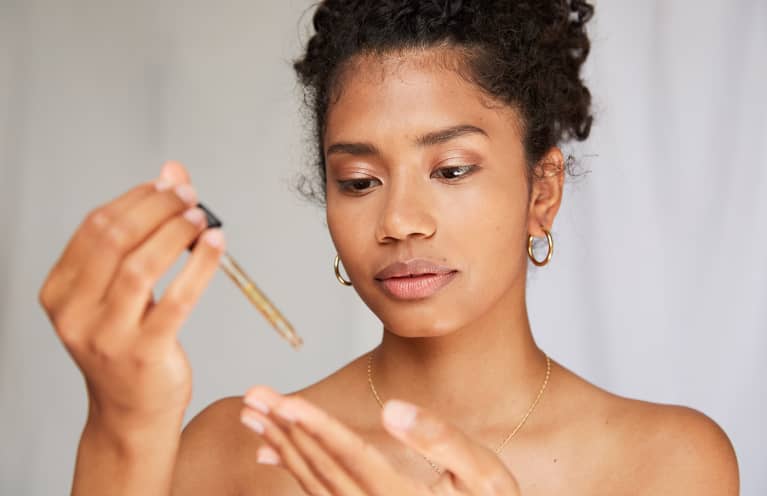 There are seemingly endless ways to switch up your skin care routine. Every time I talk to an expert, I seem to find a new way to layer, blend, enhance, and experiment with the lineup. Each of us has our own preferences and needs that we bring to the table and that influence our final choices. That's the joy in it, no?
On a recent episode of our beauty podcast Clean Beauty School, I was chatting with clean cosmetic chemist Krupa Koestline. Cosmetic chemists are the real heroes of the beauty industry—they keep up to date on the latest trends and research, understand intimately how ingredients work with your skin or hair, and formulate all the products you know and love.
And when we talked about what she uses on her own skin, she admittedly kept it "very, very simple—I'm always crafting new products, so I like to keep it simple in my own life," she says. (Honestly, I can relate.) But she hooked me on a tip about oils.
How to blend an oil and moisturizer for the ultimate hydrating step. 
"I love oils," she explains to me—noting they make up the crux of her skin care routine. "If you asked me maybe six, seven years ago if I would ever put oils on my face—I would create them for work, but I didn't love them for me."
But over time, her devotion to a good oil grew, and it all came down to this simple piece of advice: Use an oil as a moisturizer booster: "Here's a really good tip. Instead of putting oil straight on your face, try mixing a little bit of oil in your moisturizer in your hand, and then put it on your face."
Just take a normal scoop of your go-to moisturizer (some of our favorites, here), and add in a few drops of your oil before blending the two together. Since oils are more occlusive in nature, they can help act as a sealant for the cream. Essentially, the water-based cream does the hydrating, and the oil blend can help lock in the water in an easy step.
The key to this tip is getting the textures to your liking. We recommend using similar-weight options. For example, if your normal face cream is light, opt for a lighter oil like squalane or jojoba. For denser, thicker creams, you can likely opt for more robust oils like olive or almond oil.
There are plenty of ways to customize your skin care routine. If you're hesitant to try oils but feel that a face cream simply isn't doing enough, this just might be for you. "And that was a game-changer for me," she says. "I think it was a fantastic new way for me to use oils. And ever since then, I've just loved it."