6 Best Whitening Strips For A Brilliant Smile That *Actually* Work

Beauty & Health Editor
By Jamie Schneider
Beauty & Health Editor
Jamie Schneider is the Beauty Editor at mindbodygreen. She has a B.A. in Organizational Studies and English from the University of Michigan, and her work has appeared in Coveteur, The Chill Times, and Wyld Skincare.
November 19, 2021
We carefully vet all products and services featured on mindbodygreen using our
commerce guidelines.
Our selections are never influenced by the commissions earned from our links.
Oral care is slowly but surely catching up with clean beauty (think more of a sparkling ripple than a tidal wave). While the market still has ways to go, you can find a smattering of options that call on natural-leaning ingredients for a brilliant white smile.
Toothpastes are perhaps the most updated category in the oral care department—but whitening strips aren't too far behind. Catch our favorite products of late below.
What ingredients to look out for. 
Many traditional whitening products rely on heavy-duty bleaching agents to deliver a dazzling white—while effective, some of these can also result in tooth and gum sensitivity. To make sure your enamel remains strong, study up on the below:
But because hydrogen peroxide is one of the only widely studied ingredients for teeth whitening, it's very, very difficult to find strips that skip it. (It's not impossible, as we explain below!) Many brands that do include peroxide use a pretty mild concentration—so unless you're leaving on the whitening strips for multiple hours over a very long period of time (which you shouldn't; definitely follow the instructions on the box), you're likely A-OK.
As an alternative to peroxide, some brands rely on chlorine dioxide for their active whitening ingredient—although, this substance has its issues, too (even more than peroxide, some say). One study states, "Chlorine dioxide at 0.5% concentration applied to the teeth for 20 minutes in a chair-side procedure with gingival protection applied by a beauty therapist has been shown to strip the enamel off the teeth, reduce the enamel luster, and cause sensitivity1."
These are petroleum-based compounds widely used in cosmetics as thickeners, solvents, softeners, and moisture carriers (in whitening strips, it helps thicken the gel so that it adheres to your teeth). The primary concern with PEGs is that they release ethylene oxide and 1,4 dioxane, which has evidence of being a human carcinogen.
Best whitening strips. 
Ahead, you'll find the best whitening strips around. If you're curious about teeth whitening products in general, see here for our favorite list of whitening toothpastes, powders, and mouthwashes.
Lumineux Oral Essentials Whitening Strips
If you're looking for peroxide-free strips, you're in luck: This box of 14 is the gold standard of clean teeth whitening. Aloe vera and coconut oil act as natural brighteners (without making your teeth sensitive), while mint, clove, and basil essential oils leave you with fresh breath. Plus, the pinch of Dead Sea salt delivers precious minerals—calcium, potassium, and magnesium, to name a few—to your enamel and gums.
Whitening Strips, Lumineux Oral Essentials ($40)
Lumineux Oral Essentials
Dr. Ginger's Coconut Oil Whitening Pen
Not a whitening strip—we know, we know. But a whitening pen is similar to a strip in terms of ease, no? Its main ingredient is coconut oil, which has plenty of anecdotal benefits for tooth health: "I absolutely believe it has whitening properties, can decrease sensitivity, and there's even the idea that it can deter cavities from getting worse," says holistic dentist and assistant clinical professor at Columbia University College of Dental Medicine Ester Rubin about oil pulling with coconut oil. We should note, this pen does include a small concentration of hydrogen peroxide for extra brilliance.
Coconut Oil Whitening Pen, Dr. Ginger's ($19.95)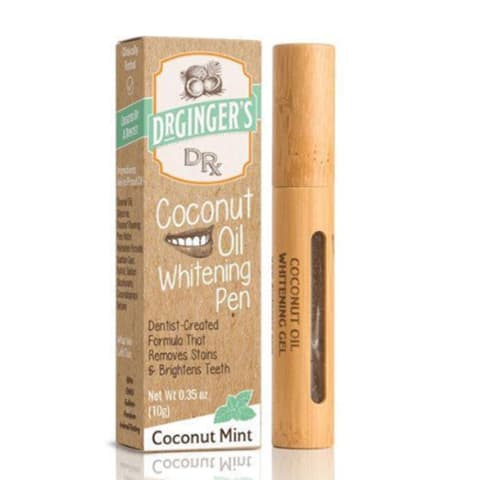 Dr. Ginger's
Zimba Whitening Strips
Arguably the most fun of the bunch, these strips come in 10 yummy flavors, like watermelon and blue raspberry. They make you feel like a kid again, in the best way. And if your teeth do become sensitive, you can snag the brand's desensitizing pen to eliminate any discomfort.
Whitening Strips, Zimba ($19.99)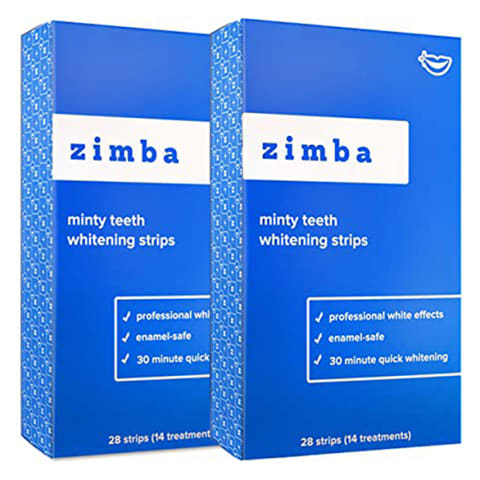 Zimba
elims Magic Melt-Away Teeth Whitening Masks
For those who aren't a fan of waiting those 30 minutes with goop on your teeth (so, everyone?), these melt-away strips are magic. Simply apply the masks to your top and bottom teeth, and the strips dissolve within seconds. That's it! Just avoid eating or drinking for 15 to 20 minutes, and apply twice a day for 14 days for maximum results.
Magic Melt-Away Teeth Whitening Masks, elims ($75)
elims
Moon Dissolving Whitening Strips
Another dissolving set, these strips include a host of botanical extracts to further bolster oral health, like green tea, echinacea, cranberry, and ginseng. It also calls on coconut oil and Dead Sea salt for extra whitening and minerals. It takes about 15 minutes to dissolve, and the instructions recommend you avoid eating or drinking for 30 minutes after use.
Dissolving Whitening Strips, Moon ($34.99)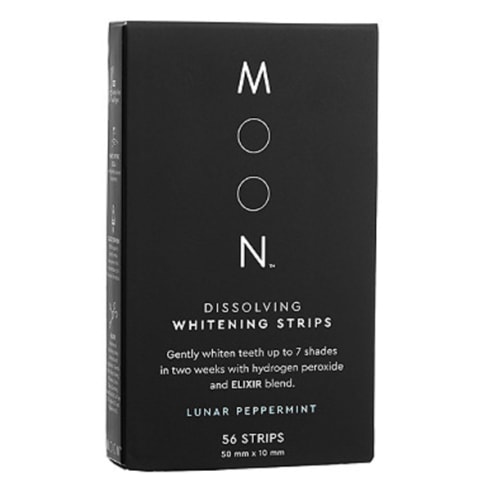 Moon
Spotlight Oral Care Dental Teeth Whitening Strips
Hydrogen peroxide is the active whitening ingredient here, but to nip any sensitivities, the package includes a 100% vitamin E oil pen to apply after tossing the strip (vitamin E has been used by a variety of dentists to ease gum discomfort and promote healing). Apply the oil to your gums and teeth for five minutes before rinsing with water.
Dental Teeth Whitening Strips, Spotlight Oral Care ($40)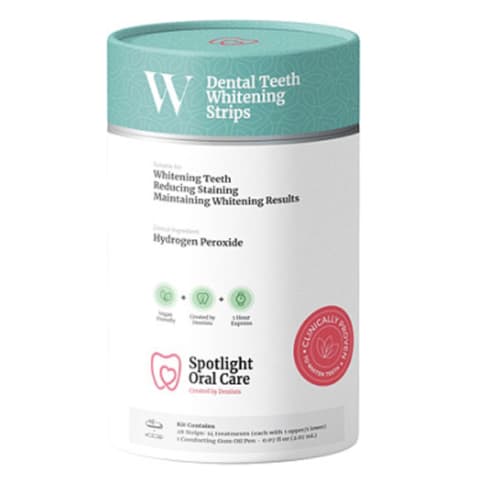 Spotlight Oral Care
mbg's review process.
At mbg, high standards are earned—and there are no shortcuts. Our beauty editors stay up to date on the latest ingredient research and innovation. It's a dynamic, continuously evolving space, and it's important we look into the science so we can make informed choices about which formulas earn our stamp of approval (figuratively speaking).
Our high standards also come from testing products—many, many products. Our editors and writers rigorously test and research the products featured in our roundups to offer you the best, most informed recommendations. When we write reviews, you can trust we spend quality time with the formulas: We don't simply rave about products we've slathered on the back of our hand. We endorse products we've tried and loved.
Learn more about our testing process and clean beauty standards here.

Jamie Schneider
Beauty & Health Editor
Jamie Schneider is the Beauty Editor at mindbodygreen. She has a B.A. in Organizational Studies and English from the University of Michigan, and her work has appeared in Coveteur, The Chill Times, and more. In her role at mbg, she reports on everything from the top beauty industry trends, to the gut-skin connection and the microbiome, to the latest expert makeup hacks. She currently lives in Brooklyn, New York.