Close Banner
Advertisement
This ad is displayed using third party content and we do not control its accessibility features.
8 Best Water Softeners Of 2023 + How To Know If Your Water Is Hard

Writer
By Shannon Ullman
Writer
Shannon Ullman is a writer and editor whose work has appeared in Healthline, Medical News Today, Insider, and more.
We carefully vet all products and services featured on mindbodygreen using our
commerce guidelines.
Our selections are never influenced by the commissions earned from our links.
Have you ever unloaded your dishwasher only to find that your drinking glasses are covered in spots? Maybe you often feel a slimy residue on your hands post-wash or your hair feels unusually dry or brittle.
These could all be signs of hard water—which is not only annoying but can also cause serious damage to your appliances and plumbing. The best water softeners can save your plumbing (and your sanity), by prolonging the life of your pipes, softening your hair and skin, and helping you feel cleaner after every shower.
The U.S. Geological Survey estimates that 85% of the country has hard water, and while drinking hard water won't kill you, bathing in it isn't great for your skin or your hair.
Keep scrolling to learn more about hard water and the benefits of a water softener and to see our picks for the best water softeners.
The best water softeners:
The best water softeners:
What is hard water?
Does the H2O from your tap come out cloudy? You can thank hard water. How "hard" your water is depends on the amount of dissolved minerals—namely calcium and magnesium—it contains. As water passes through soil and rock, it picks up these minerals along the way. The harder the water, the more minerals it has.
"These minerals can form a layer on the skin, causing dryness and itchiness, and exacerbating existing skin conditions such as eczema and psoriasis," says Brian Campbell, founder and chief water treatment expert at WaterFilterGuru.com. "When we shower in hard water, the calcium and magnesium buildup on our hair causes it to become dry and brittle and the color to fade."
Hard water also wreaks havoc on your home. The residue left behind by these minerals can reduce the life span of your appliances, clog your pipes, and even increase the cost of heating water.
What is a water softener?
A water softener is a device that removes minerals from hard water. There are a few methods water softeners use, but Campbell says the three most common are:
Salt-based ion exchange softeners: These work by exchanging the hardness minerals in water (primarily calcium and magnesium) for small amounts of sodium. According to Campbell, salt-based softeners are ideal for excessively hard water, such as well water.
Salt-free water conditioners: Salt-free water conditioners work by crystallizing the minerals in your water and preventing them from sticking to surfaces.
Electromagnetic descalers: These water softeners alter the chemical structure of the minerals so they can't adhere to surfaces.
By installing a water softener in your home, you can increase the efficiency of your pipes and water-based appliances and even reduce the time it takes to heat up your water. Campbell reiterates that softer water is also beneficial for smoother skin and stronger, healthier-looking hair and can help your dishes come through the wash actually looking clean.
When your pipes are flowing with soft water, suddenly everything is better. Soap and shampoo lather more easily, and laundry feels softer to the touch. Making the swap is a simple way to elevate your everyday routine—and while some of the best water softeners may seem like a splurge now, installing one will save you money and time in the long run.
Our picks for the best water softeners:
Best overall
GE GXSH40V Water Softener
Pros & Cons

Pros

Smart technology with automatic regeneration
Compact size

Cons

Not for larger households
One of the most popular water softeners on the market for good reason, this salt-based water softener uses smart technology to track your water usage and then automatically regenerates whenever necessary. The compact design makes it a good choice for small homes. With a 40,200-grain capacity, this softener gives you your money's worth.
It's also incredibly easy to use, thanks to the up-front electronic controls and the handy status light indicator that will display metrics like how many days until empty and whether you're running low on salt.
This softener ships in two business days and comes with an instruction manual for installation, which reviewers say is easy to do yourself.
This water softener is currently rated 4.65 stars on AJ Madison, with reviewers loving its set-it-and-forget-it operation, the easy installation process (some even managed to do it themselves), and the compact size. One shopper emphasizes, "It's simple and easy to use, and we love the difference it makes in our water," and another adds, "Water softener working so well. Love the feel of my skin and hair using soft water. It's working great! Highly recommend!!!"
Best for the whole house
Whirlpool WHES40E 40,000 Grain Water Softener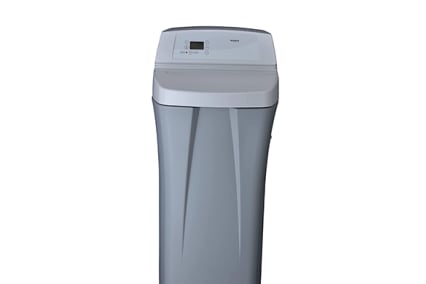 Regeneration cycle
Smart regeneration cycle (dependent on water usage)
Pros & Cons

Pros

Automatic regeneration
Large capacity
Low salt indicator

Cons

Needs professional installation
Reviews mention poor customer service
A great choice for bigger households, this water softener is larger in capacity and can support homes of up to six people. Thanks to smart sensors that monitor your water usage, you'll significantly reduce the amount of salt and water you're using—so you'll be cutting back on waste and energy usage, too. The indicator light will show you when the salt is low.
This softener is made in the U.S. and ships in three business days. It comes with an instruction manual for DIY installation. Note, the installation is said to be a bit trickier here.
With a 4.5 out of 5-star rating overall, this water softener gets a lot of love. Reviewers rave about the value for the cost, the improved flavor of their water, and how low maintenance this appliance is. Even those who had to hire a plumber for installation still say it was a worthy investment they would recommend to anyone.
"Once hooked up, it's low maintenance. Soft water is amazing! Your clothes will feel better, your hair will seem cleaner, your dishes wash better—hard water feels like you are rinsing with sandpaper," one person writes.
Best self-cleaning
Waterboss 36,400-Grain Water Softener System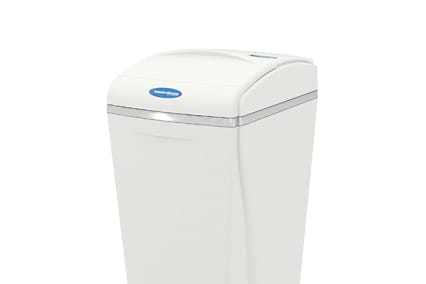 Pros & Cons

Pros

Automatic shutoff
Self-cleaning filter
Fast regeneration time and a self-cleaning water filter make this 36,400-grain water softener system a good pick for busy households with more than four people. This system can soften up to 90 grains of water per gallon and has an automatic regeneration cycle every 20 minutes. While this means it does not conserve water or salt as well as some of the other options, it ensures that your water is always soft and ready for use.
This salt-based water softener is so powerful at filtering out iron, dirt, and other tough sediments, that you can use it for well water or city water. The settings can also be adjusted to control your water's softness level, simply by using the machine's consumer-friendly controls.
It will be shipped to your home in a box, along with a DVD that shows you how to complete the installation—which is notably easy.
In addition to how easy the installation is, reviewers also praise the machine's long life span—one person didn't need to replace their model for a full 14 years. It has an overall rating of 4.6 out of 5 stars on the Home Depot website, with one reviewer emphasizing, "Easy to install and simple setup. Once done with setup, I drained the water heater and immediately had clean, soft water. Couldn't be any easier."
Best for well systems
Aquasure Harmony Water Softener with Fine Mesh Resin for Iron Removal
Pros & Cons

Pros

Great for well water and other very hard water
Captures a variety of minerals

Cons

Difficult to check salt levels
Longer installation time
Well systems bring another skin-irritating mineral into the mix: iron (which is why well water tends to be quite high on the hardness scale). The Harmony Water Softener has a fine-mesh resin specifically designed to catch iron and other minerals that competing softeners might miss. It also comes with customizable digital controls for programming and regulating the device's regeneration cycles. The size is ideal for households of up to five people.
You can choose among three types of regeneration (time clock delayed control, meter immediate control, and meter delayed control), depending on your household's needs. One major callout is that it does not have a low salt indicator and is therefore not as easy to monitor as other models.
This water softener ships in a box and comes with written instructions for DIY installation. Some people mention that while installation is fairly easy, it does take a good amount of time and the product is heavy (120 pounds).
Currently rated 4.6 stars on Amazon, this water softener has plenty of positives reviews highlighting the value, easy (yet time-consuming) installation, and improved taste of their water.
"I have hard well water and chose this product to remove the hardness and also a slight sulfur smell," one reviewer explains. "It has done both quite well. It came with very good instructions and was easy to install. It is a bit heavy, so I would suggest someone should be helping to move the tank into position. Beyond that, it is an easy job for one person to accomplish."
Best affordable
Rheem RHS32 Preferred 32,000 Grain Water Softener
Pros & Cons

Pros

Low-salt indicator
Tracks water usage to optimize salt & conserve water and energy

Cons

Not for households over 4
Water softeners are historically expensive purchases, but this is a more budget-friendly option that will still get the job done. By learning your patterns and water usage, the machine optimizes performance and conserves water and energy. The brand says this model uses 40% less salt than other water softeners (based on the manufacturer's own internal testing), and like a few of the other models on this list, it has a low-salt indicator to let you know when it's time for a refill. This unit is best for small families or households of up to four people.
This product is made in the U.S. and can be found at some Home Depot stores or can be delivered to your home. It will arrive in a box with instructions for a do-it-yourself installation.
With a 4.5 out of 5-star rating on the Home Depot website, this water softener has people raving about its easy DIY install, compact size, and efficient water usage.
After installing the unit on their own, one shopper says, "[The] compact size makes it easy to find a spot that will suit your needs. It took a few days to really feel the difference in the water. It's awesome! Taking a shower and washing dishes takes way less soap. We've only had it up and running for a week. But, what a difference."
Best for on the go
SoftPro Portable RV Water Softener
Pros & Cons

Pros

Lifetime warranty
Portable

Cons

Smaller grain capacity
Lower maximum hardness removal
A great option for RV owners, this salt-based water softener is available in an 8,000-grain capacity or 16,000-grain capacity. The smaller capacity is meant for one person, and the larger is perfect for two. Both are compact, portable, lightweight, and easy to bring on the go and store when not in use. Since this softener does not operate on electricity, you'll need to manually regenerate it—which cuts back on water waste and eliminates energy usage!
This water softener is made in the U.S. and will be shipped to your home in a box with two hose connections.
With over 600 overwhelmingly positive reviews, there is praise from cabin-goers, RV owners, and more about how portable and lightweight it is and the value you get at a lower cost. Some do note a difficult installation, but the pros clearly outweigh the cons in these reviews.
One person raves, "Skin and hair car issues caused by hard water have been eliminated. Furthermore, coffee and other hot drinks taste much better. Despite a difficult hook up caused by reversed fittings, we can honestly say that this unit has improved every part of our RV life involving water."
Best electric
iSpring ED2000 Whole House Electronic Descaler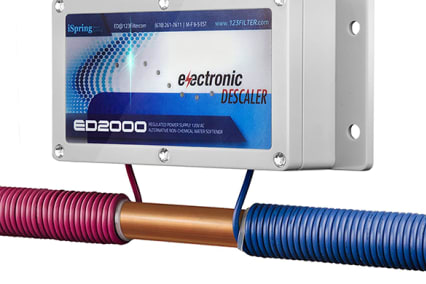 Pros & Cons

Cons

Requires electricity
May still get mineral deposits on clothing
If we're being technical, this is not actually a water softener but rather a water "descaler." Instead of removing minerals from your water (the way a salt-based softener does), this machine uses an oscillating electric field to dissolve mineral deposits and alter their form—so they won't stick to your skin or other surfaces. In other words: The outcome is similar, but it's achieved in a slightly different way.
Keep in mind: Due to the alternative method this water descaler uses, it won't remove the very heavy minerals from your water. That said, it will help with any pesky mineral buildup on your shower head or faucets.
This is a great fit (pun intended) for someone who does not have a ton of space but still wants to experience the benefits of slightly softer water (i.e., softer skin, healthier hair, and a more enjoyable taste). It's also a fraction of the cost of traditional water softeners, and it does not use salt or chemicals or require any maintenance or plumbing installation.
This machine will be shipped to your home in a box, and installation is easy.
Amazon shoppers have given it a 4.1-star rating out of 5 stars, and reviewers love the low-cost and simple installation. One even said, "Before installing the unit, I had chronic dry skin on my scalp and ears, causing dandruff. By week 2, it was completely gone!"
Best salt-free
FutureSoft® Salt-Free Water Softener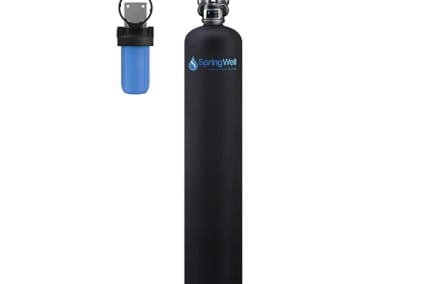 Pros & Cons

Pros

Doesn't require electricity
Large water capacity
Lifetime warranty
Easily one of the most advanced water softeners on the market, this is a great pick for anyone with sensitive skin or allergies, due to the fact that it doesn't use salt or chemicals. Instead, this water softener uses a process called Template Assisted Crystallization (TAC) to condition the water.
As mentioned earlier, the salt-free method crystallizes the minerals in your water rather than trapping them or exchanging them for salt. This type of softener is sometimes called a water conditioner because the process actually neutralizes the water, versus "softening" it. The result? A cleaner, purer water quality that won't stick to your dishes or hands.
One note for salt-free water softeners: If your home runs on well water, your water is probably exceptionally hard. In this case, a salt-free water softener is not recommended unless your water is pre-treated (meaning it has already gone through a treatment process to filter out iron, manganese, hydrogen sulfide, copper, etc.
This softener ships in two business days and comes with an instruction manual for DIY installation, which reviewers say is very easy. This softener is not NSF-certified.
Purchasers of this water softener love how simple it is to install and how quickly you can feel the difference. It's currently rated 4.5 stars out of 5 on the Spring Well Water website, with 154 reviews. One person raves, "Best idea ever made concerning our new place. Super easy with just a few tools and the installation guide. I highly recommend this product. You can feel the difference within a week."
Signs you have hard water.
You feel a film on your skin after showering or washing your hands
Your hair is dry and brittle
Dishes—especially glass and silverware—come out of the dishwasher spotty
You find mineral stains on your clothes
You have low water pressure
Our vetting process
Since some water softeners come with pretty sizable tanks, we made sure to include options for people who do and don't have the space to spare.
Grain capacity & hardness removal
The grain capacity of a water softener refers to the number of grains of hardness it can hold, while the maximum hardness removal is the maximum amount of grains it can remove from your water. We prioritized softeners with high grain capacity and hardness removal while also taking all other factors into account.
Buying a water softener is an investment from your wallet but also in your health! That said, it doesn't have to cost a small fortune. Our list has picks to fit all budgets.
We read through hundreds of reviews from verified purchasers to make sure we were considering feedback from a wide range of people.
How to choose a water softener.
Water softeners run the gamut when it comes to cost. No matter what your budget is, you want to make sure you're choosing the best water softener for your needs. Before you make any purchase decisions, consider the below factors:
Is your water hard?: First and foremost, test your water. Campbell recommends using an at-home test kit or having your water lab tested to figure out the exact hardness level. Test results will help determine which type of softener will be best for you and what size you'll need.
Local regulations: Per Campbell, it's a good idea to check your local regulations regarding water softeners. "In some places, it is not legal to install an ion exchange system, so be sure to look this up first!" he explains.
Size: Be mindful of the amount of space you have and check the dimensions of each water softener before making a purchase.
Installation: Do you want something you can install yourself, or are you open to a professional installation? This will narrow down your choices.
FAQ
How do I know which water softener to buy?

The size and type of water softener you need depends on the hardness of your water and the space you have available. You can test the hardness of your water at home with a test kit or by sending a sample to a lab.
Is there a water softener that doesn't use salt?

Yes—neither salt-free water conditioners nor electromagnetic descalers use salt to remove minerals from your water. Instead, they operate with methods to prevent mineral buildup.
Is a salt-free water softener better?

All water softeners work differently, so there's no easy answer. If you're worried about the environmental impact of salt, or the maintenance required to keep a salt-based water softener running, a salt-free water softener may be a better option for you. That said, the results will vary, too, depending on which model you opt for.
How long do water softeners last?

Again, it will depend on the model and type you choose, but a high-quality device that's installed correctly should last anywhere from 10 to 20 years.
Are there any negative effects of using a water softener?

Water softeners are safe to use, but humans do need minerals in their diet. As is always the case, you'll want to make sure you're following a nutrient-rich diet. If you're on a low-sodium diet, you may think twice about using a salt-based water softener or simply limit your water intake from that supply.
The takeaway
The best water softeners will elevate the H2O in your home, providing you with delicious, refreshing water, softer skin and hair, and fewer mineral messes to clean. Installing one in your home is one of the many simple yet impactful steps you can make to improve your health. For more water filtration needs, check out our picks for the best water filters.
What we've updated since publishing:
3/2/23: We added a "how to choose a water softener" section, with expert advice on factors to consider when purchasing a water softener. We also updated the pros and cons for products on our list.
Meet The Experts
Shannon Ullman
is a writer and editor whose work has appeared in Healthline, Medical News Today, Insider, and more.