The 9 Best Sustainable Shoes: Eco-Friendly Flats, Sneakers, Boots, & More

Contributor
By Caitlyn Martyn
Contributor
Caitlyn Martyn is a freelance writer whose work has appeared in Byrdie, InStyle, Popsugar and more.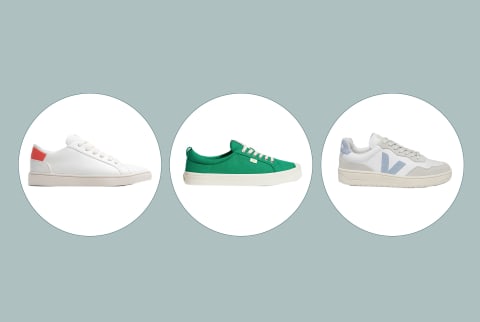 September 16, 2023
We carefully vet all products and services featured on mindbodygreen using our
commerce guidelines.
Our selections are never influenced by the commissions earned from our links.
The best sustainable shoes of 2023:
Shopping for shoes that are stylish, supportive, and easier on the environment is a tough task, to say the least—but we could all stand to be a bit more intentional about our footwear. The best sustainable shoes will lessen your carbon footprint (pun intended) and feel so much better on your feet.
But why is this important? Well, the footwear industry is responsible for a lot of overproduction. And to make things worse, the materials that make up shoes are some of the most difficult to recycle due to their multi-material content, says Ashlee Piper, sustainability expert and author of Give A Sh*t: Do Good. Live Better. Save the Planet.
While buying second hand is the most environmentally friendly choice, many brands have become more conscious about the materials they use (and how they use them). Read on for our top picks.
What are sustainable shoes?
Sustainable shoes are made and produced using environmentally friendly practices. That includes design, sourcing, production, and distribution. Sustainable shoe brands generally rely on recycled and renewable resources (such as recycled fabric, reused plastic bottles, or synthetic materials) and prioritize carbon emissions, fair trade practices, and more.
How do shoes impact the environment?
Think about how many pairs of shoes you own—probably at least four or five. Then consider how many people there are on planet Earth (around 8 billion).
What if every person on the planet had four or five pairs of shoes? That would bring us to about 40 billion pairs of shoes, at least!
Each individual shoe requires a whole laundry list of materials, some of which can be harmful to the environment—and the actual manufacturing and distribution can have an environmental impact, too (not to mention the labor and ethics considerations).
With more than 20 billion pairs of shoes manufactured every year, shoes pose plenty of environmental threats, making it important to be intentional about the companies you're buying from.
Brands like Allbirds, Cariuma, Veja, and Thousand Fell take sustainability seriously, from design through disposal.
How to choose sustainable shoes
As with all things, there's no one right way to approach sustainable shoes, but according to Piper, it's all about choosing footwear made with longevity and the planet in mind.
"My personal rubric spans fair working conditions and materials, patterns, and processes that are planet conscious," she explains.
In order to choose the best sustainable shoes, you should also consider function. Will you be wearing these shoes to walk long distances? Or are you looking for something a little fancier that will suit you well at the office or special events?
Next, take a look at the materials used. Choose a shoe made from recycled or environmentally sound materials such as cotton, hemp, recycled plastics, or synthetic materials—the simpler, the better.
Generally, the more minimal the materials, the less impact the shoes have on the environment.
Our picks for the best sustainable shoes of 2023:
Advertisement
This ad is displayed using third party content and we do not control its accessibility features.
Advertisement
This ad is displayed using third party content and we do not control its accessibility features.
Advertisement
This ad is displayed using third party content and we do not control its accessibility features.
Advertisement
This ad is displayed using third party content and we do not control its accessibility features.
How we picked
Quality
Quality is key, especially since shoes are worn daily for many activities. Whether you want something for walking, wearing to the office, or exercising, you'll find a high-quality option on this list.
Expert Insight
The sustainable shoes on our list fit the criteria outlined by the experts we interviewed. We considered foot health and kept comfort top of mind.
Reviews
Everyone has different feet, so it's hard to speak from one perspective. To ensure we're offering a breadth of options, we took customer reviews into consideration. Many styles on our list boast five-star reviews from the people who have tried them and wear them regularly.
Materials
Materials can make or break your experience with a shoe and the impact it has on the environment. We considered fabrics and types of material used in each shoe to ensure comfortable, blister-free wear while also keeping sustainability top of mind.
FAQ
What shoe company is the most ethical?

There are several ethical shoe companies, including Allbirds, Cariuma, Veja, to name a few. Since ethics vary from person to person, it's hard to say which brand is the most ethical. This will depend on the factors you value most—be that biodegradability, whether or not a brand uses sweatshops, shipping materials, or another factor.
Is Nike sustainable?

While Nike is not the most sustainable brand on the planet, it's making an effort. The brand is dedicated to inventing more efficient materials and reusing plastic, yarn, and textiles when possible, in order to make strides on its journey to being zero carbon and zero waste.
Can shoes be eco-friendly?

Shoes can be eco-friendly—it all depends on the materials. Those made from recycled plastic bottles, old shoes, or tires are considered sustainable because they don't require new materials to be produced.

Eco-friendly shoes should minimize the impact on the environment throughout their life cycles, spanning creation and design, manufacturing, and maintenance.
Is Adidas really eco-friendly?

According to the brand, Adidas has adopted more sustainable practices and has incorporated eco-friendly materials into its products such as recycled polyester, organic cotton, and ocean-derived plastic.
What shoe material is best for your feet and the environment?

Natural, recycled fibers such as cotton, linen, hemp, and wool are considered a better choice (as opposed to synthetic fibers like polyester and nylon) for the environment.

The material best for your feet will vary from person to person, so it's best to try a number of options to find what's best for you.
The takeaway
Shoes are a huge contributor to environmental waste, so we don't recommend taking shortcuts with footwear. The best sustainable shoes will keep you comfortable and supported during all activities—and you'll be doing a major good deed for the planet. Learn more about how to pick the right shoes in our roundup of the best walking shoes for women.
Meet The Experts
Caitlyn Martyn
is a freelance writer whose work has appeared in Byrdie, InStyle, Popsugar and more.