The Brightest Benefits Of Outdoor Solar Lights + 8 Brands To Shop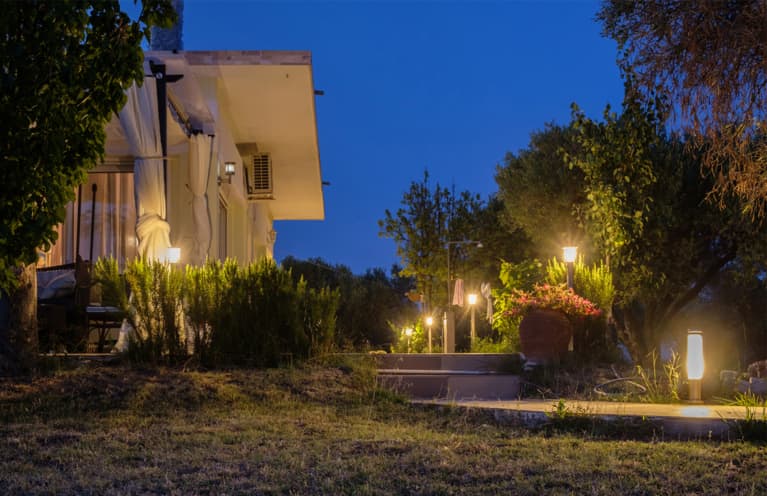 Our editors have independently chosen the products listed on this page. If you purchase something mentioned in this article, we may
earn a small commission
.
Whether you're looking to make your home more eco-friendly or scratching your head wondering how you'll provide light for a far-flung corner of your yard without an outlet in sight, solar lights are an incredible option for your outdoor space.
Here are the benefits of switching to outdoor solar lights, a checklist to guide your shopping, and a list of the best options for lighting your way home.
Benefits of outdoor solar lights.
Imagine an alfresco dinner under a canopy of string lights or walking out to your pool in the evening, following the soft glow of small stake lights. This is all possible without hardwired electricity.
Solar lights can be placed alongside pathways, pools, gardens, doors, and more to provide both ambient and practical task lighting and to add a twinkly touch to the garden you've worked hard to nurture. Here are some of their top benefits:
By using sunlight to power rechargeable batteries rather than relying on electricity, outdoor solar lights absorb sunlight throughout the day, giving them the power they need to shine bright during the evening hours.
Alan Duncan, founder of the Solar Panels Network, explains, "The LED lighting uses a battery charged through solar power during the day and provides lighting during the night. This process repeats itself daily." As soon as the sun goes down, the solar lights will turn that daylight energy into light.
2.
They can save you money over time.
Tisha Domingo, chief marketing and product officer at Brightech, adds that in addition to having a smaller carbon footprint, outdoor solar lights can also lower your energy costs.
You'll invest upfront to purchase the solar lights, but sunlight is free. Even if you decide to splurge on a hardwired system, that's a one-time investment. This offers significant savings over running electricity and outlets throughout your outdoor space.
3.
They're supporting the renewable energy transition.
Detailing the renewable energy benefits further, Duncan says, "Outdoor solar lighting is naturally produced and takes nothing from the grid. It's an excellent way to transition to going green."
4.
They'll last you a long time.
Think about all the times you've gotten up on a ladder to swap out a floodlight. High-quality solar lights will save you the headache. "If a solar lighting system is properly installed, the batteries will need maintenance only once every six to seven years," Duncan says.
What to look for when shopping for outdoor solar lights.
If you're shopping for solar lights for the first time, there may be a few new-to-you terms and features that come up. Here are some to know as an educated consumer:
Milli Amp Hour or mAH: mAH represents the amount of storage capacity in a rechargeable battery, directly translating into how long it will stay on. You'll typically want to look for a higher number—as high as 2,500 mAH—when considering solar lights.
Lumens: While indoor lights are often measured in watts, outdoor solar lights are measured in lumens, which go from 1 to 1,500, with the higher numbers being the brightest.
IP Rating: Meaning Ingress Protection, IP ratings determine how much water or exterior exposure an exterior light can withstand. Typically, IP 65 is sufficient for an outdoor solar light.
Detection Range: When looking at motion-activated outdoor solar lights, the detection range will indicate the distance at which the light will pick up movement and turn on. This is measured in feet, while the detection range angle will indicate how wide that area is in terms of degrees.
Recharge Time: Most solar lights will need between six and eight hours of sunlight to charge fully. Direct sunlight is best to charge quickly, though partial sunlight will charge as well.
The 8 best outdoor solar lights.
These are the best outdoor solar lights based on affordability, functionality, style, and the shopping criteria above.
Best for bright pathway lighting: Signature Garden Solar Lights
Reviewers agree this eight-pack of solar pathway lights puts off incredibly bright 15-lumen light in a crisp, clean white shade. Plus, they're easy to assemble with just two simple parts.
They charge throughout the day to turn on automatically at dusk and will give you eight solid hours of pathway lighting, helping direct you and guests throughout your yard safely at night.
Signature Garden, Solar Lights ($39.99)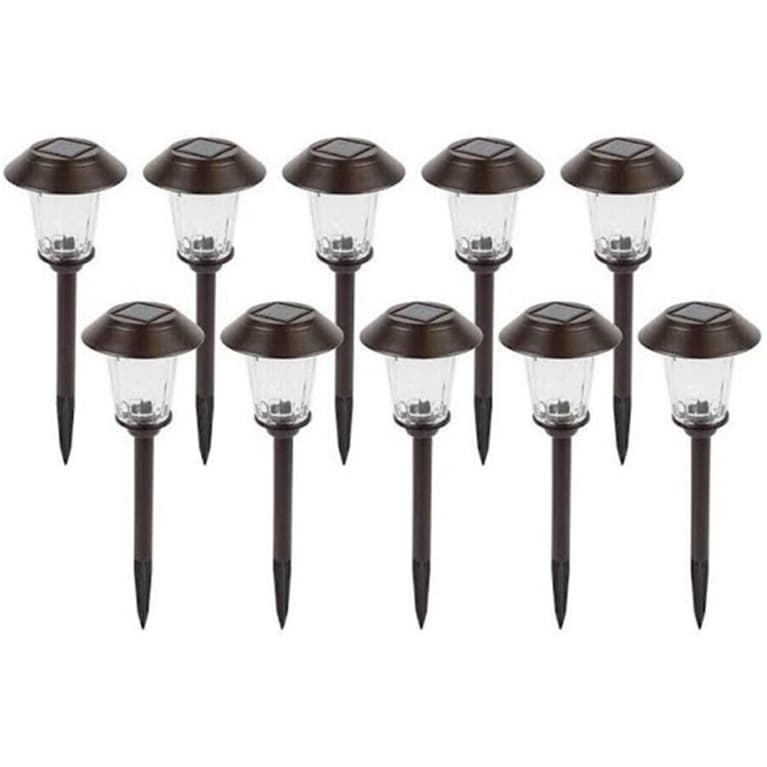 Signature Garden
Best design: Brightech Glow Solar Hanging String Lights
These stylish lights have brass accents to appeal to the most discerning designers. Plus, they're made with commercial-grade cables to withstand hail, snow, wind, rain, and sun, making them ideal for homes in all regions.
Domingo of Brightech adds, "Whether you want to create a party-ready patio or your own personal retreat to relax under, adjusting the number of strands, placement, or length of the Glow Solar Hanging String Lights can really change the mood."
Brightech, Glow Solar Hanging String Lights ($59.99)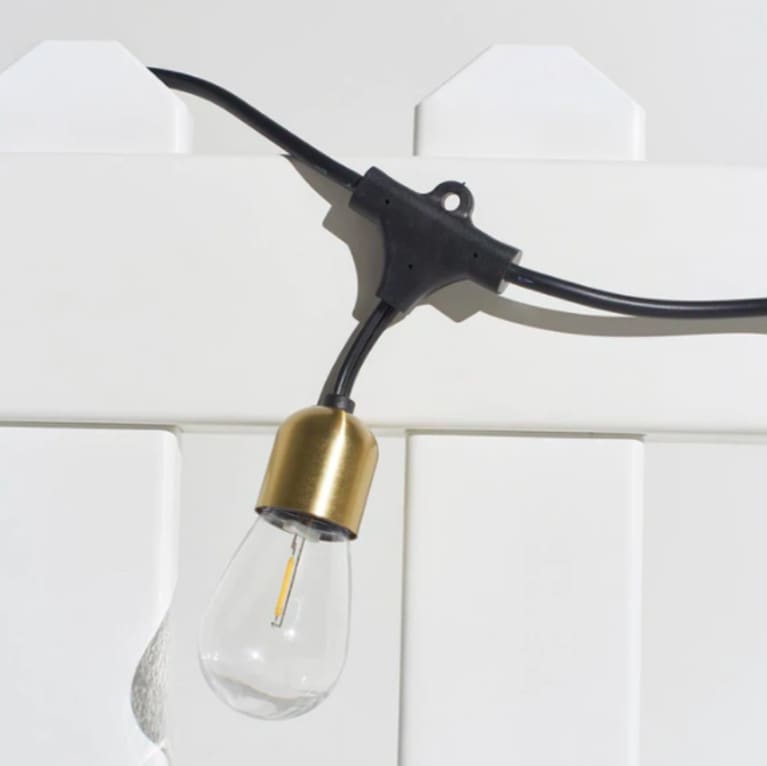 Brightech
Best for patios: Brightown solar string lights
While some people love bright white LEDs, these offer the warm glow of 2700K light. Six hours of solar charging will provide eight to 10 hours of light, which means your evening dinner party can run late into the night. For those who want special effects, these lights also offer settings including slow flash, steady, and fast flash.
Plus, these lights have a backup for cloudy or rainy days, with an option for Micro USB charging. Four hours will get these lights to a full charge. Bulbs can be replaced individually if necessary—an added bonus.
Brightown, Solar String Lights Outdoor ($42.99)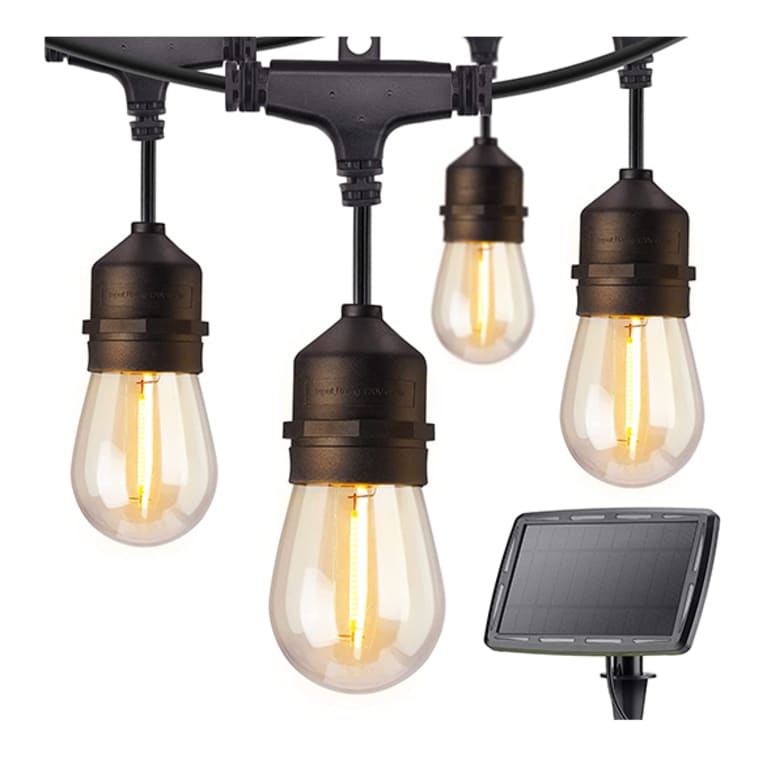 Brightown
Best in-ground lighting: Aogist Solar Ground Lights
For areas where you want out-of-the-way fixtures but still need functional light, these in-ground stake solar lights sit flush with the ground to minimize any tripping hazards. With bright white 600K light, these are perfect for providing light both around pathways, as well as highlighting your home's exterior. They take just seconds to assemble and provide eight to 10 hours of illumination.
Aogist, Solar Ground Lights ($24.99)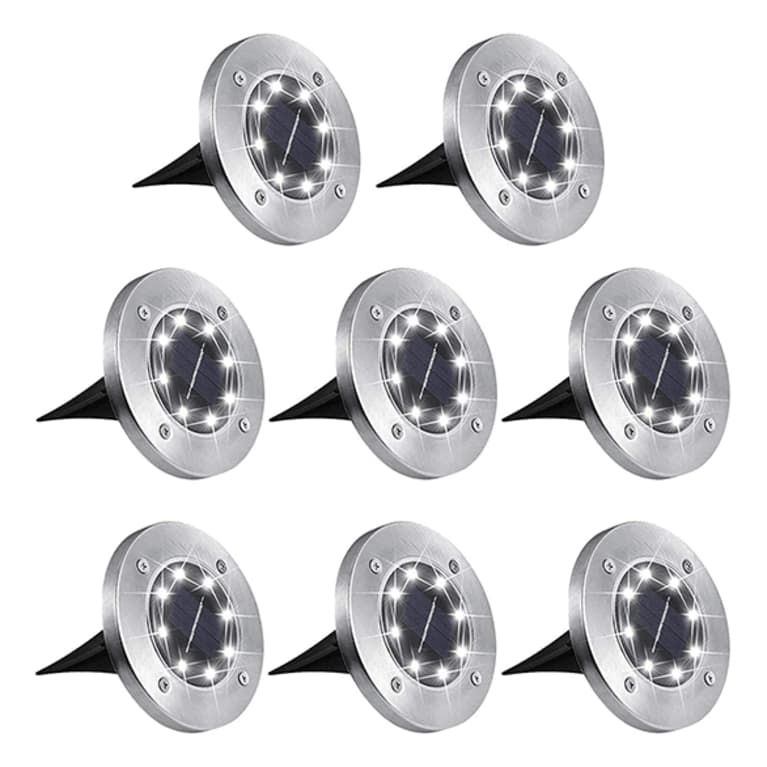 Aogist
Best string lighting: Solar String Crystal Globe Lights
Available in a nearly 36-foot-long string with 60 bulbs, these crystal globes provide a sparkly, fairylike atmosphere for alfresco celebrations. You can use them in eight lighting modes, including waves, combination, sequential, gradual, chasing flash, slow fade, twinkle flash, and steady
These lights are IP 65 certified and have an 800 mAh rechargeable battery, guaranteeing eight to 10 hours of light at night.
Solar String, Crystal Globe Lights ($15.99)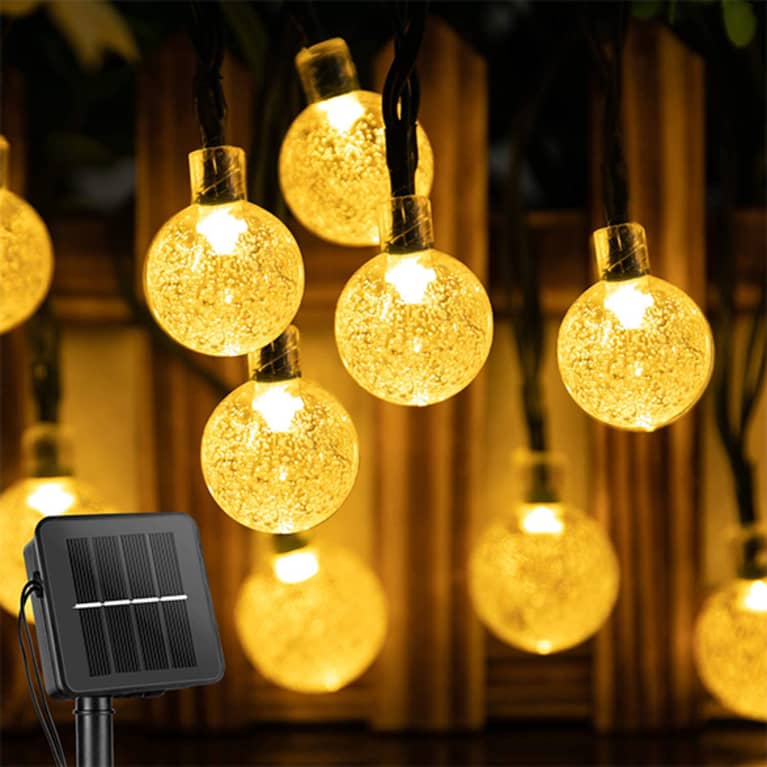 Solar String
Best landscape lighting: Lerekam Solar Spot Lights
Whether you stick these automatic lights in the ground using the attached stakes or mount them to the wall, they're ideal for more targeted light. They offer three lighting modes—high/medium/low—which provide light for eight to 25 hours depending on brightness. The cool white light looks stunning highlighting trees or landscape features.
They are also IP 65 certified and offer a backup USB charge for days when the sunlight is not quite strong enough for a charge.
LEREKAM, Solar Spot Lights Outdoor ($29.96)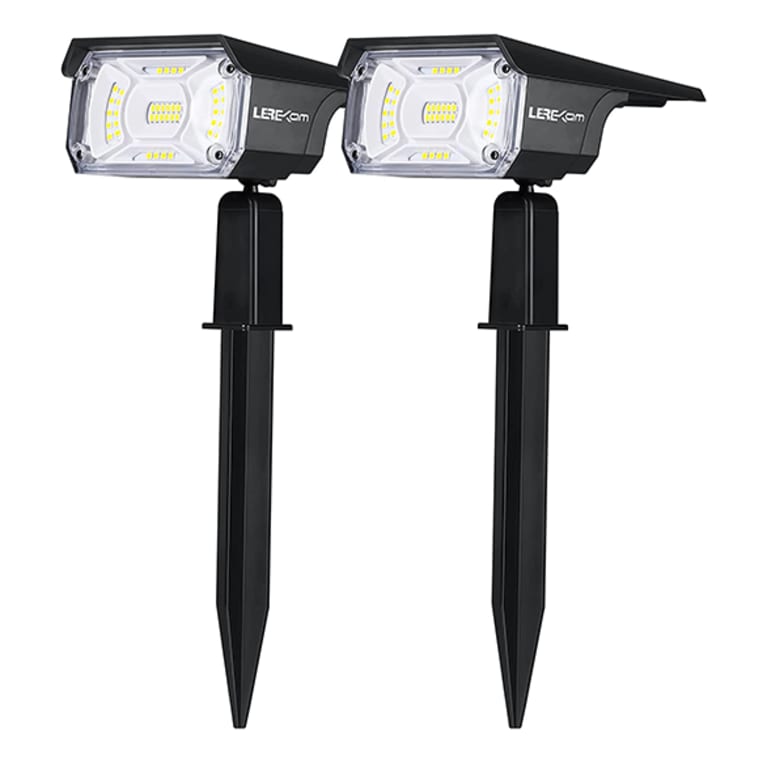 LEREKAM
Best security spotlight: Tuffenough Solar Outdoor Lights
With both motion sensors and remote control, these security spotlights can be adjusted to three different modes, including strong, dim, and strong-long. The adjustable heads cover a large area in your yard and can move upward, downward, and horizontally, plus they detect motion up to 26 feet away and at a 270° angle.
These IP 65–certified lights have a 2700 mAH rechargeable battery, so you know they mean business, plus, they'll stay on for longer when you use them only in motion or remote control mode rather than in continuous use.
Tuffenough, Solar Outdoor Lights ($39.99)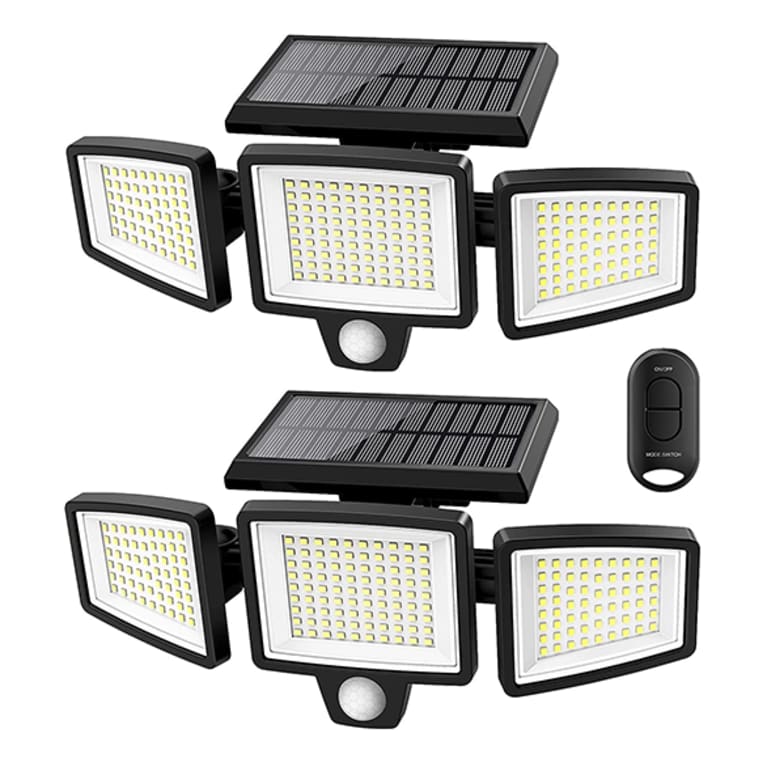 Tuffenough
Best for warm pathway lighting: LETMY Solar Pathway Lights
This eight-pack of pathway lights has all the charm of a romantic cottage but the practicality of eco-friendly solar lights. With a timeless look and a warm, bright light, they are easy to install, easy to use, and energy-saving. After a sunny day and a full charge, these pathway lights have an upgraded solar panel that can provide light for eight to 12 hours.
LETMY, Solar Pathway Lights ($49.99)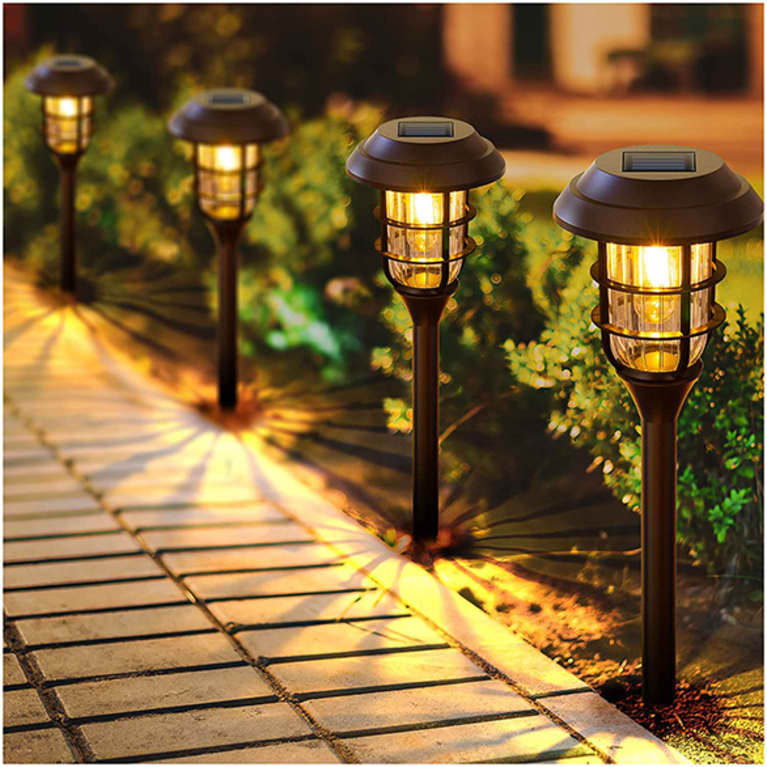 LETMY
Adding solar lights to your outdoor space will save you money, save the Earth energy, and empower you to do your part to reduce your day-to-day carbon footprint. Solar lights are often budget-friendly and they will last you for years. Now's the time to shine a light on this sustainable and stylish option!