12 Healthy Snacks That RDs Use To Avoid Hanger On The Go (No Fridge Necessary!)

Contributing Food Editor
By Liz Moody
Contributing Food Editor
Liz Moody is a food editor, recipe developer and green smoothie enthusiast. She received her creative writing and psychology degree from The University of California, Berkeley. Moody is the author of two cookbooks: Healthier Together and Glow Pops and the host of the Healthier Together podcast.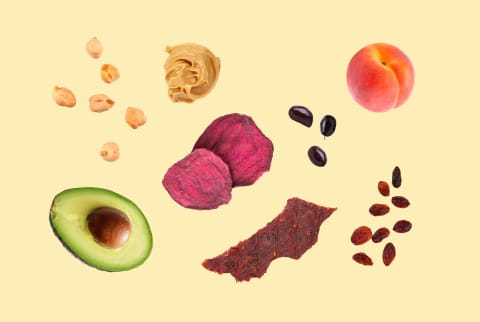 Image by mbg Creative / Contributor
July 17, 2019
Our editors have independently chosen the products listed on this page. If you purchase something mentioned in this article, we may
earn a small commission
.
Even the best of us can be caught out without a healthy snack on hand, which make us wonder—what do people who make their living in nutrition do to avoid the problem? We asked the healthiest people we know what they keep on hand to avoid hanger emergencies. One clear winner? Dried chickpeas and other legumes, which, R.D.s noted, are rich in both satiating fiber and protein. Read on for their favorite brands and more genius ideas.
Advertisement
This ad is displayed using third party content and we do not control its accessibility features.
Dried chickpeas
I love dried edamame and dried chickpea snacks. Both are packed with protein and fiber to help keep you full. They also both come in single-serving packets, so they're super easy to take on the go. Plus, you can easily find them both at most grocery stores and convenience stores. If you're craving something sweet, I love the honey-roasted-flavor dried chickpeas!
—Sammi Brondo, R.D., founder of All Foods Fit
I absolutely LOVE roasted chickpeas. They require zero refrigeration, and they provide both fiber and protein, which is exactly what you should be looking for in a snack. Saffron Road has individual snack bags, which make them perfect for portion control and grab-and-go efficiency.
—Allison (Aaron) Gross, M.S., RDN, CDN, founder of Nutrition Curator
I always keep snacks on me because I am naturally a hangry person. The two items you can find in my bag depending on whether I want salty or sweet are roasted chickpeas (so many awesome brands out there but I love Biena's cool ranch flavor) and Justin's nut butter packets. I just open it up and eat it as is. Both of these give me instant and consistent energy, plus they taste great.
—Stephanie Middleberg, M.S., R.D., CDN, founder of Middleburg Nutrition
Fiber-rich snacks
I have a nut allergy, so I love roasted chickpeas snacks. When I don't have time to make my own (which, let's be real, is pretty much always), I buy single-serve packs like Biena. The sea salt flavor is my favorite. I also love freeze-dried beet or carrot chips. I buy mine from Trader Joe's and also love Bare's versions. All of these snacks provide a lot of fiber to help make them filling. Aside from that, I usually have a stick of collagen powder with me if I want to add it to coffee for a little extra protein, and I often carry single-serving packs of chia seeds so I can buy a plain Greek yogurt on the go and stir those in for extra fiber and plant-based omega-3s.
—Jessica Cording, R.D., mbg Collective member and founder of Jessica Cording Nutrition
Advertisement
This ad is displayed using third party content and we do not control its accessibility features.
High-protein snacks
You'll often find me snacking on jerky that's individually wrapped, or shelled edamame; plus, a seasonal hand fruit, like peaches or apples. The balance of the protein and carbs is super satisfying, and I don't have to worry about the jerky going bad!
—Isabel Smith, R.D., founder of Isabel Smith Nutrition
Almond butter packets
Advertisement
This ad is displayed using third party content and we do not control its accessibility features.
Beef biltong
I'm recently hooked on beef biltong thanks to my husband! It's a South African dried beef that's SO much better than typical jerky. Made with vinegar and spices and a different production method, biltong is high protein, packed with flavor, and bag-friendly. I like the brand Ayoba-Yo.
—Carlene Thomas, RDN, founder of OhCarlene
Dried broad beans
I often keep individual-sized bags of roasted broad bean crisps in my bag to avoid hanger throughout the day. My favorite brand is Bada Bean Bada Boom from Enlightened. Just one small bag packs in 5 grams of fiber and 7 grams of protein, which helps to keep me satiated when I'm on the go. With just four clean ingredients, my favorite flavor right now is sea salt.
—Leah Silberman, R.D., founder of Tovita Nutrition
Advertisement
This ad is displayed using third party content and we do not control its accessibility features.
High-fat snacks
Healthy fats are essential to keeping you feeling fuller for longer and avoiding the blood sugar crash and inevitable hanger that goes along with that. I am a huge fan of ketotarian-friendly (plant-based keto) snack prepackaged olives, individual packets of nut butters, and avocados. They are easy to grab and go, are great eaten alone, or make a great addition to a restaurant meal if you need to bulk up the fat content in a meal.
—Will Cole, D.C., mbg Collective member and author of Ketotarian
Fruit & nut chews
A refrigerator-less snack I keep on hand is individual fruit and nut chews. The sweet and salty combo provides protein and fiber to help stabilize blood sugar levels and natural quick energy.
—Alanna Waldron, R.D., founder of Eats Real Food
Advertisement
This ad is displayed using third party content and we do not control its accessibility features.
Farmers market snacks
I am a farmers market freak so every Sunday I go there and stock up on snacks and food for the week. From organic local apples (my current favorite) to dried fruit to gluten-free peanut butter cookie bites (yes, they're as amazing as they sound), you will always find tons of snacks in my bag!
—Jordan Younger, mbg Collective member and founder of The Balanced Blonde
An avocado
I'm all about the emergency avocado! I can add it to anything, whether it's a bowl, salad, or eggs, plus I save the extra $3.99 for a side of avo in LA!
—Sahara Rose, ayurvedic expert and author of Eat Feel Fresh
Energy balls
These easy-to-make snacks are perfectly fine at room temperature and won't spoil in your bag. They also contain a great amount of healthy fats to keep you satisfied, carbohydrates for an energy boost, and protein to keep your blood sugar stable. I like to make my No-Bake Peanut Butter Energy Balls or Healthy Oatmeal Cookie Energy Balls and keep a couple in my bag for when I want to stave off hunger on the go!
—Christal Sczebel, CHN, founder of Nutrition in the Kitch
Trail mix
Snacks like trail mix that contain protein, fiber, and healthy monounsaturated fat will keep you energized and curb your hunger. My go-to trail mix recipe includes a mixture of almonds (1 ounce provides 6 grams of protein and 4 grams of fiber), raisins or dried cranberries (they'll give you an energy boost), and pumpkin seeds (they contain antioxidants like carotenoids and vitamin E).
—Wendy Lopez, R.D., founder of Food Heaven Made Easy