These Are 10 Of The Best Low-Carb, Keto-Friendly Snacks On Amazon
Our editors have independently chosen the products listed on this page. If you purchase something mentioned in this article, we may
earn a small commission
.
Sure, it once seemed like a fad, but today the ketogenic diet is still going strong, with countless proponents preaching its benefits of weight loss, mental clarity, and stable blood sugar levels and mood. And, despite being called a meat and cheese fest by critics, this ultra-low-carb diet actually allows for plenty of nutrient-rich whole foods when formulated correctly (check out our keto food list).
That said, maintaining a truly healthy keto diet can be labor-intensive and somewhat stressful since you'll likely need to cook many of your meals at home to ensure they contain an appropriate macronutrient ratio, with minimal carbs and plenty of fat.
That's why we want to give you permission to take some shortcuts when it comes to snacks. Sure, keep slicing up that bell pepper and celery (the perfect low-carb vehicles for guacamole) when time allows. But when you're in a rush? Or when you know you'll be caught in the car for hours? That's where grab-and-go goodies can seriously come in handy.
Here, we've rounded up 10 of the best keto-friendly snacks you can buy on Amazon—all just a click away.
Pili Hunters Activated Pili Nuts
With a rich flavor that's somewhere between a macadamia nut and cashew, and a softer, more buttery texture than other nuts, high-fat pili nuts are making waves as one of the tastiest "new" nuts around. They're also the lowest carb nut by a long shot—containing just 1 gram per ounce (about ¼ cup). The only other nut that comes close is macadamia nuts with 4 grams of carbs per ounce. Buy Pili Hunters Wild Sprouted Pili Nuts on Amazon ($14).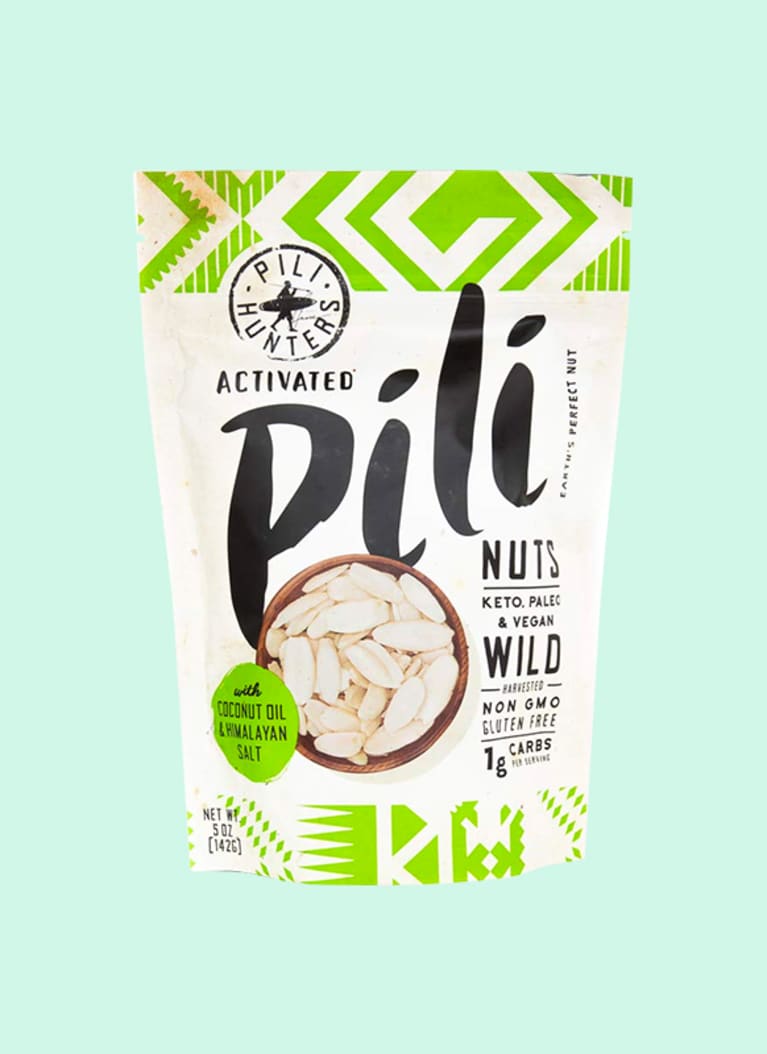 mbg creative + custom
True North Nutty No Grainer Mediterranean Granola
Loaded with ingredients like almonds, macadamia nuts, pistachios, sesame seeds, lemon peel, and EVOO, this grain-free granola is ideal for adding a crunch to salads or soups or eating straight out of the bag. A serving contains just 5 grams of carbs and plenty of fiber (fun fact: Fiber prevents your body from absorbing some of the carbs present in food). Buy True North Mediterranean Blend Grain-Free Granola on Amazon ($9).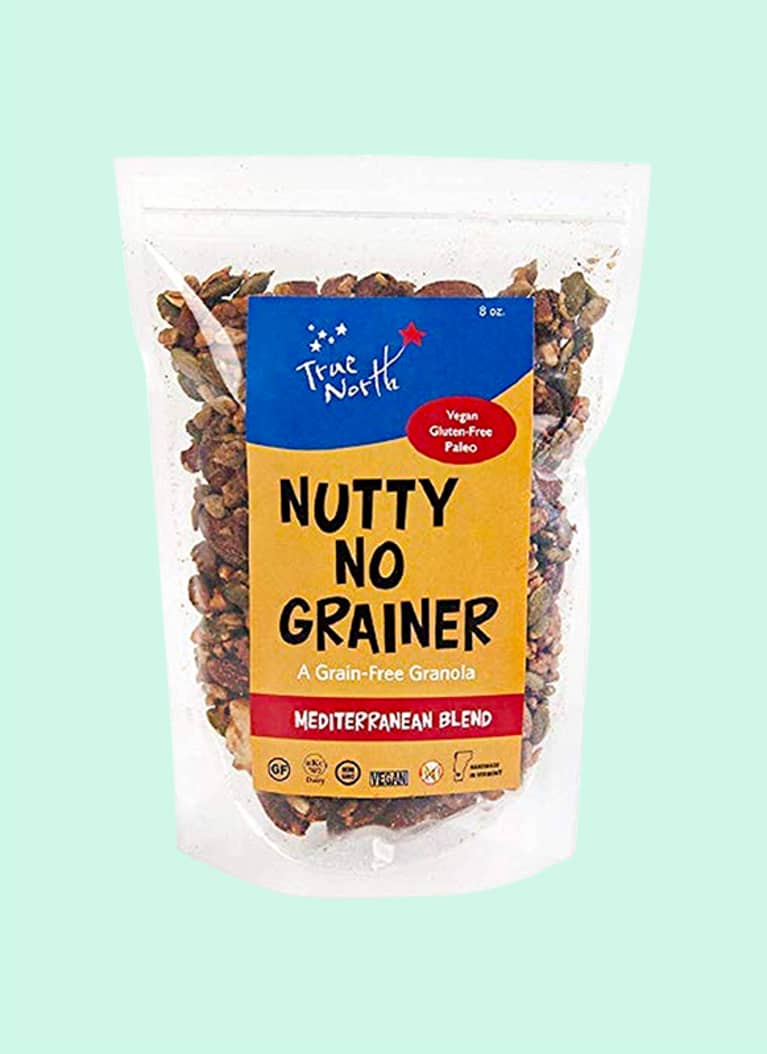 mbg creative + custom
Epic Pork Sea Salt & Pepper Rinds
For something crunchy and salty without the total carb overload you'd get from potato chips, pork rinds are the ideal keto solution. We're not talking about those gas station pork rinds of yore. We're talking about uber-flavorful, pastured, sustainably sourced bites of zero-carb goodness that are ideal for dunking in guac or adding to salads as a low-carb crouton sub. Buy Epic Artisanal Pork Rinds on Amazon ($2.65).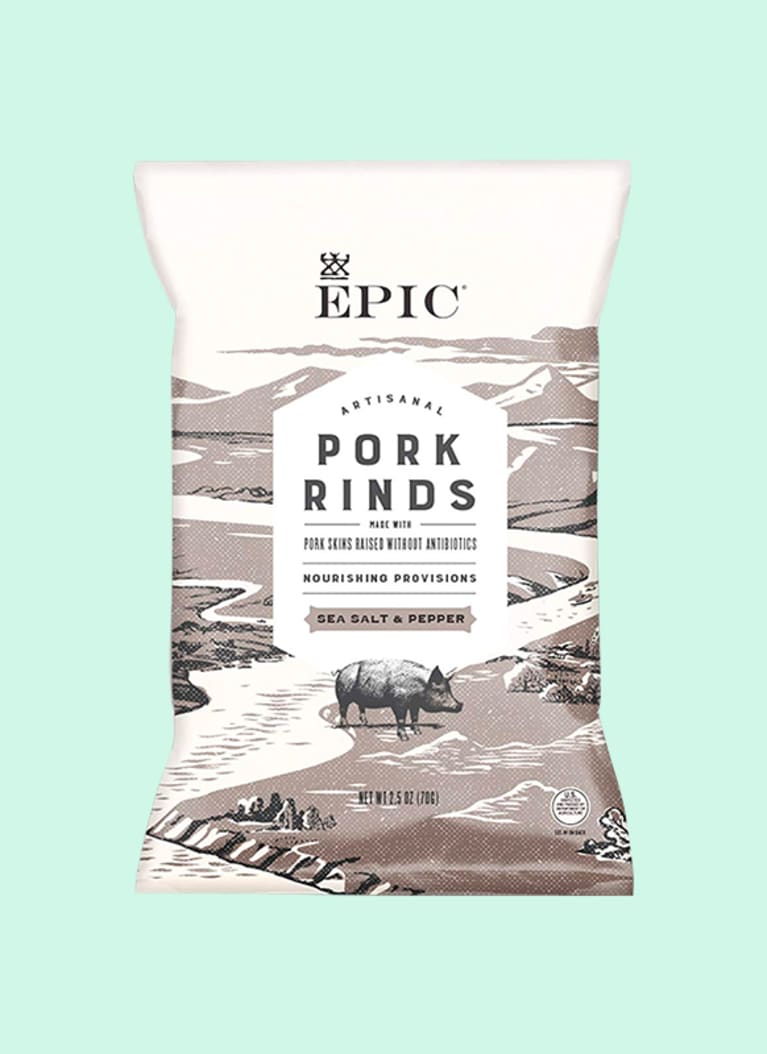 mbg creative + custom
Julian Bakery Primal Thin Crackers
Whether you're keto or you're just wondering what to put out for your low-carb and keto pals at your next party, these crackers—with just 6 grams of carbs per serving—are a win. Made with Parmesan cheese, flaxseeds, sesame seeds, and chia seeds, they're a perfect vehicle for cheese, dips, salsa, and guac. Buy Julian Bakery Primal Thin Crackers on Amazon ($12).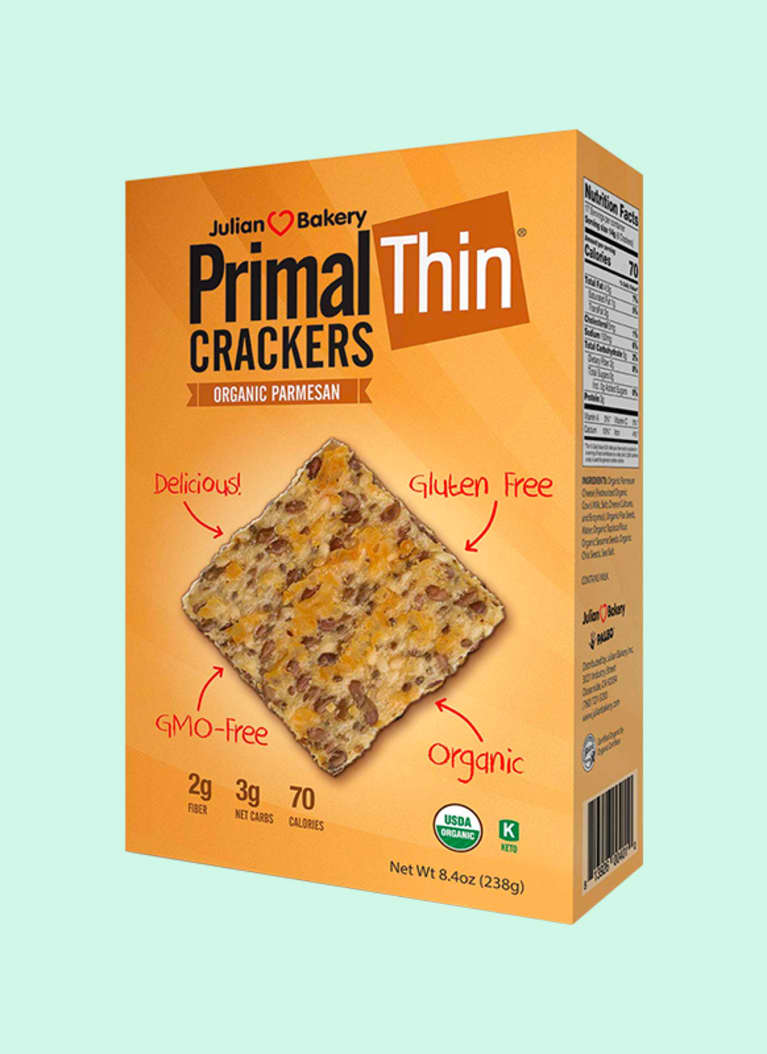 mbg creative + custom
Dang Lightly Salted Coconut Chips
Looking for a crispity-crunchity keto treat that isn't pork rinds? Go the plant-based route with these coconut chips. The hint of salt actually brings out the coconut's natural sweetness, making these a way to get your sweet and savory fix simultaneously. One ounce of these chips contains 10 grams of carbs and a surprising amount of fiber (5 grams, or 20 percent of your daily value) of fiber. Buy Dang Lightly Salted Coconut Chips on Amazon ($4).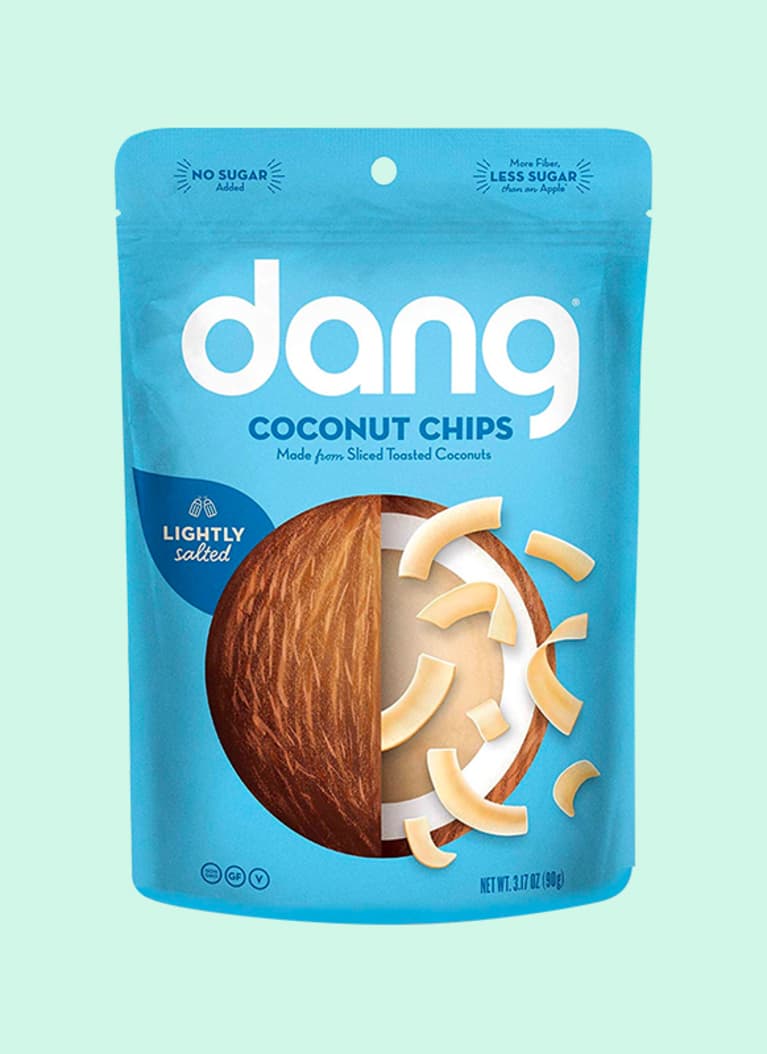 mbg creative + custom
Perfect Keto Almond Butter Brownie Bar
Sometimes we're skeptical of bars, especially low-carb ones, which can be packed with loads of funky ingredients and gut-irritating artificial sweeteners or sugar alcohols. But Perfect Keto has managed to keep things simple and tasty with quality ingredients like organic almond butter, cacao butter, collagen, cocoa, and a bit of stevia for sweetness. Each bar contains 12 grams of carbs, which is partially offset by the whopping 9 grams of fiber (37 percent of your daily value!), and 10 grams of protein. Buy Perfect Keto Almond Butter Brownie Bars on Amazon ($40 per 12-pack).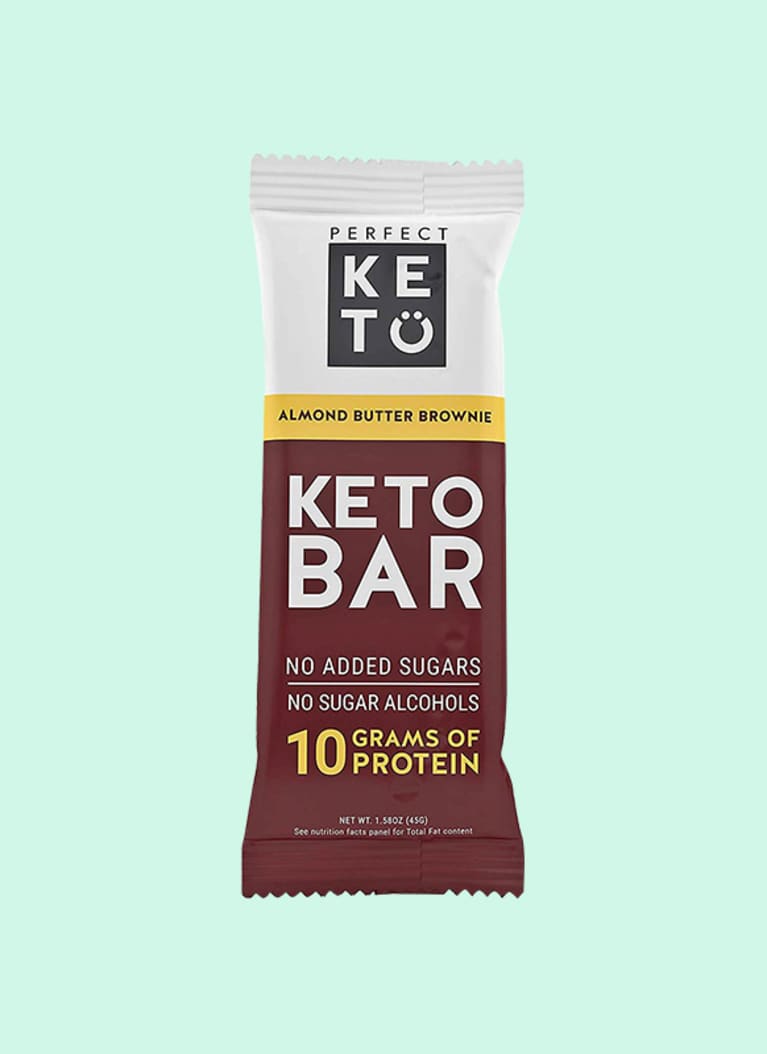 mbg creative + custom
Lily's Extremely Dark Chocolate
Yes, you can have chocolate on keto! You just have to go for the ultra-dark variety. Pro tip: The higher the cocoa percentage, the lower the sugar and carb count, and keto experts like integrative dietitian Ali Miller, R.D., recommend opting for 85 percent dark or higher. To help ease you into this much more intense chocolate experience, we like this bar from Lily's, which is naturally sweetened with just a bit of stevia to take the bitter edge off. Buy Lily's Extremely Dark Chocolate on Amazon ($20 per 4-pack).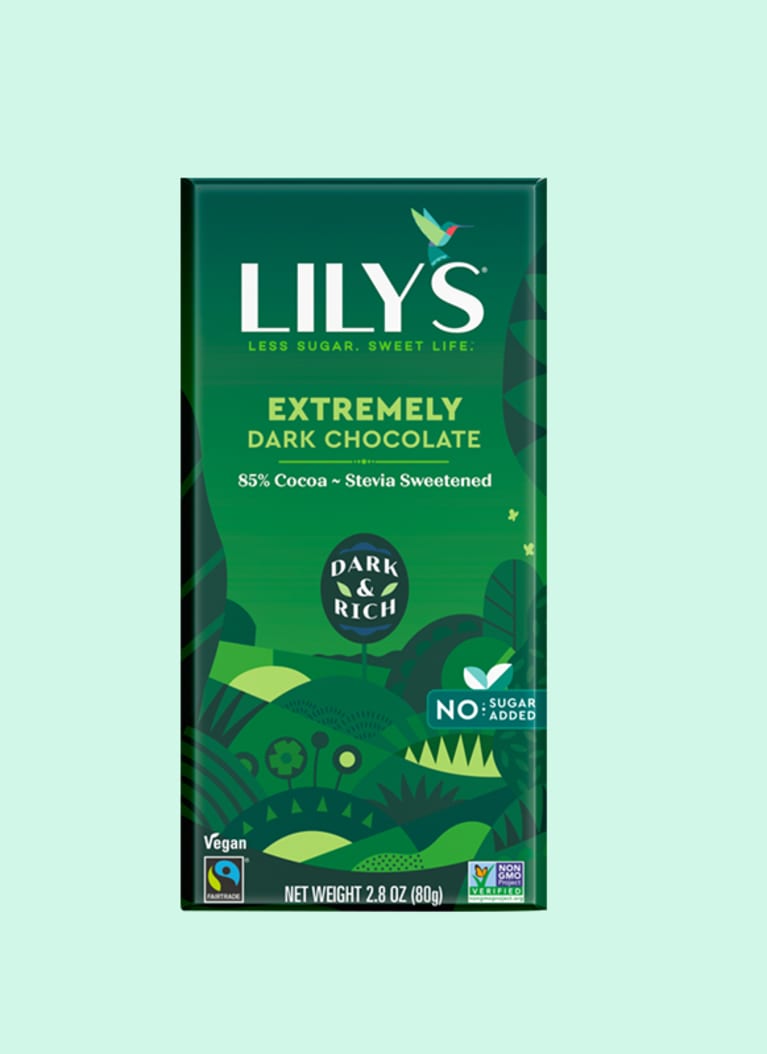 mbg creative + custom
Oven-Baked Parm Crisps
Just one ingredient here! Aged Parmesan cheese that's been dehydrated to crispy perfection, morphing it into a crunchy-salty chip-like snack that pairs perfectly with veggie slices, a few olives, nuts, and prosciutto for a keto-friendly charcuterie plate. Buy Parm Crisps on Amazon ($23 per 6-pack).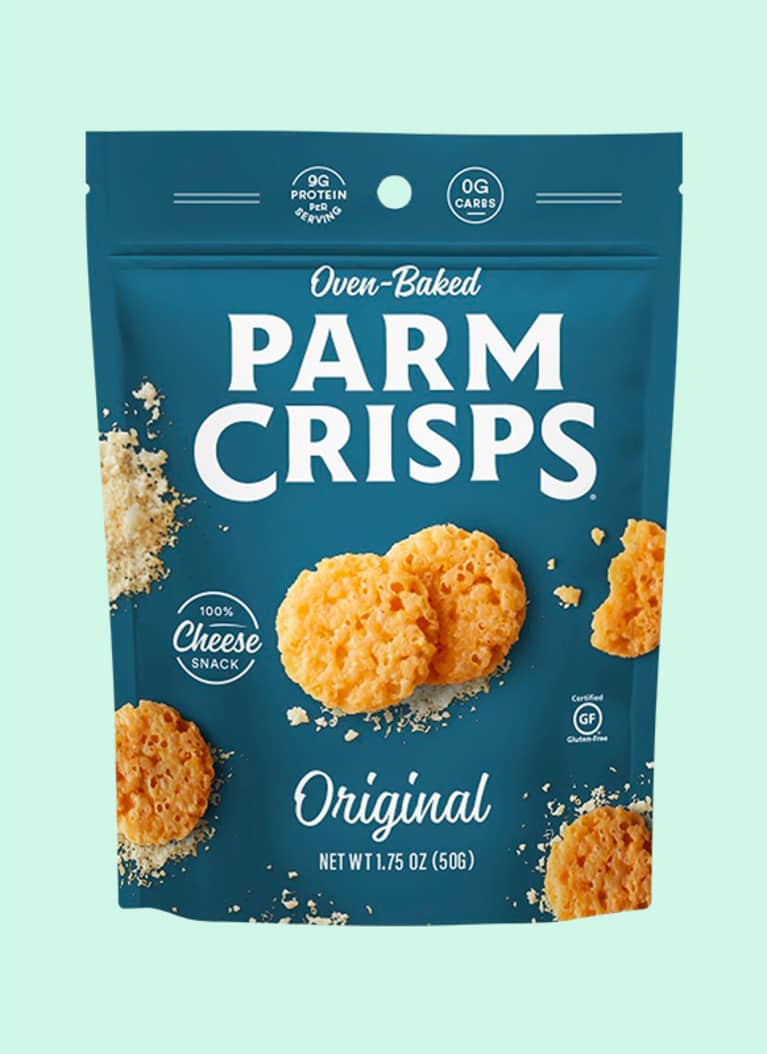 mbg creative + custom
Primal Kitchen Protein Bar Sample Pack
We found another keto- and paleo-friendly protein bar to add to your rotation, perfectly portable for all your summer travel needs. These bars—peanut butter, coconut lime, and almond spice—get protein punch from eggs and egg whites, and a hit of subtle sweetness from monk fruit, delivering just 9 grams of protein and 9 grams of carbs. Buy Primal Kitchen Protein Bar Sampler Pack on Amazon ($13).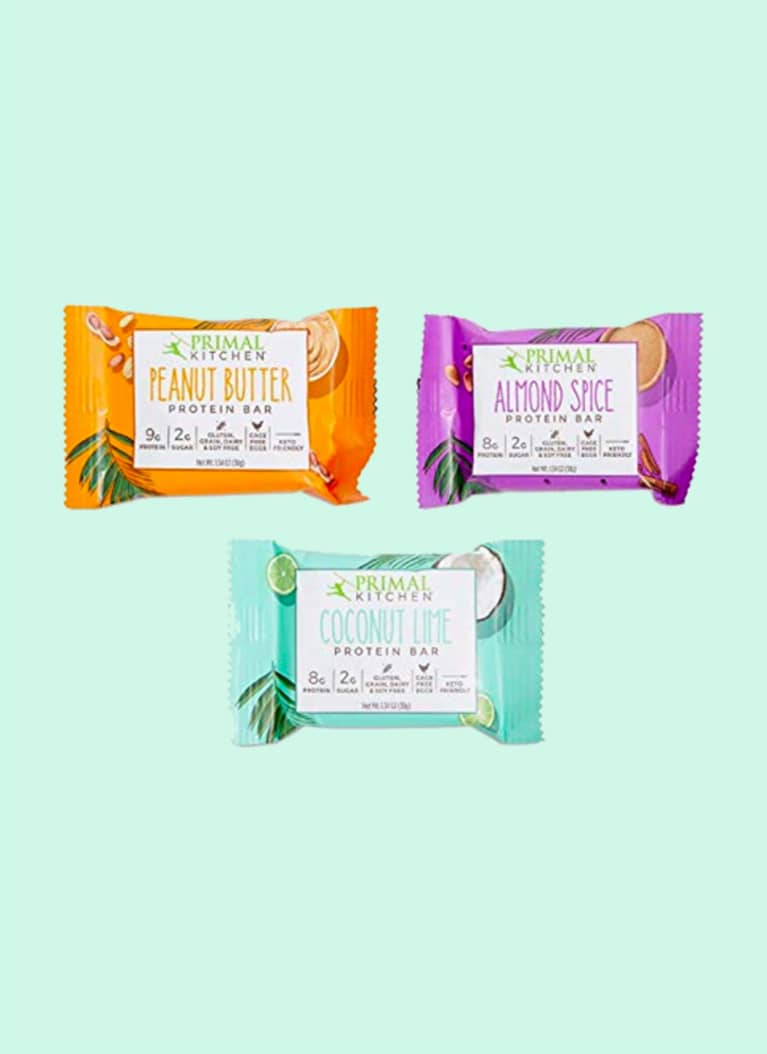 mbg creative + custom
Eating Evolved Coconut Butter Cups
One of these delightful coconut butter cups will set you back about 8 grams of carbs—which is super low for a dessert-like treat that doesn't pack any artificial sweeteners. We love the ultra-simple ingredient list, too: coconut, cacao, cacao butter, Himalayan sea salt, and coconut sugar. Eat as is or top with a dollop of your favorite nut butter to make this an extra fat-packed dessert. Buy Eating Evolved Coconut Butter Cups on Amazon ($20 per 9-pack).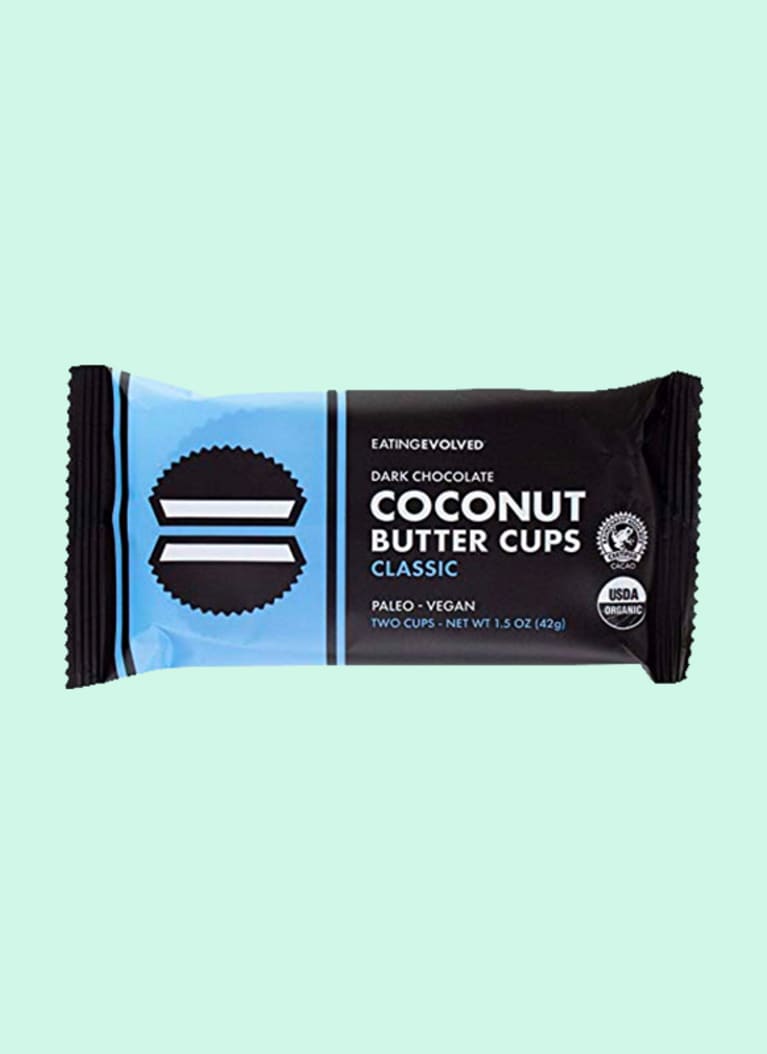 mbg creative + custom
And do you want to turn your passion for wellbeing into a fulfilling career? Become a Certified Health Coach! Learn more here.