It's been a great year for gut health, with the importance of the microbiome going truly mainstream and exciting advancements in products (collagen is suddenly everywhere) and information (you can now quickly and easily test your own gut bacteria). Along the way, we've shared over 50 recipes to help you heal your gut, from breakfasts to snacks to drinks and desserts. Here are the top gut-healing recipes of the year:
Prebiotic Jerusalem Artichoke Soup
When many people think about gut healing, they think probiotics, but prebiotics are equally important. The fibrous foods feed good gut bacteria and are necessary for a healthy microbiome to thrive. This soup, made with prebiotic superstar Jerusalem artichokes (or sunchokes), made eating bacteria-nourishing food incredibly delicious and easy. Get the Prebiotic Jerusalem Artichoke Soup recipe here.
Apple Cider Vinegar Switchel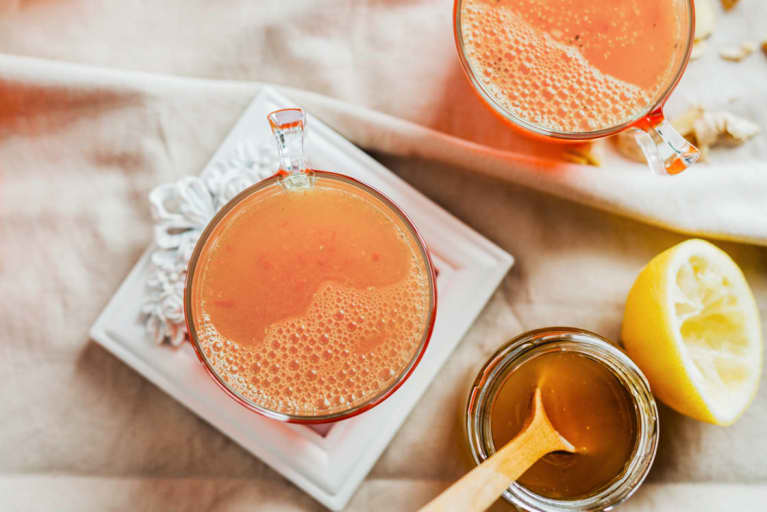 If you haven't yet heard of Switchel, listen up! The drink dates back to colonial days, but it's healing powers are decidedly modern. According to gut health specialist Vincent Pedre, M.D., "In addition to improving digestion and helping gut health, (apple cider vinegar) has other varied health benefits, including reducing the sugar impact of foods." This drink makes the vinegar deliciously sippable, so you can reap its benefits daily. Get the Apple Cider Vinegar Switchel recipe here.
Back in May, thyroid expert Fern Olivia made waves on the site when she shared her new daily habit: sipping celery juice to heal her gut. Olivia noted the many benefits she personally experienced, from better digestion and more energy to reduced cravings and brain fog. "It also helps to purify the bloodstream, aid in digestion, relax the nerves, reduce blood pressure, and clear up skin problems. Celery is rich in vitamin A, magnesium, and iron, which all help to nourish the blood. Celery juice is also rich in organic sodium content, meaning it has the ability to dislodge calcium deposits from the joints and hold them in solution until they can be eliminated safely from the kidneys," says Olivia. Want to try it yourself? Get Fern Olivia's go-to celery juice recipe here.
Constipation-Busting Chia Pudding