The Delicious Apple Cider Vinegar Drink You'll Want To Sip For Daily Gut-Healing
Contributing Food Editor
By Liz Moody
Contributing Food Editor
Liz Moody is a food editor, recipe developer and green smoothie enthusiast. She received her creative writing and psychology degree from The University of California, Berkeley. Moody is the author of two cookbooks: Healthier Together and Glow Pops and the host of the Healthier Together podcast.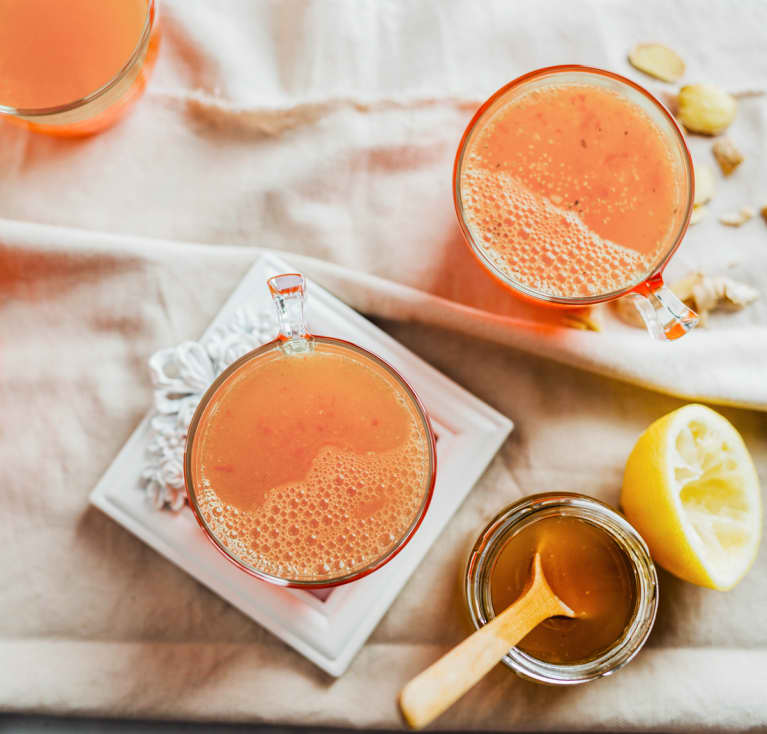 Our editors have independently chosen the products listed on this page. If you purchase something mentioned in this article, we may
earn a small commission
.
Switchel is a classic drink that's increasingly catching on in creative restaurants and bars, and for good reason. The drink is made from apple cider vinegar, ginger, and a bit of maple syrup. A little spicy and a little sweet, it's perfect for sipping and can crush any soda craving in its tracks (just make sure you rinse your mouth with water after to protect your teeth from the vinegar's acidic qualities!). If you're looking to reap apple cider vinegar's myriad benefits—according to Vincent Pedre, M.D., "In addition to improving digestion and helping gut health, it has other varied health benefits, including reducing the sugar impact of foods"—this recipe, excerpted from Vinegar Revival by Harry Rosenblum, is a great way to get started.
Apple Cider Vinegar Switchel
Makes 1 quart
This old-fashioned energy drink is as colonial as it sounds. It's made from apple cider vinegar and New England's liquid gold, maple syrup. I find this to be the most refreshing thing you can slug on a hot summer day after working in the garden, changing the oil, or just sitting on the porch. Try it with a shot of bourbon at cocktail hour. You can triple or quadruple this recipe for a party—or just so you always have switchel close at hand.
Ingredients
½ cup apple cider vinegar (look for the kind with the mother)
3 tablespoons good-quality maple syrup
1 tablespoon grated fresh ginger or 2 teaspoons ground ginger
Pinch of kosher salt
½ lemon
In a clean quart-size Mason jar with a tightfitting lid, mix together the vinegar, maple syrup, ginger, and salt. Squeeze the lemon juice into the jar and add the lemon half. Fill with water, seal the jar, and refrigerate for at least 4 hours.
Remove and discard the lemon; shake, drink, and enjoy. Switchel will keep tightly sealed in the refrigerator for up to 1 month (if you can make it last that long).