Close Banner
Advertisement
This ad is displayed using third party content and we do not control its accessibility features.
The 8 Best Energy-Efficient Space Heaters Of 2023
Writer
By Jennifer Wirth
Writer
Jennifer Wirth is a freelance content strategist and writer with expertise in parenting, beauty, and health and well-being.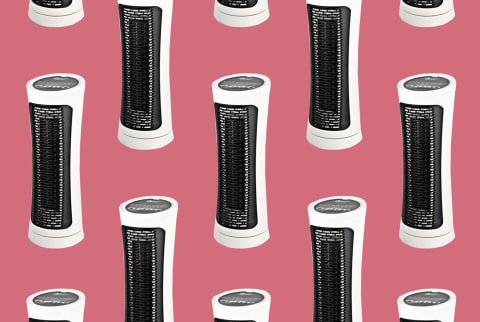 If you've ever worked in an office or lived in a building that stays drafty all year long, you're likely familiar with the search for a great space heater. Along with keeping you warm and cozy, these small devices are a great way to cut down your heating costs and save energy while you're at it.
Rather than adjusting your entire building's heat system, the best energy-efficient space heaters will add warmth just to the rooms you use the most.
Not sure what to look for in an energy-efficient space heater? We spoke with home health and safety experts, and we're sharing their advice below, plus their most helpful tips on how to warm up your space, and our top picks for the best energy-efficient space heaters.
The best energy-efficient space heaters
What to look for in an energy-efficient space heater
In general, space heaters can be divided into two main types: convection and radiant. Convection heaters warm the ambient air by passing it over a heating element, whereas radiant heaters emit infrared radiation to warm people and objects nearby, not the surrounding air.
In general, radiant space heaters, commonly referred to as infrared heaters, are among the most energy-efficient options because it takes less energy to emit radiation than heat the air.
There are certainly energy-efficient convection heaters, too, but the EPA doesn't currently label space heaters as an Energy Star–qualified product—which can make choosing an energy-efficient space heater a bit difficult.
Experts recommend taking a few key features into consideration:
Wattage rating: It's important to pay attention to the heater's wattage rating. The higher the wattage, the more electricity or energy it will consume. As a rule of thumb, space heaters with a fan tend to consume more energy than those without.
Settings: "Look for a space heater with multiple heat settings, and ideally an energy saving or ECO-mode. That way, you can use less energy by only heating the room to the temperature you need," says Cate Walter, director at Rhino Safety, experts in health, safety, and fire risk management.
Features: Home fire safety expert and director of the Fire Risk Assessment Network John Smith adds that features such as overheat protection and an adjustable thermostat can help you safely heat your space while ultimately saving energy by maintaining your desired room temperature.
Size: You'll want to find a space heater designed specifically for the room size you plan to use it in. This will help ensure that you get the most efficient heating for your needs.
How we picked the best energy-efficient space heaters
Energy-saving features: Some space heaters are naturally more energy efficient based on the type of heater; others offer energy-saving and ECO settings. We prioritized heaters with these features.
Reviews: We dove into the reviews (the good and the bad) to be sure we are recommending quality products that customers tend to love.
Budget: We know everyone's budget is different, so we included options at a variety of price points.
Variety: Whether you're looking to heat a large room, want Wi-Fi capability, or are looking for some warmth outdoors, we've got you covered.
Our picks for the best energy-efficient space heaters
Best electric
Atomi Smart Space Tower Heater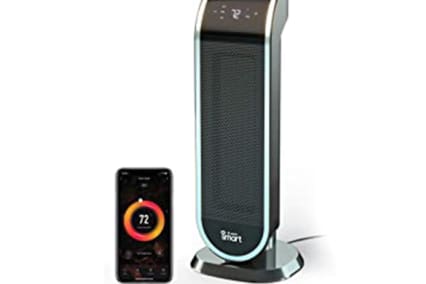 If you're in the market for a quality and durable space heater this is a great option, as ceramic heaters are generally a more efficient type of convection heaters. Choose from low or high settings, or opt for ECO mode to maintain your ideal temperature with the least amount of energy. The tower design helps this machine heat large spaces, and it's also WiFi-enabled—a unique feature that allows you to control it from anywhere.
Even better, the brand offers a 3-year limited warranty, so you can be sure you're making a sound investment for years to come. Reviewers love the design and effectiveness of this heater, the app-controlled capabilities, and the fact that it significantly reduces their electricity bills. A few people wish that there were even more scheduling options, as you can only set one temperature at a time.
Pros & Cons

Pros

Wireless control through an app & compatible with Amazon Alexa and Google Assistant
Ability to set an ON/OFF schedule based on your needs
Compliant with Electrical Testing Laboratory North American safety standards

Cons

Limited scheduling capabilities
Some find thermostat to be inconsistent
Best with thermostat
Dreo Solaris Max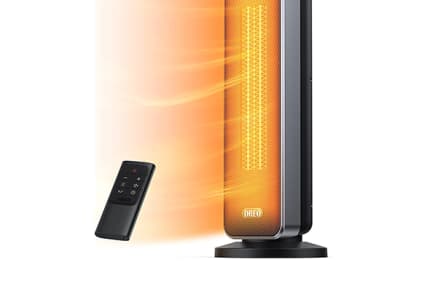 The Dreo Solaris Max is a great space heater if you prefer a digital thermostat. It allows you to program and control the temperature of the room from 41 to 95 degrees Fahrenheit, in 1 degree increments. With overheat protection and the ability to heat up to 270 square feet., this heater is perfect for a variety of smaller spaces. Choose from high (1,500 watt), medium (900 watt), or low (700 watt) heat settings, or save on your energy bills by selecting ECO mode.
The brand offers a 5-year warranty and free round-the-clock technical support to help you with any questions or issues you may have. Although it's not meant for very large rooms, customers say this heater is quick to warm up a smaller space and is "great for saving on your electricity bill." The device also gets a lot of love for being extremely quiet, even from self-proclaimed light sleepers.
Pros & Cons

Pros

Adjustable digital thermostat allows control in 1°F increments
Wide-angle oscillation to spread heat
Flame retardant materials for improved safety

Cons

Not suited for large rooms
Some reviewers experience difficulties with programmable temperature control
Best for large rooms
Dr. Infrared Heater DR968 Portable Space Heater
This space heater combines the energy-efficiency of infrared technology with the comfort and warmth of convection devices, to heat spaces up to 1,000 square feet. Choose between the energy-saving auto mode, high (1,500 watt), or low (1,000 watt) settings to warm your space to your desired temperature, and rest easy knowing that the dual-heating system produces more heat than other heaters of the same wattage.
While yes, it is larger than other options, over 14,000 perfect 5-star ratings on Amazon speak to how well-loved this heater is. Reviewers say, "if you're looking for heat, don't think twice—get one of these."
Pros & Cons

Pros

Large room coverage
Efficient dual-heating technology
Quiet

Cons

Not the most aesthetically pleasing
Large
Best for outdoors
Briza Infrared Patio Heater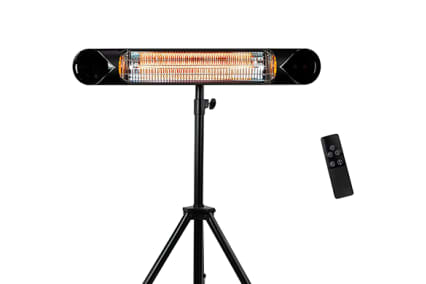 With carbon infrared technology to efficiently warm people and objects, this is a great energy-efficient pick that can be used outside or indoors. It has three heating levels: 900 watt, 1200 watt, and 1500 watt—and, while it is on the larger side, this heater is actually quite portable. You can mount it to the wall or ceiling if you want to save space, or stand it up like a tripod as pictured.
There is a lot of happy customer feedback for this heater on Amazon, which can mostly be summed up by this one review: "This is worth every penny. In fact, within minutes of opening the first one we ordered a second!"
Pros & Cons

Pros

Great for indoor or outdoor use
Able to withstand rain, snow, sand, or dust
Can be mounted to the wall, ceiling, or a tripod stand
Best for indoors
De'Longhi Slim Style Dual Fan Space Heater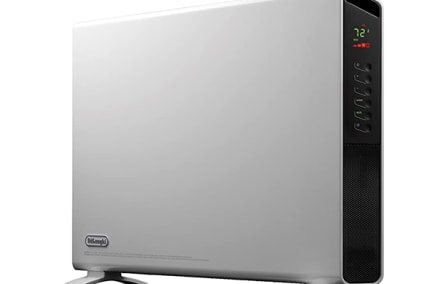 Another wall-mountable option, this energy-saving space heater automatically adjusts the temperature and power settings to maintain a consistent and comfortable temperature. The dual-lateral fan offers improved heat distribution to warm any small room quickly and evenly. It's also more aesthetically pleasing than many others on the market, so you can keep your home the sanctuary that it is.
Most commonly praised for its design, effectiveness, and (lack of) sound, this heater gets a lot of positive reviews on Amazon. One reviewer says, "dead silent 99.999% of the time, but uses a fraction of the electricity" versus other electric radiators.
Pros & Cons

Pros

24-hour timer compared to many 12-hour timers
Anti-frost setting to keep pipes from freezing
Option to mount to wall

Cons

Not suited for large rooms
Cheapest to run
EconoHome Wall Mount Space Heater Panel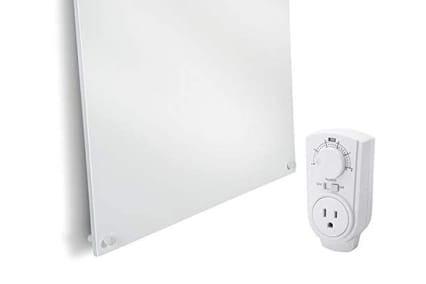 This heater's maximum electricity output is only 400 megawatts, compared to other space heaters with outputs of 1,500 megawatts or more. As a result, this space heater can provide consistent warmth in small spaces, using less energy at a lower cost.
The EconoHome convection heater is designed to be mounted to the wall and can even be painted to match the room aesthetic. Although it's lacking digital temperature control, it does offer a plug-in thermostat to help you customize the heat settings to your liking.
While it does get a lot of positive feedback on Amazon, the overall rating is a bit lower than we'd prefer: 3.7 out of 5 stars. It seems any negative reviews are all regarding a smell, but the majority of customers argue that there is no such odor.
One person writes, "I was a little nervous buying this because of all the negative comments about the strong odor, as I consider myself to be somewhat sensitive to such things, but I unpacked it, plugged it in and waited for the worst and it's completely fine! No strong odor at all and it seems to heat up quite nicely!" Others who notice the smell say it goes away fairly quickly.
Pros & Cons

Pros

Designed to be mounted on the wall
Consumes less electricity, so more cost-effective to run
No fan to stir up dust, pollen, or dander

Cons

Not suited for large rooms
No digital temperature control
Best radiant
De'Longhi Radia S Radiator Space Heater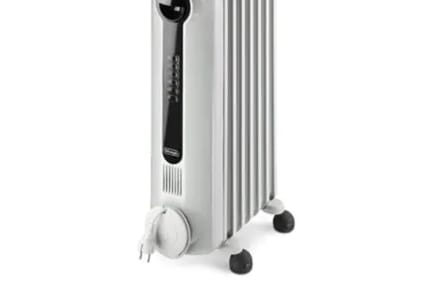 Designed to evenly distribute radiant heat throughout the room, this heater is perfect for smaller spaces. Aside from its three basic modes—max (1,500 watt), medium (800 watt), and min (700 watt)—you can also customize your settings with the Anti-Frost or ECO Plus functions, which help save 20% to 40% on energy usage. There's a digital control panel for setting temperature, along with timer capabilities that are twice as long as many standard space heaters.
There aren't a ton of reviews yet on the company's website, but they're almost all positive. Customers love that this heater warms their space and say it's so quiet they almost forget they have it on. A couple of people note that it takes a bit longer than they'd like to warm up.
Pros & Cons

Pros

24-hour timer compared to many 12-hour timers
Anti-freeze setting to help keep pipes from freezing

Cons

Not suited for large rooms
Slower to warm up than others
Best budget
Comfort Zone Energy Save Ceramic Tower Heater
You can't beat the quality for this price point. This ceramic space heater offers two heat settings and an energy save setting, which uses 30% less energy than a typical space heater. While it isn't suited for larger rooms (most of these aren't), it's compact size and sleek, modern design make a great, energy-efficient addition to any space.
There is no LED display, but you can use the built-in buttons to select fixed temperatures ranging from 60 to 80 degrees Fahrenheit.
This heater only has 25 reviews at the time of publication, but maintains a 4.6 out of 5-star rating overall. It gets a ton of great feedback for warmth, energy-efficiency, and size—but some people do say it runs a bit loud.
Pros & Cons

Pros

Wide oscillation range to evenly spread distribute heat
Smaller and more compact than many other popular options

Cons

Louder than others
No LED screen for digital control of the temperature
Who should buy a space heater
Space heaters are a great way to quickly and easily heat a smaller room in your home. They can be especially helpful if you have a drafty space or want to save on energy costs by only heating the rooms you use the most.
On the other hand, if you're looking to heat a large space or multiple rooms throughout the house, our experts advise that space heaters are not the best option.
Below are a few other options to consider if you're looking to heat your home this winter:
Electric fireplace heaters: Electric fireplace heaters are a great way to add extra warmth to your home. Not only do they provide heat, but they also add a cozy ambience. Many electric fireplace heaters come with remote controls so you can easily adjust the temperature from anywhere in the room.
Wood burners: Wood burners are environmentally friendly and can help you save on energy costs. While they require some maintenance, like regular cleaning, they're a great way to add extra warmth to your home.
Pellet heating stoves: Pellet heating stoves are a great alternative to wood burners. They're easy to operate and require very little maintenance. Pellet heating stoves are also environmentally friendly and can help you save on energy costs.
More tips to keep your space warm
"Making sure your home is effectively insulated can be an effective way to ensure that heat remains in the home. Invest in attic insulation, weatherstripping or caulking around windows, window insulation sheets, draft excluders, and more to help better regulate temperature at home," says Walter.
When home updates aren't an option, there are other ways to give you some warmth without breaking the bill:
Lined curtains
Electric blankets or throws
"Ultimately, the best way to keep warm in your home will depend on your individual preferences and comfort level," says Smith. So, find what works best for you and your family, and prepare to snuggle in during these chilly, winter months.
Frequently asked questions
Do space heaters raise electric bills a lot?

In general, space heaters are best to warm a person or a small space—not an entire house. They can raise your electric bills quite a bit if you don't make other changes at home. To utilize these devices as an energy-efficient option, lower your thermostat and use a space heater in the room you spend most of your time in.
Is it cheaper to turn up the thermostat or use a space heater?

The cheaper option will depend on the size of your home and the number of people. If you are trying to warm an entire home, it may be cheaper to turn up the thermostat, but if you are focusing on one or two spaces in a larger home, a space heater will likely be the most cost-effective option.
Are there any dangers or safety risks associated with space heaters?

Space heaters are a leading cause of home heating equipment fires, according to the National Fire Protection Association (NFPA). Other potential hazards include burn risk to young children and pets and carbon monoxide poisoning for certain types of space heaters, says Walter.
The takeaway
Energy-efficient space heaters are an easy, eco-friendly way to warm up a small space. Whether you're looking for a model to take the chill out of your home office or bedroom or you want to sit outside on a chilly night, this list has got you covered.
Jennifer Wirth
Writer
Jennifer Wirth is a freelance content strategist and writer with expertise in parenting, beauty, and health and well-being.Along with holding a bachelor's degree in chemical engineering, she's written for sites like Forbes, Health Grades, and Single Care. long with holding a bachelor's degree in chemical engineering, she's written for a handful of sites including Health Grades and Single Care.