Close Banner
Advertisement
This ad is displayed using third party content and we do not control its accessibility features.
6 Best Cold Laser Therapy Devices Of 2023 To Target Aches & Pains

Contributor
By Caitlyn Martyn
Contributor
Caitlyn Martyn is a freelance writer whose work has appeared in Byrdie, InStyle, Popsugar and more.

Medical review by
Scott Nass, M.D., MPA, FAAFP, AAHIVS
Board-certified Family Physician
Scott Nass, M.D., MPA, FAAFP, AAHIVS is a family physician and HIV specialist in California. He takes a holistic approach to healthcare, incorporating principles of functional medicine and using food as medicine when working with patients.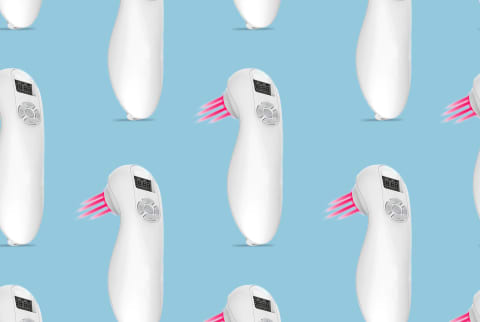 We carefully vet all products and services featured on mindbodygreen using our
commerce guidelines.
Our selections are never influenced by the commissions earned from our links.
Pain can seriously affect your everyday life, no matter what the cause is. And while it's important to always consult with a doctor about any new symptoms or conditions, at-home recovery tools can help provide relief between visits. The best cold laser therapy devices provide temporary relief and lessen the impact of your pain. The best part? These devices can be used while you meditate, read, prep dinner, or go about your daily tasks.
To learn more about the science behind these devices and how they mitigate pain, we spoke with experts and researched the options available right now. Below, find our picks for the best cold laser therapy devices of 2023.
The best cold therapy laser devices
What is cold laser therapy?
Cold laser therapy, also known as low-level laser therapy, is a form of treatment that involves applying light-emitting diodes (otherwise known as low-light lasers) to the surface of the skin. According to Steven Shoshany, D.C., a chiropractic specialist in New York City, cold laser therapy successfully treats the pain associated with conditions like carpal tunnel and arthritis, in addition to promoting healing of wounds, soft tissue strains, and muscle sprains.
"Cold laser therapy affects injuries and pains—both chronic and acute—at a cellular level," Shoshany explains. "This type of treatment works exceptionally well for inflammation and pain across a wide variety of ailments, whether it be from things like temporomandibular joint (TMJ) disorder and tendinitis or vasculitic neuropathy and chronic neck pain." Since it's been proven to help mitigate pain and accelerate healing, many medical professionals recommend using cold laser therapy (either in-office or at-home) as complement to your existing pain management strategy.
Though generally performed in a medical professional's office, cold laser therapy can also be administered at home with the use of a handheld tool. Each device is designed with a different set of laser classes (1, 2, 3R, 3B, and 4) and wavelengths from 650 to 950 nanometers (nm) and requires only a few minutes of use per session. To prevent retina damage, many lasers come with protective eyeglasses.
Does cold laser therapy work?
According to Shoshany, patients might see faster results during in-office treatments, due to the fact that the pro-grade machinery has higher wavelengths, but the options available for home use are still effective. "Just keep in mind that there's a difference between lasers and LEDs," he advises. "Even though the colors might be the same (red and blue, for example), the diodes are different. Lasers are far more powerful and require eye protection, while LED lights won't because they're not as dynamic."
Our picks for the best cold therapy laser devices of 2023:
Best medical-grade
TerraQuant TQ Solo Cold Laser System
How long it holds a charge
One of the most popular professional-level options, this easy-to-use device harnesses a powerful laser. What sets it apart from other medical-grade, high-ticket cold lasers is that it can be purchased over-the-counter for home use.
Combining three effective wavelengths (660 nm, 875 nm, and 905 nm) into one compact device, this tool gives users the ability to customize their treatment. The kit also comes with very comprehensive manuals to help you determine the right protocol for you. The FDA cleared it for increasing blood flow and improving both pain and inflammation, making it ideal for treating muscular, tendon, and skeletal discomfort—but users with all sorts of aches and pains find it incredibly helpful. What's more, it has an 18-hour battery, so you won't have to stop mid-session.
Reviewers love how high-quality this tool is and how well it helps soothe pain related to arthritis. "This is the greatest gift I have ever given myself. Though it costs $2,000 it has earned its weight in gold over the last decade. The pain relief I feel in my joints is priceless," one person says.
Pros

State-of-the-art multi-frequency emitter
High-powered device safe for home use
Long battery life
Best for Arthritis
Sinoriko Red Light Therapy Device
How long it holds a charge
To put it plainly: arthritis changes your grip. Swollen, achy joints can make it hard to hold things—yes, even sturdy treatment devices like handheld cold lasers. We recommend the Sinoriko device for those with arthritis since it's comfortable to hold and doesn't weigh a ton.
Equipped with four power settings and four timer functions, you're able to control how strong and how long you want each session to be. Take your pick between strengths (low to high) and time (5 to 20 minutes, in five-minute increments) to tailor your treatment to your specific needs.
Plus, the controls are fool-proof. An on/off button illuminates the screen, but you'll need to double-click the "power" button to activate the laser. This feature ensures that you will not accidentally emit laser wavelengths when you're not ready. As far as charging goes, it takes four to five hours to reach a full battery—but you won't be able to charge the device and use it at the same time.
One reviewer with arthritis comments that they have chronic pain "all over" and that this device really helps. "I'm an acupuncture student, and [laser therapy] is good for people who don't like needles. I have access to an expensive laser at my clinic, but this one works similarly at home."
Pros

Simple controls
Lightweight
Cons

Can't charge while in use
Best portable
Tendlite PRO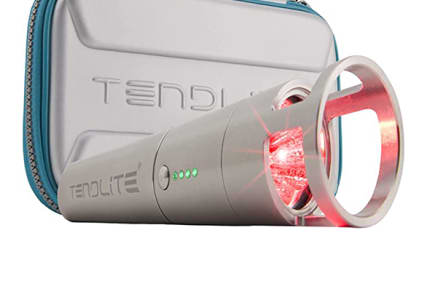 How long it holds a charge:
A great budget- and travel-friendly option, this kit comes stocked with protective goggles, two rechargeable batteries, a charger, a storage pouch, and a hard shell carry case.
Utilizing the state-of-the-art technology used by doctors, physical therapists, and trainers, the cold laser wavelengths in this device are meant to treat aches, pains, spasms, and more—making it an ideal companion to have on any adventure. The brand-recommended protocol is two to three times a day, for one to three minutes (depending on pain level).
This device is rated a 4.6 overall on Amazon. One reviewer writes, "This is a great entry level red light therapy device. I bought it on a whim and have been more than pleasantly surprised. It works exactly as advertised, and then some. It's helped with muscle knots and pain, plantar fasciitis, sore toes, and more." A few people do note that they wish there were clearer instructions included with the device.
Pros

FDA-cleared for joint pain relief
Well-organized carrying case
Cons

On/off switch is very sensitive
Best FDA-cleared
Medic Therapeutics Handheld Pain Management Laser Therapy Device
How long it holds a charge
Conditions such as carpal tunnel syndrome, tennis elbow, and other joint and muscle issues can seriously impact your day to day life. What sets this FDA-approved device apart from other options on the market is its easy-to-understand LED display screen. Most other devices have a few standard buttons, but this device's screen showcases the session length, mode, and battery life throughout each use.
The laser also comes with protective glasses for optimal eye safety, and a carrying pouch for easy portability. Each full charge should last up to 10 hours. The device does take a bit longer than we'd hope to charge (2 to 3 hours), so make sure to set aside the time before you plan to use it.
One reviewer calls it "effective," sharing that it's similar to a treatment they received in their chiropractor's office. "I bought it two weeks ago and use it twice a day," writes another reviewer. "My tennis elbow pain is gone. It works very well."
Pros

FDA-approved
Detailed LED display screen
Protective glasses included
Cons

Takes 2 to 3 hours to fully charge
Short cable
Best handheld
HD Cure Handheld Low Level Therapy Laser
How long it holds a charge
The idea of applying a laser to your skin can make some people apprehensive. This handheld low-level laser comes with a kit containing everything you could possibly need, including a simple set of rules to follow. A great option for people who haven't used cold laser therapy before, this device is easy to incorporate into your everyday life.
This device has been cleared by the FDA to be used a few times a day as needed. Each time you use it, the light stimulates injured cells and causes them to respond at a higher rate. The intended result: Pain relief, improved circulation, and an accelerated healing process.
The brand recommends that you start with the lowest laser strength power level (170mW) two to three times per day for a total of 15 minutes. Then, during your second week of use, you can try the second power level (340mW) two to three times per day for up to 20 to 25 minutes. Finally, after three weeks, you can go ahead and use the third power setting (510mW) two to three times a day for a total of 30+ minutes, as desired. Again, if you are unsure about the right treatment plan for you, consult with a medical professional.
There are also two wavelength modes to choose from: continuous and pulse. The continuous wavelength mode emits a fixed laser energy the entire time you're using it. Pulsed diodes, on the other hand, emit a high intensity laser in short-yet-powerful bursts of energy. It's the high-powered level during each pulse that drives the light energy deep into the target tissue. The peak power of a pulsed laser can be higher than that of a continuous laser, making it a more effective treatment in a shorter time span.
This cold laser therapy device does not have a ton of reviews yet, but the feedback it does have is positive. People comment on the efficacy and say it has made a considerable difference in their pain management. One writes, "A friend loaned me her device for my dog who had major knee surgery. It worked to reduce inflammation and helped the healing process. I've also used it on my back and had such a positive experience with it, I'm buying myself one."
Pros

FDA-approved
Two settings, including a pulsed mode that drives light deep into tissue
Cons

Not a ton of reviews
Only treats small areas at a time
Best wearable
Vinato Red Light Therapy Belt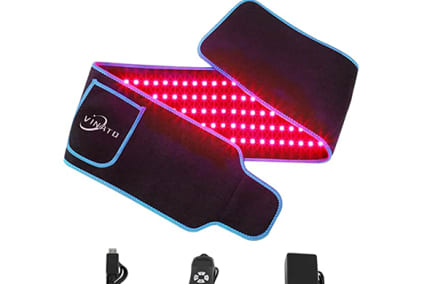 How long it holds a charge
For lower back pain, a wearable cold laser therapy device can be much simpler to use. Designed to be wrapped around your body, this red light therapy belt can be used on different parts of the body, but is most ideal for back pain. The belt is 130 cm, so it should fit anyone from a standard size Small through Extra Large.
Take your pick from four operating modes: continuous light, 10 HZ, 40 HZ, and breathing mode, each of which works to boost the body's natural recovery, healing, and regeneration. With five power levels, you can even further customize your cold laser treatment. Note: It's an electrical-powered device, so it's not chargeable and doesn't run on USB. In other words, it has to be plugged into a power source while in use.
Reviewers sing this belt's praises, commenting mostly on the comfort and ease-of-use. One shares, "I have experienced pain reduction in my lower back, which I often struggle with as a result of my herniated disc. I'm shocked by how much I feel better in my day to day after using this."
Pros

Hands-free treatment
Fits waists up to size XL
Cons

Must be plugged in during use
How we picked:
Laser class
Lasers come in varying classes based on strength. We selected options that are safe for home use, without medical supervision. As always, consult a physician if you are not sure how to use these devices properly.
Ease of use
The devices on our list are innovative, effective, and medical grade, but are still easy to use.
Positive reviews
We believe a wide range of feedback is important. Each device we recommend has positive reviews attesting to its efficacy. Any negative feedback was used to inform our selections.
Expert criteria
We consulted with an expert and determined the key elements to look out for when picking a cold laser therapy device, keeping this in mind with every product.
FAQ
What side effects can you expect from cold laser therapy?
How does cold laser therapy work?

Cold laser therapy stimulates the body to heal itself with the help of non-thermal diodes of light that are administered for several minutes. According to Shoshany, the diodes stimulate the injured cells and create extra energy that helps accelerate the healing process. "The extra ATP, or energy, is absorbed by cells, tissues, and organs to promote faster healing, as well as decrease pain and inflammation," he explains.
How much does cold laser therapy cost?

There are many types of lasers that have been approved and cleared by the FDA across a variety of price points. On average, a cold laser therapy session in a doctor's office can cost anywhere from $30 to $150+. Though it depends on the severity and duration of the pain and condition, you'll likely need to attend a number of sessions (anywhere from five to 30, to be exact) in order to see results. At that rate, an in-office cold laser therapy treatment plan can cost more than $4,000 to see the best results. At-home devices vary in price, with some options as low as $150 and others as expensive as $4,000.
The takeaway
Cold laser therapy devices are a convenient way to treat pain, either chronic (like arthritis and TMJ) or acute (like sprains, strains, and other injuries). While they're not a one-and-done solution, they can be an effective option for people who want to speed their recovery processes along at home. Depending on the laser strength, some of these devices are able to alleviate pain in a few sessions—as long as you use them correctly and consistently. To learn more about cold laser therapy and other forms of light therapy, check out the best red light therapy, best cold plunge tubs, and hot and cold recovery.

Caitlyn Martyn
Contributor
Caitlyn Martyn is a freelance writer who covers topics such as wellness, food, lifestyle, beauty, fashion, and more. After graduating from Lehigh University with a degree in Journalism and Marketing, she started a career in writing, product testing, and research. She has several years of experience, and her work has been featured in a number of publications including Byrdie, InStyle, and Popsugar, to name a few. More often than not, you can find her testing products that make life easier (and healthier), on long walks on the water, or perfecting a recipe in her kitchen.
3 Sources