It's Wedding Season & These 7 Sustainable Dress Rentals Have You Covered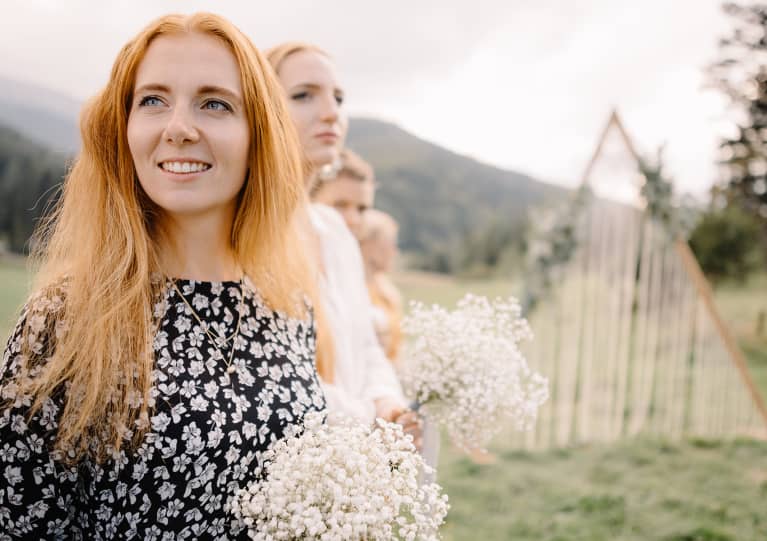 Our editors have independently chosen the products listed on this page. If you purchase something mentioned in this article, we may
earn a small commission
.
Last updated on July 8, 2021
You're ready to get back out into the world—but is your wardrobe? As we dash into a busier-than-usual post-pandemic wedding season, we find ourselves lacking in swanky, celebratory outfits (unless neon sweatsuits count). Instead of shelling out for new cocktail dresses and gowns that will just sit in your closet—or worse, in a landfill—renting clothes lets you borrow, wear, and return each garment again and again.
It's a smart move for your wallet and the planet (so long, fast fashion!), and these U.S. rental platforms have all your special occasion needs covered. And if you're looking to accessorize, be sure to check out our guide to sustainable jewelry brands. Meet you on the dance floor!
Owned by the parent company of Anthropologie, Free People, and Urban Outfitters, Nuuly rents out favorites from these brands and hundreds more, with a wide selection of vintage options, too. A seamless site lets you shop by category or browse through curated lookbooks (the Inside to Outside looks are particularly wedding-ready).
How it works: Subscribers can rent 6 pieces per month.
Pricing: $88/month
Size-inclusive rental service Gwynnie Bee offers styles in sizes 0 to 32 and carries dresses in every shape and color under the sun. They ask you to build out your virtual closet with wishlist items that can be shipped over to you when they're available. You receive customized closet recommendations once you sign up, and new members currently get 50% off their first month.
How it works: Subscribers can rent 1 to 10 pieces at a time per month.
Pricing: $49/month for one piece, up to $199/month for 10 pieces
A great budget option for those looking to refresh their wardrobe all summer long, Haverdash lets you rent three pieces from your wishlist at a time, as many times as you like, for a flat monthly fee. Most of their dresses fall more on the "casual but can still be dressed up" side, with Faherty, Hutch, and Ann Taylor LOFT being a few member favorites.
How it works: Subscribers can rent 3 pieces at a time, as many times per month as they'd like.
Pricing: $59/month
Armoire stocks a number of high-end brands (with an emphasis on women-owned companies) and offers a few plan options that you can pause or cancel at any time. Their service is unique in that they offer an unlimited option and let you keep your pieces until a new shipment arrives.
How it works: Subscribers can rent 4, 7, or an unlimited number of pieces per month, depending on their plan.
Pricing: $79/month for 4 pieces, $119/month for 7 pieces, $249/month for unlimited
Wardrobe allows those in the New York area to shop other people's closets for gems. Don't worry; they wash them first, and you pick them up straight from the cleaners. The app and website let you shop straight from other users' profiles or browse all the items currently available at a laundry "hub" near you. Listing clothes is super easy, too, and you earn cash on every rental.
How it works: No subscription fee; pick up discounted clothes, shoes, and bags as you find them.
Pricing: Varies depending on the piece and length of rental
The company that put rentals on the market continues to expand its offerings, with thousands of styles from over 700 designers. Coming off a switch to a new model, Rent The Runway now ships out 4, 8, or 16 items a month, with the option to return or swap at any point. And don't sleep on Revive, their new ThredUp shop that sells secondhand RTR favorites at heavily reduced prices.
How it works: Subscribers can rent 4, 8, or 16 pieces a month.
Pricing: $89/month for 4 pieces, $135/month for 8 pieces, and $199/month for 16 pieces
Luxury brand Vince gives subscribers access to classic capsule pieces on the cheap with its rental platform, Vince Unfold. Rent four items at a time with unlimited swaps, and get steep discounts if you choose to keep something.
How it works: Subscribers can rent 4 pieces at a time, as many times per month as they'd like.
Pricing: $160/month