The One Chocolate Treat You Need To Have In Your Freezer Right Now (Good For Skin, Too!)
mbg Editorial Assistant
By Jamie Schneider
mbg Editorial Assistant
Jamie Schneider is the Editorial Assistant at mindbodygreen with a B.A. in Organizational Studies and English from the University of Michigan. She's previously written for Coveteur, The Chill Times, and Wyld Skincare.
Expert review by
Megan Fahey, M.S., R.D., C.D.N.
Megan Fahey, MS, RD, CDN is a Registered Dietitian, Functional Medicine Nutritionist and Registered Yoga Teacher. She holds her Masters of Science in Nutrition and Dietetics from Bastyr University, where she was trained to artfully blend eastern and western healing modalities.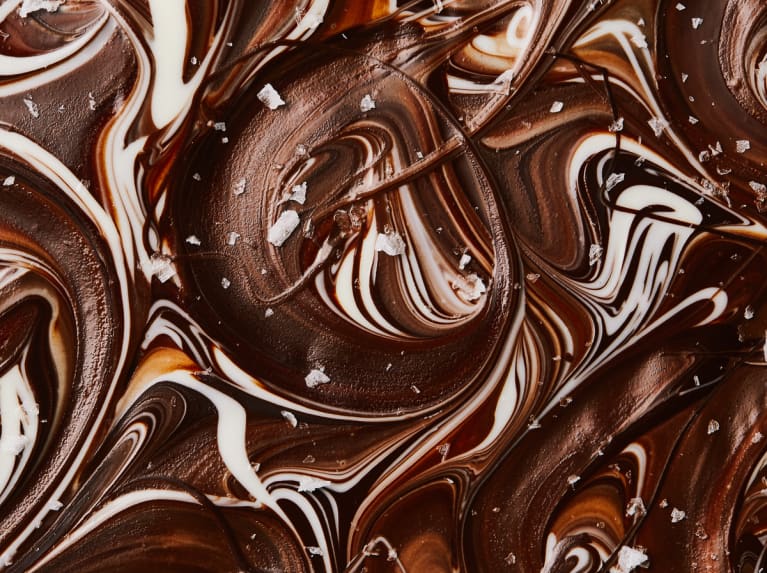 When warmer weather rolls around, cozy, gooey sweets make their way to cool, airy desserts. Enter, this simple, four-ingredient chocolate fudge, bound to be your sweet summer staple. It's decadent, rich, and oh-so-easy to whip up, yet it's packed with a whole lot of healthy nutrients. Dates provide natural sweetness, the almond butter adds in healthy fats and protein, but the key part of the foursome is mbg's grass-fed chocolate collagen+—so you can support glowing skin with every bite.*
Collagen supplements have been shown to support skin hydration and smooth the appearance of fine lines, and the hyaluronic acid and vitamin E in mbg's formula help enhance those benefits twofold.* And in terms of taste, the flavor is unparalleled: Made with organic cacao from Peru, collagen+ yields a premium, chocolaty treat with no bitter aftertaste.
This luxurious freezer fudge is wildly good for you—and it takes less than 10 minutes to make.*
4-Ingredient No-Bake Chocolate Fudge 
¾ cup dates (usually around 6 dates)
¼ cup almond milk
¼ cup almond butter
Place your dates and almond milk in a saucepan on low-medium heat. Stir frequently until the dates soften into a paste (you may have to smash them a little with the back of the spoon once they soften). Be vigilant as you stir, lowering the heat if necessary—you don't want it to burn. After around five minutes of stirring, it should form that paste-like consistency.
Take the saucepan off the heat, then add in your chocolate collagen powder and almond butter. Stir the mixture until all the ingredients are incorporated; there should be no clumps, but the consistency should still be pretty thick.
Pour the mixture into a baking dish (mine was a small square casserole tray, but any dish will do—just know the thickness of your fudge may vary depending on the size of your tray).
Cover and set in the freezer for at least 4 hours, preferably overnight.
Slice, eat, and enjoy!
A final note: You can always double (or triple) the recipe to make more servings. Trust us; after taking one bite of the chocolaty goodness, you'll want to.