This Hairstylist's DIY Scalp Scrub Is The Secret To Refreshed Summer Hair

mbg Beauty & Wellness Editor
By Jamie Schneider
mbg Beauty & Wellness Editor
Jamie Schneider is the Beauty & Wellness Editor at mindbodygreen. She has a B.A. in Organizational Studies and English from the University of Michigan, and her work has appeared in Coveteur, The Chill Times, and Wyld Skincare.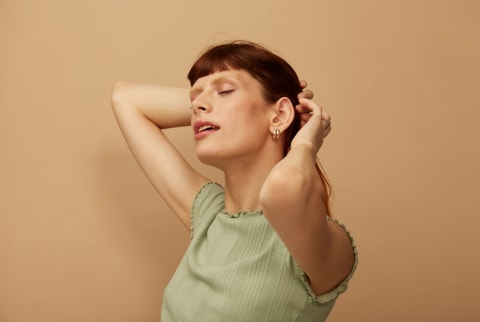 Image by Ohlamour Studio / Stocksy
August 5, 2021
It's clockwork at this point: As the summer rages on, so, too, does oil and sweat. For your hair, this may mean limp strands that fall flat at the root or an itchy, inflamed scalp from all the buildup. Perhaps you increase your shampoo schedule, but your hair still remains greasy and dull.
If this all paints a familiar picture, you'll be happy to know we have a tried-and-tested answer. Two words, 10 letters, one healthy head of hair: scalp scrub. While you can snag both chemical or physical options, the latter can really lift all that oil, leftover product, and overall gunk that seems to stay put in the summer. (A similar reason why oil-prone folks may gravitate toward face scrubs in the warmer months to control summer breakouts.)
Advertisement
This ad is displayed using third party content and we do not control its accessibility features.
And because we love (gentle) kitchen concoctions around here, if you'd like to go the DIY route, NYC-based hairstylist Jenna Pitocco let us in on her go-to recipe for a balanced, invigorated scalp—and it only contains four simple ingredients.
A balancing DIY scalp scrub for refreshed hair.
At the most basic level, a DIY scrub needs just two ingredients: a physical exfoliant and an emollient. Pitocco uses sugar for her exfoliant, as the gentle granules can mechanically remove all the debris without scratching up the skin. As for the emollient, she's partial to jojoba oil (and we concur): The oil closely mimics1 the natural oils in your skin, and it feeds your scalp with moisture and healthy nutrients. As naturopathic doctor Tess Marshall, N.D., once told us about the beloved oil: "The oil is made up of mostly fatty acids and wax esters. This includes helping dry or flaky skin on the scalp for conditions such as dandruff and seborrheic dermatitis."
Then we have the extras, apple cider vinegar and tea tree oil—both of which are frequently touted as hair care wonders. Namely, the acidic nature of apple cider vinegar can help balance your scalp's microbiome—plus, it naturally seals down the hair cuticle and adds shine. Tea tree oil, on the other hand, has been shown to improve mild to moderate dandruff2 and can even aid in healthy hair growth.
Below, find Pitocco's recipe.
Ingredients:
2 to 4 tablespoons jojoba oil
2 to 3 tablespoons finely granulated white or brown sugar
1 teaspoon apple cider vinegar (A little goes a long way.)
Couple of drops of tea tree oil (We suggest 1 to 2 drops; it's a pretty potent EO.)
Advertisement
This ad is displayed using third party content and we do not control its accessibility features.
Directions:
In a large mixing bowl, add your jojoba oil, ACV, tea tree oil, and sugar. Mix until it forms a paste—you may want to add your oil tablespoon by tablespoon until you reach your desired consistency.
Part the hair in sections and apply the mixture to different areas of your scalp. "Use the pads of your fingers to scrub, scrub, scrub," says Pitocco.
After scrubbing, let it sit for a few minutes so those ingredients can infuse their healthy vitamins and nutrients.
Wash out thoroughly before shampooing and styling as usual.
The takeaway. 
For a fresh, invigorated scalp, might we suggest a mighty scalp scrub? Pitocco's recipe uses just four ingredients, and each is lauded for healthy hair.
Advertisement
This ad is displayed using third party content and we do not control its accessibility features.