An Anti-Inflammatory Indian Vegetable Mash To Make Use Of Leftover Produce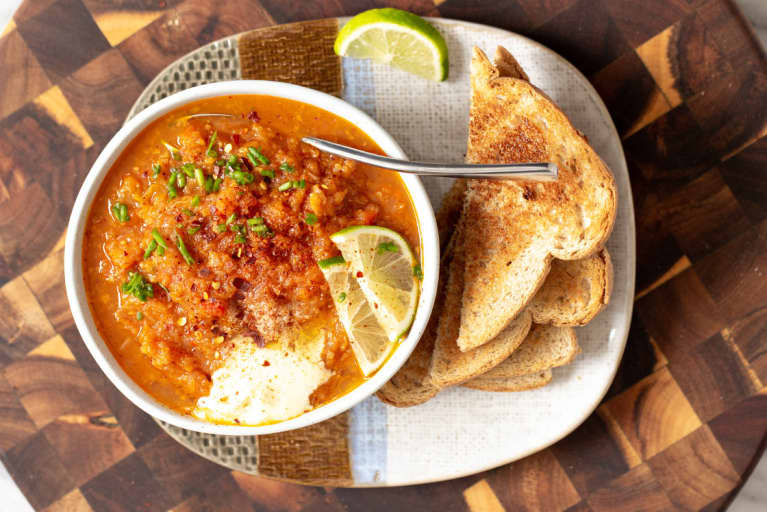 Our editors have independently chosen the products listed on this page. If you purchase something mentioned in this article, we may
earn a small commission
.
It happens to the best of us: You're at the grocery store and get a little overzealous with your produce purchases, only to realize over the next week that there's no chance you'll finish it all before it goes bad. Usually, this ends with rotting, wasted veggies, but what if we found a recipe that could put your vegetables that were on the way out the door to good use?
Enter: pav bhaji. "Pav bhaji is a finish-up-all-the-veggies meal," explains creator of VeganRicha.com, Richa Hingle in her new cookbook Vegan Richa's Instant Pot™ Cookbook. "For the street version, the veggie mash is premade, then fried in butter and topped with onions, lemon juice, and cilantro, and served with fresh bread rolls that are also toasted with butter."
If you're in a rush, this meal can also be thrown into the Instant Pot so you can go about your day and have a filling, nutrient-dense dish ready for you come dinnertime. Not to mention the fresh ginger in this recipe is great for inflammation and stomach discomfort, acting as the perfect soothing summer meal.
2 tablespoons vegetable stock
¾ cup chopped red onion
3 garlic cloves, finely chopped
2 teaspoons minced fresh ginger
1 tablespoon pav bhaji masala
1 teaspoon paprika
1 teaspoon ground coriander
1 cup chopped tomato
½ cup tomato sauce
4 to 5 cups chopped vegetables (potatoes, cauliflower, carrots, bell peppers, cabbage, green beans)
¾ teaspoon salt
¼ teaspoon Indian black salt, or use more lime juice
½ cup water
Cayenne pepper
1 tablespoon vegan butter
2 to 3 teaspoons freshly squeezed lime juice
Toasted, vegan-buttered bread slices or vegan hamburger buns
Chopped red onion
Chopped fresh cilantro
Lime wedges
Preheat the Instant Pot by selecting the Sauté setting. Heat the oil in the preheated pot for a few seconds, then add the onion and garlic and cook until the onion is translucent, about 2 minutes.
Stir in the ginger, pav bhaji masala, paprika, and coriander, then add the tomato and tomato sauce.
Add the vegetables, salt, black salt, and water, and give it a good stir to pick up any stuck bits. Select the Cancel setting.
Lock the lid into place, set the Pressure Release Knob to Sealing, select the Pressure Cook/Manual setting at high pressure, and set the cook time to 10 minutes.
Once the cooking cycle is done, let the pressure release naturally. Open the lid and coarsely mash the vegetables. Taste for seasoning, adjusting if needed, and add cayenne, if needed.
Sauté for a few minutes if there's too much liquid. Stir in the butter, if using, and lime juice.
Serve on the bread topped with onion and cilantro with lime wedges.
To make your own pav bhaji masala: Combine 2 teaspoons ground coriander, ½ teaspoon ground cumin, ¼ teaspoon ground cinnamon, ⅛ teaspoon ground cardamom, ⅛ teaspoon ground cloves, ¼ teaspoon freshly ground black pepper, and ½ teaspoon dried mango (amchoor).
Excerpted from Vegan Richa's Instant Pot™ Cookbook: 150 Plant-Based Recipes From Indian Cuisine and Beyond by Richa Hingle. Copyright © 2022. Available from Hachette Go, an imprint of Hachette Book Group.