The Beauty Routine Legendary Esthetician Sofie Pavitt Has Been Using As Of Late
Assistant Beauty & Health Editor
By Hannah Frye
Assistant Beauty & Health Editor
Hannah Frye is the Assistant Beauty Editor at mindbodygreen. She has a B.S. in journalism and a minor in women's, gender, and queer studies from California Polytechnic State University, San Luis Obispo. Hannah has written across lifestyle sections including health, wellness, sustainability, personal development, and more.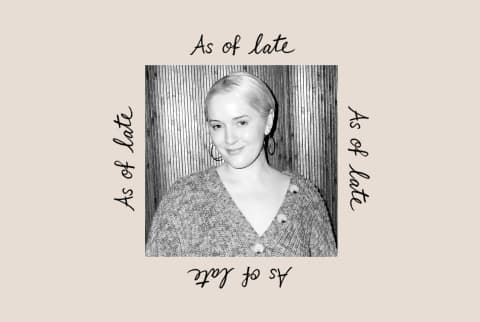 October 11, 2022
We carefully vet all products and services featured on mindbodygreen using our
commerce guidelines.
Our selections are never influenced by the commissions earned from our links.
Beauty routines are never truly stagnant—practices evolve and change like we do. In As of Late, we chat with influential folks about their current products and rituals. Here, we get a snapshot of what they're doing right now: the sacrosanct formulas they use until the last drop, the fresh launches they've got their eyes on, and of course, the why behind it all.
I remember the first time I came across Sofie Pavitt's Instagram page—my jaw physically dropped. Her feed is sprinkled from top to bottom with the most untouched before-and-after photos from her clients she calls "progress postcards." These images show clients who, before consulting her, struggled with acne, scarring, dark spots—you name it.
From light texture to more severe cases of cystic breakouts, Pavitt has led her clients on the path to clear skin both from her tucked-away studio in the Lower East Side all the way to the West Coast via virtual consults. She is a leader in the movement to prioritize consistent and hyper-tailored at-home skin care—though her plethora of in-studio treatments from cryo facials to laser hair removal certainly can't be overlooked.
Her motto of, "Results-driven skin care," reigns true through her work with clients and her own at-home routine. Naturally, we had to ask Pavitt what she's been using in her product lineup. Apart from caring for her two adorable sons, of course, here's what Pavitt has been loving as of late.
The tried & true: Mandelic acid.
"One ingredient that I'm really obsessed with is mandelic acid. I'm always trying different products that people are sending me. But what I have found over time is that as I've gotten older, my skin has gotten dry and quite dull, so regular exfoliation for me is key. What I tend to find is that mandelic is really great for everybody.
"I have a few favorite mandelic products—one of which is the Cleanser Concentrate from Glossier. You can use it on dry skin and leave it on for a few minutes or so and then wash it off, kind of like a mini peel."
The secret: Baths over showers.
"My biggest beauty secret is that I don't take showers, I only take baths. It's very British, I think, but also my favorite thing to do is pour a load of bath oil into a bath and just feel like the greasiest little thing. Sometimes my kids will get in the bath with me too, and then everyone is done at the same time.
"You can put on a face mask in the bath, you can put a hair mask in, and you can do your nails while you're in the bath. I get a lot of stuff done when I'm in the bath!
"My skin is super dry, so I love bath oil, bath soaps, and bath bars. The bar I'm obsessed with is the Buffing Bar by Soft Services—I can't get enough of it. I love it because it's not for the faint-hearted; it's an intense scrub, and I think sometimes I just love that."
The pleasure: Splurge-worthy fragrance. 
"I am not somebody who's going to spend hundreds and hundreds of dollars on skin care. I get sent a lot to me, and there are a couple brands that I think are worth the money. But I don't mind spending money on fragrance. This is ironic because I don't get to work with fragrance on in the office in case somebody hates it.
"One of my favorites is the new Costa Brazil fragrance, which is amazing and smells delicious. It has that woodiness that the Santal had, so it feels like a new version of that—I'm waiting to smell it around New York."
The surprise hit: Paraffin hand baths.
"I'm a facialist and I constantly work with running hot water and a lot of actives, and I'll have latex gloves on, so my hands are always really, really stressed out. My cuticles get super dry too. So what I do is use a paraffin hand bath.
"Remember in the '80s when you'd get a manicure and they would put your hand in the wax bath? I'm just bringing that back. I have one at my home and one in my studio. In the evening, I'll put a really heavy hand cream on and then I put my hands in the paraffin. It helps the cream really penetrate into the hands. It's also really good for muscle fatigue and aching joints."
The up-and-coming: Tower 28.
"Tower 28 is another brand that I'm always really inspired by. Amy Liu, the founder, has become a friend of mine over the last year or so. I think the Rescue Spray is really cool; we actually use it in our studio. We also recommend it to people who might feel tight, irritated, or rashy. It's really awesome hypochlorous acid, which is great at calming down irritation."
The steal: A random $5 hand cream.
"I was working out of a doctor's office in Beverly Hills, and by it they have this really small time-warp pharmacy in the basement of a medical plaza. I went in with my dry hands like, 'Oh my god, I need a hand cream,' and I found this lotion called Corn Huskers Lotion. It looks like a fake product, like something you would find in a kid's pretend kitchen.
"That lotion is such a fabulous hand cream, and I guess farmers use it. It helps to stop the irritation from shucking corn. It's fab and it has a really vintage scent to it as well. I highly recommend it, and it's so cheap."
Travel staple: A trusty SPF 30.
"My travel staple has to be a sunscreen, always. My go-to sunscreen for my face all day every day is the IS Clinical Extreme Protect SPF 30. People are always surprised by that and say, 'Oh you don't want a 50?' But actually, I think that a 30 is absolutely fine. If I'm going to the beach, I'll use something more intense, but I don't lay out.
"I love this one; it has a super-dewy finish. It doesn't look or feel like sunscreen, which I think is normally a huge turnoff for people when choosing a sunscreen. It's really light on the skin, and everybody who I turn on to it says, 'Oh my god this sunscreen is amazing.'"
IS Clinical
IS Clinical
Extreme Protect SPF 30
$80
The fall must-have: A gentle yet effective retinol. 
"I start using that every other day to warm up and then every day when it comes to a month in. That will be me for the winter."
Medik8
Medik8
Crystal Retinal
$53
New to retinol? This step-by-step system makes it easy to softly launch into a retinol routine without overdoing it or compromising your barrier. Encapsulated retinaldehyde is joined by hyaluronic acid, glycerin, and vitamin E to soothe and hydrate the skin simultaneously, minimizing risk for irritation even more.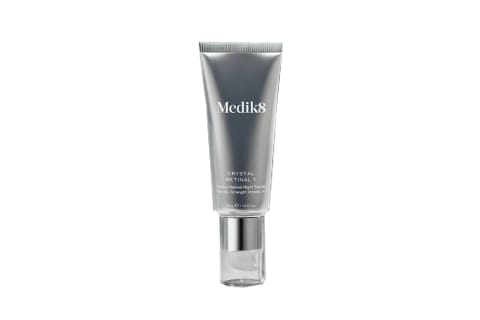 What working for a dermatologist has taught me: Sandwiching actives.
"I have my own studio, and I also work for a dermatologist, Cheryl Karcher, who is an amazing medical director. Working for her has been transformative in my learning and my knowledge on skin because I never stop learning working there.
"The concept of placing robust actives between really non-robust products is something that I take so literally in my own practice in taking care of my own skin, but it's something that I really base my foundation of working with everybody on.
"When you look at really active lines, for example an acne line, you see a lot of repeated actives throughout. You'll have an active cleanser, a strong toner, a strong serum, a spot treatment, and an active moisturizer. I think that concept is really antiquated and really damaging—you can really strip your barrier with that. Instead, use really active ingredients placed within a really hydrating and barrier-supporting routine whether it's a professional treatment or your home care. That's something we hold hands on as a team."
Hannah Frye
Assistant Beauty & Health Editor
Hannah Frye is the Assistant Beauty & Health Editor at mindbodygreen. She has a B.S. in journalism and a minor in women's, gender, and queer studies from California Polytechnic State University, San Luis Obispo. Hannah has written across lifestyle sections including skin care, women's health, mental health, sustainability, social media trends, and more. She previously interned for Almost 30, a top-rated health and wellness podcast. In her current role, Hannah reports on the latest beauty trends and innovations, women's health research, brain health news, and plenty more.