Why You May Be Anxious About Isolation Ending, Even If You Miss Normal Life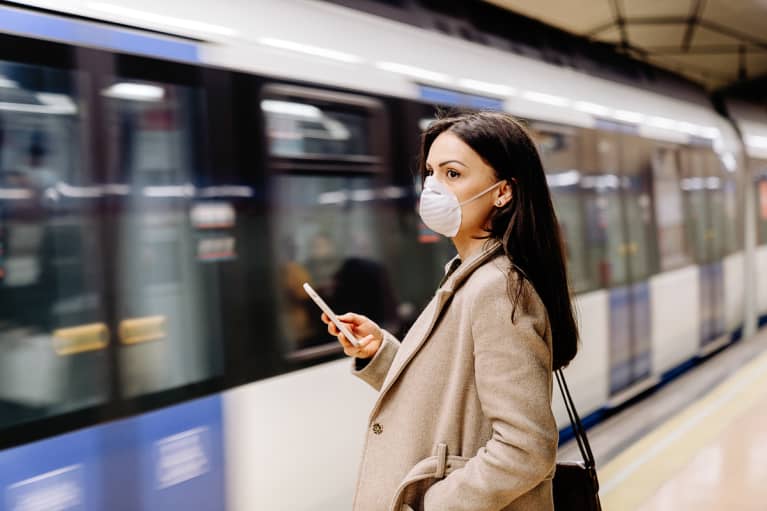 As several states in the U.S. slowly start to reopen, you may be experiencing mixed emotions. On one hand, you're eager to see your friends, do things outside your home, and maybe even visit your favorite restaurants again. On the other hand, you may feel completely unsettled about returning to "normal" life.
If you're feeling nervous about the transition, you're not alone. No matter how long you've been wishing for isolation to end, this new cycle of change and uncertainty can trigger those anxious feelings. We spoke to psychologists about why you're feeling this way and what to do about it.
Why am I nervous about returning to normal life?
Health risks and dealing with other people's unsafe behavior.
"In general, uncertainty can make people anxious, and right now a lot of things are unclear," psychologist Patricia Thompson, Ph.D., tells mbg. First and foremost, the risk of COVID-19 is still prevalent. Without a treatment for the virus, you may feel unsafe going back out in public.
If you've been working from home, socially distancing from people outside your household has probably been simple enough. Suddenly having to use public transportation or be thrust into crowded buildings and sidewalks can be unnerving. Even if you're taking all the necessary safety precautions, you can't force the people around you to do the same. Figuring out how to tell people to keep their distance can be exhausting and anxiety-inducing.
Moreover, if you don't feel comfortable going into work right away or leaving your kids with childcare, how do you tell your boss? Will you lose your job? "People are worried that those factors could also cause additional financial strain," Thompson says.
The change may be even more stressful for essential workers, Thompson adds. After putting themselves in harm's way this whole time, many have managed to stay healthy. Now, they risk coming in contact with more people who are taking fewer precautions.
Having to adapt to a new, new normal.
Adjusting to quarantine was hard enough—not being able to see friends, never finding time alone, adjusting to new responsibilities and routines, etc. These changes created a lot of stress, but over time we learned to adjust. "[We] might have even come to appreciate some of the benefits from our changed landscape—like the ability to avoid commutes, work more flexibly, go for a walk in the middle of the day, spend more time with kids, or take up new hobbies," Thompson says.
Our current new normal—which took months to adjust to—is suddenly being upended again. When isolation lifts, we'll be forced to adapt to a new, new normal.
"It's almost like a form of whiplash," Thompson says. "One day, you're having to move in one direction. The next day, another one. It can be hard to feel a sense of normalcy or routine with so much in flux."
The disruptions to normal life are uncomfortable because our brains operate most effectively within familiar frameworks, explains holistic psychologist Ellie Cobb, Ph.D. But the good news is, our brains are also incredibly adaptive.
How can I manage these anxieties?
1.
Accept what you can't control.
Thompson recommends recognizing that there are things that you can control and things that you cannot. "The truth is, this is uncharted territory for us—being able to surrender to it, to some extent, can be helpful."
Surrendering to a situation does not mean you have to like it. It does, however, help to relieve undue worry and the pressure of trying to change something you can't. This is about protecting your energy from the exhaustion of hypervigilance.
"When we accept that we live life with many unknowns and we accept the feelings that come along with that fact, we send signals to our brain that it is safe," Cobb tells mbg.
Another way to assure your brain that you're safe, Cobb says, is to intentionally cultivate gratitude and thankfulness—even for the smallest joys.
"Anxiety feeds off future fear and speculating," meditation teacher Light Watkins recently told mbg. "When we stay in the present, we tend to worry less and experience less anxiety."
Gratitude can also help us focus on others and remind us what truly matters, helping to prepare for life after isolation. "When our brain gets out of survival mode, it will be able to think rationally and regulate emotions effectively," Cobb explains.
3.
Focus on what you can control.
Amid a life that's constantly in flux, one thing you can do is to focus on following the recommendations from health officials, like the Centers for Disease Control and Prevention (CDC), as best you can and taking precautions that make you feel safe—hand-washing, wearing a mask, and limiting your social interactions.
Thompson also recommends continuing to focus on your own self-care, "whether it's writing in a journal, taking a hot bath, getting regular exercise, or meditating." You've probably picked up some good self-soothing habits during quarantine, and those are worth continuing even as life starts to transition again.
"When things get too overwhelming, you can bring yourself into the present moment by focusing on your breathing," says Thompson. While it may be simple, practicing breathwork can ground you in the present moment, lower cortisol levels, and help you focus.
Adjusting to a new rhythm after you just figured out (or may still be figuring out) life in quarantine can be stressful. But letting go of what you can't control, grounding yourself in the present moment, and focusing on what you can control may help you adapt to your new circumstances.
And just remember, it's OK to take it slow. Even if your friends, co-workers, and family members are coming out of isolation, you can forgo the get-togethers until you feel comfortable.