Ancient Nutrition Review: We Tested These Protein Powders, Collagen Supplements, Matcha, & SuperGreens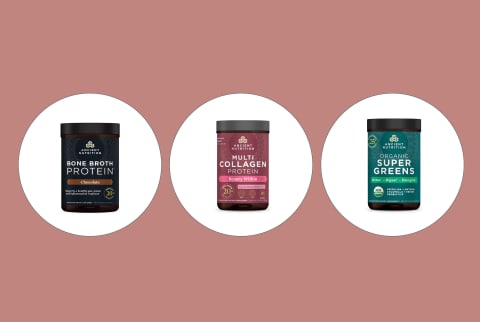 July 31, 2023
We carefully vet all products and services featured on mindbodygreen using our
commerce guidelines.
Our selections are never influenced by the commissions earned from our links.
My supplement regimen used to be ridiculously long, but through learning more about what to look for in protein powders, collagens, and vitamins, I've been able to majorly cut down my list of daily supplements—and ultimately, I became a lot pickier about what I put in my body.
After having the brand on my radar for years, I jumped at the chance to test review Ancient Nutrition. I'd heard rave reviews and was curious to see whether these supplements would earn a coveted spot in my slimmed-down lineup.
Who owns Ancient Nutrition?
Ancient Nutrition was co-founded in 2016 by Jordan Rubin and Dr. Josh Axe with the intention to make superfoods more accessible. The brand specializes in bone broth proteins, collagen powders, and capsule supplements. All products are non-GMO, and every finished product is tested for heavy metals (lead, cadmium, arsenic, and mercury).
What products does Ancient Nutrition sell?
In its rapidly-growing array of products, Ancient Nutrition now offers collagen, protein, probiotics, vitamins, herbal supplements, greens powders, and more, with a slew of touted benefits. The brand's website allows you to shop by focus, with use cases including everyday health, gut and digestion, immune support, joint health, stress and sleep, energy and concentration, fitness, beauty, and prenatal.
I was pleased to find that the brand uses a concise list of clinically studied ingredients without any alarming additives. The SuperGreens powders are made with a blend of greens, fruits, and vegetables, such as organic alfalfa leaf juice, organic chlorella, and organic kale leaf; digestion supporting ingredients like organic flax seed, organic chia seed, and probiotics; and other superfoods like ashwagandha, reishi, turmeric, and ginger.*
Ancient Nutrition's bone broth protein uses sustainably-sourced chicken bone broth concentrate from non-GMO, U.S.-farmed chickens—and the brand also makes a vegan protein made with a mix of seven superfood seeds.
The collagen powders use the brand's proprietary fermented eggshell membrane ingredient, which is meant to absorb faster to provide speedy results. Like the bone broth, the collagen comes from non-GMO, pasture-raised and grass-fed, cage-free sources.
My one qualm with the Ancient Nutrition ingredients is that the powders do contain "natural flavors" (i.e., flavoring chemicals), xanthan gum, and stevia, which I personally prefer to limit. I will say, though, the matcha powder was the only product I truly tasted the stevia in.
How I tested Ancient Nutrition
After receiving samples from the brand, I spent two full weeks testing each of these five Ancient Nutrition products. After trying each of the powders mixed with water alone for taste, I incorporated them into my regular routine as follows:
Most mornings start with a matcha latte already, so the Matcha Collagen powder was easiest to bring into my daily lineup. Using a hand frother, I blended the powder with about a half cup of nut milk. I typically add a splash of maple syrup and vanilla to my matcha lattes, but this powder was already quite sweet due to the stevia.
The organic SuperGreens powders were the only Ancient Nutrition products I ultimately chose to drink with just water. While the texture was a bit chalky, I was pleased to not get that grassy flavor you'd expect from a powder packed with so many vegetables. I did try blending it into my smoothie, too, and honestly could not taste it at all (in the best way).
I've actually continued drinking the SuperGreens powder daily, even after my two-week testing period ended—and the Bone Broth Protein powder will be staying in my rotation as a smoothie add-in, too.
Image by Carleigh Ferrante / mbg creative
Every Ancient Nutrition product we tried:
Advertisement
This ad is displayed using third party content and we do not control its accessibility features.
Advertisement
This ad is displayed using third party content and we do not control its accessibility features.
Where to buy Ancient Nutrition
Comparing Ancient Nutrition favorites
| Product | Cost | Protein per serving | Main ingredients |
| --- | --- | --- | --- |
| Chocolate Bone Broth Protein | From $45 | 20g | Chicken bone broth protein concentrate; Beef bone broth protein concentrate |
| Collagen Matcha Energizer | From $34 | 5g | Multi collagen protein blend; natural flavors |
| Organic SuperGreens | From $38 | 2g | Organic greens blend; Digestive health blend; Fermented botanical & mushroom blend |
| Organic SuperGreens + Collagen | From $51 | 2g | Organic eggshell membrane collagen; Organic greens blend; Digestive health blend; Fermented botanical & mushroom blend |
| Multi Collagen Protein Beauty Within | From $47 | 9g | Hydrolyzed bovine collagen peptides; Fermented eggshell membrane collagen; Chicken bone broth protein concentrate |
Image by Carleigh Ferrante / mbg creative
How much does Ancient Nutrition cost?
When compared to other similar products, Ancient Nutrition is actually quite affordable—especially when you consider the quality of ingredients and sourcing. See below for a breakdown of costs.
Every product has a subscription option (15% savings), and there are also a number of bundles available on the Ancient Nutrition website for even more savings.
Ancient Nutrition sustainability
Ancient Nutrition prioritizes sustainability, too. The brand dedicates 1% of all revenue to its R.A.N.C.H. Project, which supports our commitment to regenerative agriculture, nutrition, and climate health. In fact, Ancient Nutrition farms are Regenerative Organic Certified (ROC), meaning they meet the highest standards in soil health, farming, animal welfare, and social fairness.
Additionally, Ancient Nutrition is a Certified B-Corporation and certified CarbonNeutral company. The brand aims to be carbon-negative by 2024 and is making big strides toward that goal.
The takeaway
I'm always on the hunt for effective supplements, but I'm extremely picky about ingredients. After testing these Ancient Nutrition products for two weeks, I'm impressed by the quality, taste, and the early results I've experienced. I love that the brand prioritizes quality ingredients and sustainability. It's safe to say I'll be keeping at least a few of these products in my starting lineup, including the SuperGreens powder and the Bone Broth Protein powder.
* These statements have not been evaluated by the Food and Drug Administration. This product is not intended to diagnose, treat, cure or prevent any disease.