8 Things Terry Wahls, MD, Swears By For Reversing Autoimmune Disease

mbg Founder & Co-CEO
By Jason Wachob
mbg Founder & Co-CEO
Jason Wachob is the Founder and Co-CEO of mindbodygreen and the author of Wellth.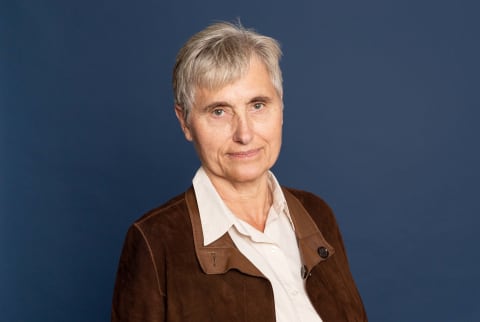 February 28, 2020
Here at mbg, we're all about finding ways to combat and prevent chronic conditions with diet and lifestyle changes. While conventional medicine is also necessary (and important!) for treating disease, we recognize the power of a holistic look at our health—in some cases, food truly is medicinal.
That's why I was excited to chat with functional medicine doctor Terry Wahls, M.D., who has a pretty incredible personal health story: After becoming wheelchair-bound with multiple sclerosis, she figured out the diet and lifestyle changes that would restore her health and allow her to walk (and run!) again.
Advertisement
This ad is displayed using third party content and we do not control its accessibility features.
"I designed a protocol very specifically for my brain, and of course, it had a dramatic impact for me," she tells me on this episode of the mindbodygreen podcast. "Ultimately, I found that it had a dramatic impact in my primary care clinic in folks with obesity, diabetes, heart disease—they're all getting better."
Here's exactly what Wahls swears by for not just preventing but reversing autoimmune disease. If you're interested in an integrative approach to combat a chronic condition, you might want to give these eight tips a try:
1.
Nine cups of veggies a day.
In terms of what Terry Wahls typically eats, she maximizes vegetables (specifically greens and those sulfur-containing, deeply colored veggies). She found that this way of eating worked specifically for her brain and led to her dramatic reduction in her MS symptoms.
She makes sure to get at least 9 cups of veggies, even when traveling. In fact, Wahls tries to incorporate more vegetables into her diet on days when she's traveling, in order to support better detoxification.
"I have a head of cabbage always packed in my luggage," she tells me. "I slice it into rounds, and my luggage is always stopped and searched. But that extra sulfur from cabbage helps me detoxify."
Wahls definitely believes in the power of a good fast. "A ready supply of food appears to be very inflammatory and really accelerates aging, increases rates of autoimmune disease, and probably obesity, diabetes, heart disease, dementia, and cancers," she explains.
It only makes sense that Wahls has a pretty standard fasting regimen. While she believes structuring an intermittent fast to your personal daily schedule is best, just the reduction of calories itself is enough to reap the benefits. That said, Wahls typically eats one meal a day in the evening while drinking tea and water all day long before then.
Advertisement
This ad is displayed using third party content and we do not control its accessibility features.
In addition to eating tons of veggies, Wahls also places importance on getting in a high amount of omega-3s. She even eats what she calls a "membrane pudding" for dessert after her evening meal.
"It includes some omega-3 fats, like hemp oil or flax oil, and then a bunch of inulin powder, and then I'll add chia seed and a probiotic capsule. I'll make it in the morning, and I'll let it ferment on the counter all day, and I'll eat it in the evening," she says. Talk about a functional dessert!
Of course, it's important for Wahls to keep her body moving—in addition to biking 5 miles to and from work every day, she completes a workout meditation that usually takes her around two hours.
And on the weekends, she still makes sure to get in some movement. "I can do 20-mile bike rides with my family," she says.
Advertisement
This ad is displayed using third party content and we do not control its accessibility features.
Although she places emphasis on movement, Wahls recognizes it's just as important to get some rest. "The vast majority of folks in the two years prior to the onset of their serious illness is a major life stressor," she notes. That said, it's important to take the time to calm your mind and wind down.
In terms of the best ways to practice recovery, Wahls says there is no one "right" way to rest. It looks different for everyone: "It might be hunting, fishing, time in the garden, yoga, or tai chi. For each person, it's going to be a unique story of the most oppressive stress that they have," she explains. In other words, try to find the practice that is the most meaningful for you.
Another way Wahls suggests we calm our minds and wind down is to get a good night's sleep. In order to do this, she recommends an ice bath for 20 to 30 minutes. According to Wahls, ice baths depress your core temperature and make you have a shorter latency sleep (the lightest of the sleep stages).
"The quality of my sleep is vastly better on the days that I take my ice bath," Wahls says.
Advertisement
This ad is displayed using third party content and we do not control its accessibility features.
Supplements are tricky, Wahls admits. While she has an enormous supplement stash herself (and increases her intake of sulfur, vitamin C, and curcumin while traveling), she recognizes that supplements are usually not a one-size-fits-all matter.
Rather, a supplement protocol can vary from person to person, and Wahls takes that into account when treating patients: "I'll personalize supplements based on a person's family history and their issues in order to be sure their detox pathways are at maximum capacity."
It sounds simple in theory, but even 95% won't cut it, says Wahls. "I know in college and in high school, if you got 95% on your test, that would be probably an A. But this is stopping your disease with diet and lifestyle, and it's far more important than just a test," she explains.
What she means is that reversing autoimmune disease with diet and lifestyle requires an unwavering commitment to the experiment. You can't change just one factor and expect to be completely disease-free.
Wahls' advice is to try it carefully for a period of time before determining if these lifestyle changes are right for you. "If you want to stop your underlying disease with diet and lifestyle, run the experiment like a real scientist and actually do it meticulously for 100 days. Then at the end, you can draw your own conclusions," she says.
If you want to see if Wahls' protocol might work for you, take her advice and commit to these eight tips. You have the power to take control of your own health!
Advertisement
This ad is displayed using third party content and we do not control its accessibility features.