7 Healthy Travel Trends To Watch In 2019

mbg Sustainability + Health Director
By Emma Loewe
mbg Sustainability + Health Director
Emma Loewe is the Senior Sustainability Editor at mindbodygreen and the author of "Return to Nature: The New Science of How Natural Landscapes Restore Us."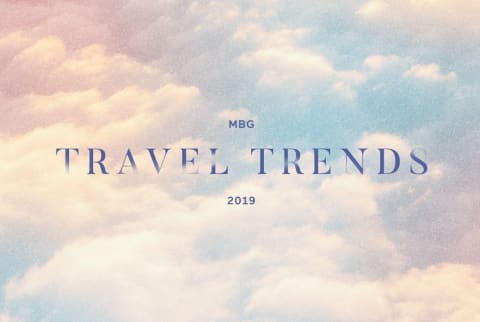 Image by Sarah FitzGerald / Stocksy
March 18, 2019
Long gone are the days when "going on vacation" was code for "eating all the unhealthy stuff." Now, wellness is a $4.2 billion industry, and hotels, airlines, and excursions are racing to keep up with the 17 million travelers who identify as "health and well-being focused."
For months, mindbodygreen has been keeping a (sunscreened) finger on the pulse of the industry and talking to dozens of insiders about how the scene is becoming healthier—for travelers and the planet they traverse. These are the top seven trends shaping the way we'll explore in 2019:
1. The way we share our vacays on Instagram will change.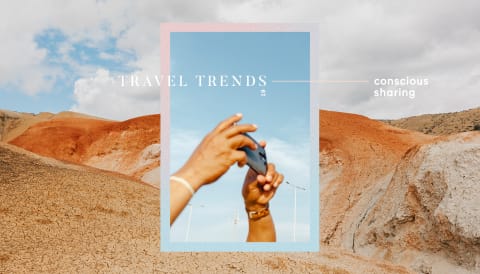 Image by Sarah FitzGerald / Stocksy
Part of the fun of traveling is sharing the highlights with friends and family. But the phenomenon of Geotagging (pinning the geographic location where you took a photo) on Instagram is starting to have some unintended consequences on our wild lands. For proof, we can look to Horseshoe Bend, a previously under-the-radar scenic vista off U.S. 89 in Arizona that now brings in 2 million people looking to get the perfect shot of its expanse a year. Park rangers are saying that this mass influx has led to more emergency calls from visitors who don't fully understand the region. It also put a lot of foot traffic on small plot of land that didn't have the proper infrastructure in place to support it.
Social media-inspired inflows like these led the Jackson Hole Wyoming Travel & Tourism Board to formally encourage visitors to stop geotagging specific regions on their feeds. Their initiative, which began last December, asks people to instead use a generic tag that reads "Tag Responsibly, Keep Jackson Hole Wild."
"We were seeing areas in our destination that were getting overrun by visitors who were simply going to certain amenities based on a geotag with no knowledge of elevation gain, distance, marked trails, and topography," Kate Sollitt, executive director, Jackson Hole Travel & Tourism Board, says of the decision. "We would prefer the visitor speak to a visitor service agent, park ranger, or local to get a complete understanding of where they were planning to go and be better prepared." This way, she adds, the park reps can also better manage foot traffic and make sure no one area is overrun.
In the months since the campaign launched, Sollitt says the number of people opting for the generic tag has "grown tremendously," and she's hearing word that other communities in the Pacific Northwest are planning to enforce something similar.
By making people more aware of the beauty of nature, we can create more advocates to protect it.
Meanwhile, a wave of Instagrammers who have built large followings off nature photography are working to be part of the solution. Katie Boué (@katieboue) is one of them. She uses her platform to give followers access to beautiful places around the world, but she also informs them of their responsibility to protect them. "Using fun, inviting, beautiful outdoor imagery paired with meaningful words is a powerful way to captivate an audience," she says. "I then hit 'em with important messages about land stewardship, ethics, etc. [in the caption]. If possible, I always try to include a call to action."
Another Insta-famous traveler Caroline Gleich (@carolinegleich) also uses her platform as a stage to engage with 151k followers about responsible ways to explore. "I want to leave my followers inspired and curious to discover wild places, and themselves, through their interactions with the outdoors," she says. She names @shelmatic, @charles_post, @pattiegonia, @lennecefer, and @outdoorafro as other accounts doing the same. "I tend to stay very optimistic about how the rise of Instagram has impacted our environment. By making people more aware of the beauty of nature, we can create more advocates to protect it."
2. Hotels will offer guests more opportunities to meditate and be mindful.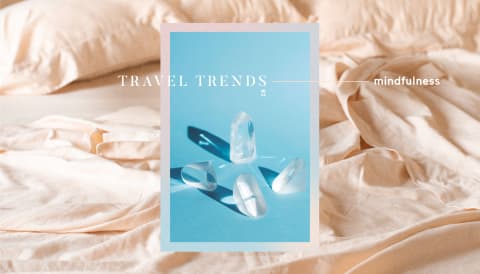 Image by Sarah FitzGerald / Stocksy
Gone are the days when picking up a new mindful practice on the road meant trekking to a yoga retreat. As meditation continues to go mainstream, hotels are teaming up with apps that encourage guests to slow down and seek quiet moments. Last year, KEYPR, a company that sells in-room tablets to dozens of resorts, announced it would start offering guests free access to Headspace's entire suite of meditations (typically $12.99/month), while The James Hotel partnered with meditation studio INSCAPE to gift guests a monthlong subscription to its digital classes.
"The No. 1 app trend of 2018 was wellness/mindfulness, and as mental health conversations continue to grow in popularity and become a part of today's lexicon, we want to make it easy for our guests to explore new ways to relax and unwind," Jason Webb, the general manager of Tilden Hotel in San Francisco, says of the recent decision to offer guests free access to meditation app Simple Habit.
1 Hotel in Brooklyn is taking a more analog approach and presenting guests with cozy socks, a yoga cushion, and a list of meditation tips from mbg Collective member Biet Simkin upon check-in. Joie de Vivre Hotels, recently acquired by Hyatt, has a Japanese-inspired meditation garden in SF-based Hotel Kabuki, where guests can take complimentary two-hour sessions with headphones, an oversize floor pillow, essential oil face mists, and an iPad pre-loaded with guided exercises and calming music.
Forget jogging on the treadmill in a hotel gym and calling it a day. Looking forward, we're anticipating that more and more travelers will seek destinations that allow them to be proactive about their mental health as well as their physical well-being.
3. Wellness-centric hotels will help you stay healthy, even after you head home.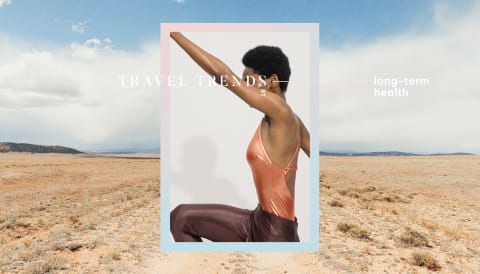 Image by Sarah FitzGerald / Stocksy
Many hotels now provide services to help travelers feel their best long after they head home.
And these days, hotels don't just have masseuses; they have "wellness gurus." Nelson Chako, a yogi and lifelong follower of ayurveda, fills the role for The Anse Chastanet Resort in St. Lucia. "While bad habits are hard to break, good ones are too. Once good habits are established after several sessions with me, guests like to continue them after their trip," Chako says. He teaches guests long-lasting lifestyle tweaks such as easy breathing methods to reduce the stress and the right stretching techniques for the office.
It's not just boutique hotels prioritizing the long-term health of guests—major chains are getting in on it too. Westin, for example, hosts running programs designed to help guests improve their form and find scenic routes in new cities as part of its "Let's Rise" campaign. Across its over 200 locations, Westin also offers guests complementary workout clothes for rent, in-room spa services, and a menu of sleep-enhancing superfoods to promote deep rest. Talk about wellness that goes the distance.
4. Healthier flights will take off.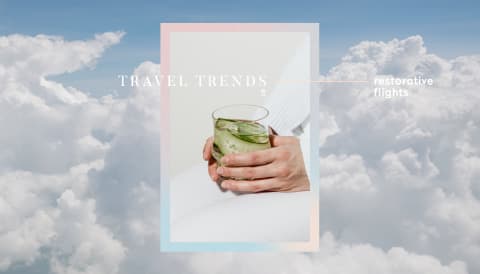 Image by Sarah FitzGerald / Stocksy
Typically associated with dry, germy air, poor sleeping conditions, and questionable food, long-haul flights are finally getting the wellness treatment.
Like hotel chains, many airlines are now partnering with apps that offer guided meditations. Yep, Andy from Headspace will now talk you out of your fear of flying and help you fall asleep aboard Delta, JetBlue, United, and more. Another noteworthy sleep-promoting innovation: Aboard some flights on Lufthansa, the largest German airline, guests can try out noise-canceling headphones and intelligent sleep masks that measure brain waves and deliver light meant to combat jet lag. And onboard every flight, travelers have access to audio that will talk them through deep-sleep-promoting meditations. Meanwhile, Quantas unveiled a menu specifically formulated to prevent jet lag, complete with herbal teas and probiotic-infused juice shots.
By the end of 2019, Portuguese airline Hi Fly wants its entire fleet to be plastic-free.
And that's not the only in-flight menu getting a makeover. According to one study by the Hunter College NYC Food Policy Center, the average number of calories in U.S. carriers' onboard meals has decreased 32 percent since 2017. Brian Berry, director of On-Board Services Strategic Planning at Delta, tells mbg that their priority has been letting guests choose from an expanding number of healthy options, such as breakfast boxes with 22 grams of protein and wraps under 500 calories. "Customers continue to tell us they value having more control over their in-flight experience," he tells mbg. "We're investing in tools that put choice in the hands of our customers—like our pre-select meal program, which gives customers the ability to select their first choice entrée days in advance of their flight. In addition, pre-select helps us better understand customer preferences, which informs our future culinary offerings." Business travelers on Delta can also enjoy chef-curated healthy meals. To further help guests get the most of their food, JetBlue now streams mindbodygreen videos that dive into topics like inflammation and gut health in-flight.
Airlines are finally starting to pay more attention to how their food is served, too. Instead of doling out snacks that result in mountains of single-use plastics, certain operators are looking to cut down on their footprints. Take Quantas, which just released its plan to recycle, compost, or reuse 75 percent of its flight waste (all 30,000 tons of it per year!) by the end of 2021 through initiatives like removing plastic wrap from PJs and headsets, recycling old uniforms, and switching over to compostable coffee cups. Portuguese airline Hi Fly is going one step further and trialing flights that are completely free of single-use plastics. By the end of 2019, the airline wants its entire fleet to be plastic-free.
5. Adventure vacations will reign supreme.
Image by Sarah FitzGerald / Stocksy
Many activities fall under this "adventure travel" umbrella. "Adventure travel is experiential travel that takes you outside your comfort zone and helps you see the world with a sense of wonder and curiosity, whether it's on land, on river, or at sea," Kim McCabe, a spokesperson and U.S. head of public relations for G Adventures, tells mbg. In the 29 years since the group adventure provider has been around, McCabe says the demand for these sorts of activities has widened and broadened.
Adventure travel is more inclusive, more diverse, and more flexible than ever before.
"In the 1990s and 2000s, younger travelers were the first to predominantly try this newer style of travel. It offered an alternative to backpacking that was more expertly organized and more socially structured than going it alone," she says. But from 2013 to 2018, the number of U.S.-based travelers booking vacations with G Adventures grew by more than 80 percent, and the fastest growing demographic were travelers over the age of 40. "It's more inclusive, more diverse, and more flexible than ever before," McCane says.
The most-trafficked regions for adventure travel, according to the ATTA, are Western Europe (France, Italy, Germany, U.K., Norway, Switzerland, etc.) and Central America (Belize, Costa Rica, Guatemala), and the most common activities are cultural tours, walking and hiking, and culinary excursions. This more immersive way to explore the world—and learn something along the way—speaks to the ever-growing desire to break free from monotonous routines. "Travelers are looking for something different—they always have been," poses Tanner C. Knorr, the owner and founder of Off Season Adventures. "Adventure travel allows for a safe form of danger and excitement that far exceeds the daily nine-to-five grind."
Many of these providers also work to make sure their offerings are easy on the planet. "One of the great things about sustainable tourism is that it inherently lends itself to more unique, immersive experiences in a destination, so it's a win/win at the end of the day for both traveler and local community," says Kelley Louise, the founder and executive director of Impact Travel Alliance. "Sustainable travel is wonderful, but eventually, sustainability will be the norm. The pioneers in the industry right now are looking toward the circular model economy, a system that not only minimizes waste but also essentially finds a way to exist as its own ecosystem."
6. Stressed-out people will spend vacation days unplugging in nature.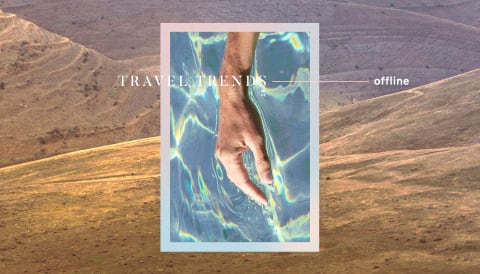 Image by Sarah FitzGerald / Stocksy
Sometimes, everyday life can feel stale and claustrophobic—especially if you live in a big city or work an office job. It's no wonder that vacations in sweeping, quiet landscapes are becoming more popular.
"Travel can sometimes mean busy terminals, long security lines, and cramped spaces on airplanes. Contrary to the 'small space' living trend, according to a survey conducted by Embassy Suites, Homewood Suites, and Home2 Suites by Hilton, Americans are actually trending toward having more space," explains Amy Blankson, a psychology researcher and the author of The Future of Happiness.
"Our jobs increasingly demand after-hours emails or disrupted vacations—all things that lead to burnout," adds Jon Staff, the founder Getaway, a rental company for cabins located in remote woodlands. Save for beautiful views, you won't find too much in each cabin (no Wi-Fi, no TVs, etc.)—and that's intentional. "Practices like forest bathing and digital detoxing provide an antidote to the problem, at least for a few hours at a time. More importantly though, these practices foster reconnection with ourselves, those around us, and what matters most."
Glamping could be a $1 billion industry by 2024.
For a company that touts the minimalist life, Getaways' business is booming: Over 90 percent of its 88 cabins are booked at any given time, and it's expanding to open locations outside Atlanta and Los Angeles soon. AirBnb has also noticed an uptick in demand for simple, modest escapes in nature too. According to company data, there was a 125 percent increase in tiny house bookings from 2017 to 2018, and a 110 percent increase in countryside barn stays. It's no surprise then that glamping—a more approachable version of camping—is projected to become a $1 billion industry by 2024.
Beyond being relaxing, unplugging in nature comes with other benefits such as stress relief, immunity, and much more. "Now that there is more of an awareness of mental health and the distresses that technology can cause a person, people are reconnecting with nature for their health," predicts Jessica Armstrong of Glamping Hub, a luxury camping company that now has 35,000 accommodations in over 120 countries. A future where more people are self-medicating with sunset hikes and trail walks? We'll take it.
7. Budgeting apps will help us fund the vacations of our dreams.
Image by Sarah FitzGerald / Stocksy
Buy-bye, piggy bank. Financial technology is on the rise, and more people than ever before are using digital banking tools to save up for their vacations.
Many of the most popular banking apps available today—such as Mint, Qapital, and Acorns—offer users a way to start and track a travel fund that's separate from their general savings account. "The ease of seeing current funds in your checking account, upcoming bills, and the money stowed away in your 2019 Travel Dreams Fund, all in one place, gives you easy access to all the necessary info—not to mention the motivation," says Keri Danielski, a consumer finance expert at Mint. She adds that in 2018, Mint found that 2.2 million users started a travel fund, and the average user funneled $1,034 into it every month.
Qapital, another financial app, has also found success encouraging people to create different budgeting categories. "If you place your money in one savings account, your individual dreams and goals are left to fend for themselves," explains co-founder Katherine Salisbury, who was inspired to launch the company with her partner, George Friedman, when they were saving up for a dream trip to Kenya. "It's much less intimidating, actionable and, dare I say, fun to place money in smaller buckets separate from your total life savings." Today, more than one in every four Qapital members are saving toward a travel-related goal, and members have saved a combined total of nearly $100 million for travel to date.
Once people do save up for their trips, partnerships between credit cards and hotels, such as JPMorgan Chase and Marriott and American Express and Hilton are helping their dollars go the distance. Here's to more initiatives that take the stress out of saving money for the fun stuff.