Close Banner
Advertisement
This ad is displayed using third party content and we do not control its accessibility features.
The 5 Best Financial Apps To Help You Get Money In The Bank This Year

mbg Sustainability + Health Director
By Emma Loewe
mbg Sustainability + Health Director
Emma Loewe is the Senior Sustainability Editor at mindbodygreen and the author of "Return to Nature: The New Science of How Natural Landscapes Restore Us."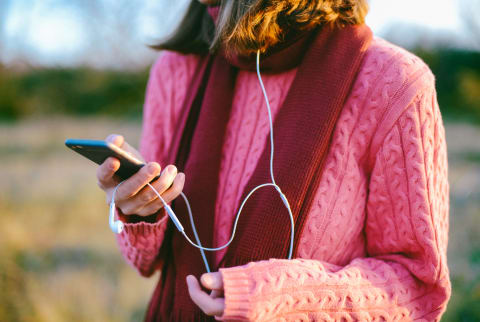 Image by I. C. / Twenty20
Personal finance and budgeting apps certainly fall into the "useful" category, and there's been an influx of them over the last few years. These apps cater to people looking for a little extra support and accountability on their financial journeys, whether that means prompting them to track spending or setting aside part of their paycheck automatically. Here are five for every type of spender and saver.
If you're looking to take an epic vacation come September: Qapital
Under the leadership of behavioral economist Dan Ariely, Qapital prompts users to save for a specific purpose, say a vacation or concert tickets. It operates off the idea that you're more likely to want to put aside money for something you're really excited about. To reach these goals, the app lets you choose between features like "Roundup Rule," which rounds up to the nearest dollar every time you make a purchase and puts the extra change aside, and "Payday Rule," which saves a percentage of every paycheck. The monthly fee is $3.00 for the basic service, and it goes up to $12 for the master plan, which includes access to special webinars and in-app challenges.
If you want to stop blowing all your money on nice dinners out: Mint
Mint is one of the most data-heavy finance apps out there, and its weekly email reports will flag unusual spending, alert you when large sums go in and out of your accounts, and suggest new credit cards. The app's weekly recaps depict how much you spent across different categories like food, rent, and travel in a pie chart. It's super helpful, especially if you're a visual person. Bonus, it's free.
If you want to stay on top of that budget you just made for yourself: Wally
Once you've created a budget for yourself, Wally helps you stick to it. It's a nice option for people who are diligent enough to manually add every expense they make (it's not connected to any bank accounts, so the accountability is on you) and want to always know where they stand. The free app also has a review section that paints a broad-strokes picture of your spending history and habits.
If you want to unsubscribe from all those unnecessary bills you're paying: Clarity
If you've ever genuinely wondered where all your money went, it might be time to do an audit of your recurring payments. All those $2.99 monthly subscriptions you forgot about do add up in the end, and Clarity can help you find and cancel them easily. Like some of the other apps mentioned, the free app, which was recently acquired by Goldman Sachs' high-interest online consumer bank Marcus, also gives suggestions on where you can be saving more.
If you want to invest but don't know where to start: Acorns
Like Qapital, Acorns can automatically rack up your savings by taking a percentage out of paychecks or rounding up on expenditures. But from there, it invests that money into the market for you after learning a little bit about your risk tolerance. The service is free to college students and $1 per month from there.