5 Mediterranean Diet Side Recipes So You Can Eat All The Veggies
mbg Spirituality & Relationships Writer
By Sarah Regan
mbg Spirituality & Relationships Writer
Sarah Regan is a Spirituality & Relationships Writer, and a registered yoga instructor. She received her bachelor's in broadcasting and mass communication from SUNY Oswego, and lives in Buffalo, New York.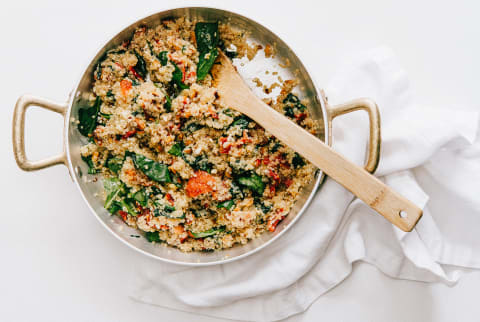 Image by Melanie DeFazio / Stocksy
Our editors have independently chosen the products listed on this page. If you purchase something mentioned in this article, we may
earn a small commission
.
January 4, 2021
The Mediterranean diet was recently named the healthiest diet overall for the fourth year in a row. And one of the things that makes it so healthy is its emphasis on fresh, seasonal vegetables.
Getting your greens along with other nutrient-dense vegetables is so important, and no matter what diet you follow, fruits and veggies should make up at least half of your plate for most meals. To help you with that endeavor, here are five recipes that are delicious and packed with vegetables. Even if you aren't following the Mediterranean diet, they are guaranteed to satisfy.
Advertisement
This ad is displayed using third party content and we do not control its accessibility features.
Broccoli Salad With Dried Figs, Walnuts & Mint
This first recipe comes from Connie Gutterson R.D., Ph.D., the woman behind the Sonoma Diet, a spinoff of the Mediterranean diet. Her broccoli salad with dried figs, walnuts, and mint would make both a great starter or side. Connie recommends using fresh figs, if available, and adding the vinaigrette just before serving to prevent the salad from discoloring. Switch this salad up with cauliflower, different dried fruit and nuts, or add goat cheese if you like.
Ingredients
1 pound broccoli florets and stems
1 tablespoon salt
2 ounces dried figs, cut in half lengthwise, then in ¼-inch pieces
1 ounce walnuts, lightly toasted
2 scallions, sliced thinly on a bias
1 tablespoon mint, chopped
5 tablespoons champagne vinaigrette
Sea salt and freshly ground black pepper to taste
Advertisement
This ad is displayed using third party content and we do not control its accessibility features.
Fill a 2-quart pot with water. Bring to a boil. Add 1 tablespoon salt; bring back to a boil.
Add the broccoli florets and cook until crisp-tender. Place in ice water to shock. Let cool for 3 to 5 minutes; drain well.
Peel and trim the broccoli stems. Cut stems in half lengthwise; slice ⅛ inch thin on a bias.
Combine the broccoli florets, stems, and the remaining ingredients in a bowl. Toss well.
Roasted Peas With Sun-Dried Tomatoes & Peppers
The blog Olive Tomato's roasted peas with sun-dried tomatoes and peppers is a unique take on green peas that will have you wishing you'd found the recipe sooner. They're savory, packed with protein, and the sun-dried tomatoes and dill really make the sauce pop.
Ingredients
1 medium onion, diced
1 bell pepper, sliced in rings
½ cup extra-virgin olive oil
2 bay leaves
2 16-oz. bags of frozen peas (900 grams)
16 ounces crushed tomatoes or tomato puree
¾ cup sun-dried tomatoes rinsed (you may cut them in half; I left them whole)
¼ cup chopped fresh dill
3 tablespoons breadcrumbs: I used whole-grain barley (you may omit this for a gluten-free version)
Sea salt and black pepper to taste
Advertisement
This ad is displayed using third party content and we do not control its accessibility features.
Preheat your oven to 350°F (180°C).
In a pan, heat 2 tablespoons of the olive oil and sauté the onion and bell pepper for about 5 minutes. Remove from heat and set aside.
In a large pot with boiling water, add the 2 bay leaves and the peas. Boil for 2 minutes. Remove and drain.
In a bowl mix gently the peas, onion and pepper, bay leaves, tomato, dill, salt, and the sun-dried tomatoes. Empty the mixture into a casserole dish. Drizzle over the rest of the olive oil. Sprinkle with the breadcrumbs.
Add about ½ cup hot water in the side of the dish tilting so that the water spreads at the whole base of the dish.
Grind some black pepper over it and bake in the oven for about 30 minutes until the peas have thickened.
Remove and let it cool.
Serve as is or with feta.
Quinoa Stuffed Peppers
These quinoa stuffed peppers from A Couple Cooks are just as colorful as they are tasty. Parsley, lemon, and feta give this dish its Mediterranean flair, and with protein from the quinoa, this is one side sure to fuel you up. Add a serving of your meat of choice and these peppers are practically a meal.
Ingredients
6 multicolored bell peppers
1 cup organic quinoa
4 cloves of garlic
3 medium shallots (1 cup chopped)
¼ cup plus 1 tablespoon chopped parsley
¾ cup chopped pistachios
2 tablespoons extra-virgin olive oil
¼ teaspoon red pepper flakes
1 teaspoon paprika
1 teaspoon dried oregano
2 tablespoons lemon juice plus zest from ½ lemon
½ teaspoon sea salt
¼ teaspoon black pepper
¼ cup feta cheese crumbles (optional)
Advertisement
This ad is displayed using third party content and we do not control its accessibility features.
Preheat oven to 425°F.
Wash the peppers and cut them in half lengthwise; remove the stems and seeds. Line a baking sheet with parchment paper, then place the peppers on top. Bake with the cut side down for 15 minutes, then remove from the oven, flip to cut side up, and sprinkle with a pinch of salt and pepper. Bake another 15 minutes until tender.
Meanwhile, cook the quinoa (or use this Instant Pot quinoa method): Rinse the quinoa and drain it completely, then place it in a saucepan with 2 cups water. Bring to a boil, then reduce the heat to low, cover, and simmer where the water is just bubbling for 17 to 20 minutes until the water has been completely absorbed. (Check by pulling back the quinoa with a fork to see if water remains.) Turn off the heat and let sit with the lid on to steam for at least 5 minutes.
Mince the garlic, shallot, and parsley. Chop the pistachios. In a large skillet, heat 2 tablespoons olive oil. Add the garlic, shallot, and red pepper flakes and sauté 1 to 2 minutes until the shallot is translucent and the garlic is fragrant. Remove from the heat, then stir in the cooked quinoa, pistachios, ¼ cup parsley, paprika, oregano, lemon juice and zest, sea salt, and black pepper. Taste and add another few pinches of salt to taste. Spoon the filling into the roasted pepper halves. Garnish with a small sprinkling of remaining parsley and feta cheese crumbles. Serve any additional filling on the side.
Mediterranean Salad With Swiss Chard & Quinoa
This next side by Italian chef Silvia Bianco comes straight from the Mediterranean. The salad with Swiss chard and quinoa is full of vitamins, fiber, and protein. It's relatively simple, with flavors reminiscent of a Greek salad. And with the addition of quinoa, this is another that will definitely help keep you full.
Ingredients
2 cups cooked quinoa
1 bunch young Swiss chard with tough stems removed, cut into 1-inch ribbons (including the thinner, tender parts of the stems)
4 tablespoons extra-virgin olive oil
4 tablespoons stock (vegetable or chicken)
1 medium garlic clove, finely chopped
1 pinch pepper flakes (or more, depending on how spicy you like it!)
6 kalamata olives, diced
6 cherry tomatoes, diced
1 small cucumber, diced
Salt and pepper to taste
Advertisement
This ad is displayed using third party content and we do not control its accessibility features.
Cook the quinoa according to package instructions.
In the meantime, place a medium-size skillet over medium heat, and add the oil until hot but not smoking.
Add the Swiss chard; cover and cook (stirring occasionally) for about 3 minutes or just until the greens wilt.
Push the greens to the side of the skillet and add the garlic and pepper flakes; cook for about 30 seconds, just until the garlic begins to color and become fragrant.
Quickly pour in the broth and cook for about a minute more, and then remove from the heat.
Stir in the quinoa, olives, tomatoes, and cucumber.
Season with salt and pepper to taste.
Grilled Zucchini Salad
And lastly, this grilled zucchini salad by The Mediterranean Dish is a perfectly savory side to add to a meal. Lemon, parsley, and tarragon enhance the zucchini, along with grilling the rounds. Any EVOO will do, but a private-reserve, Greek variety will really take the dish to the next level.
Ingredients
4 zucchini squash (about 2 lb.), sliced into rounds
Private Reserve Greek Extra-Virgin Olive Oil
1 tsp. organic ground cumin
Juice of 1 lemon
1 garlic clove, minced
Salt and pepper
1 cup packed chopped fresh parsley
2 tsp. chopped fresh tarragon
Feta or goat cheese, optional
Place the zucchini into a large bowl. Drizzle about 3 tbsp. extra-virgin olive oil, and sprinkle with cumin. Toss with your clean hands to combine.
Heat a grill or griddle until hot; add zucchini in batches (do not crowd). Grill for 4 minutes or so, turning over a couple of times until zucchini are cooked through and perfectly charred.
Transfer grilled zucchini back to the bowl. Add lemon juice, fresh garlic, salt, and pepper. Toss to combine. Add fresh herbs and toss again gently.
Transfer to a serving platter and top with a sprinkle of feta or goat cheese, if you like. Serve at room temperature.
If you've been struggling to eat enough vegetables, or you're just looking for more recipe inspo, these dishes are a great place to start. And with five that can all be whipped up in less than 45 minutes, they're a great weeknight solution for every schedule. Check out our ultimate Mediterranean grocery list for more pointers, as well as our recipes page, where we're always posting the latest and healthiest recipes.
Reset Your Gut
Sign up for our FREE doctor-approved gut health guide featuring shopping lists, recipes, and tips