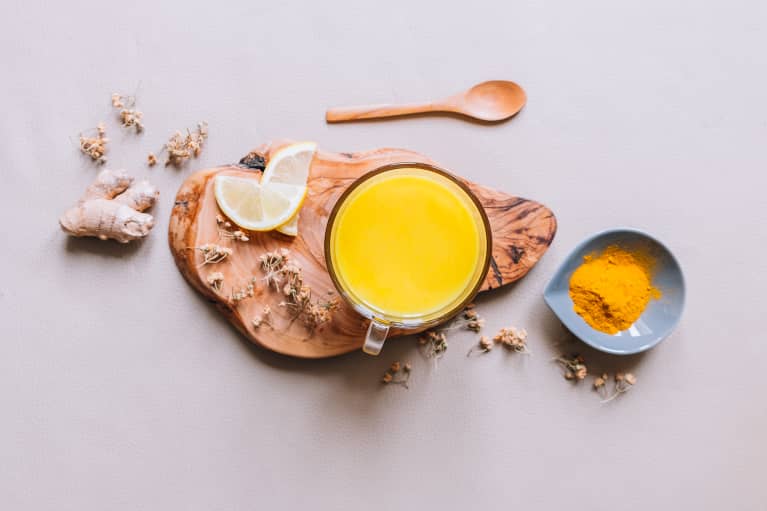 In the northern hemisphere, it finally feels like winter: The leaves are mostly gone, the temps havee dipped below freezing, and—well, there's probably something "going around," as they say. Did you know adults get two to three colds per year, while kids can get up to ten since they haven't built up their immunity? With school in full swing, closely shared office spaces, and run-down immune systems from busy schedules, catching that "something" is bound to happen.
Whether you're feeling under the weather now or trying to boost your immunity to prevent getting sick, there are a handful of natural herbs and plants that have special properties to help you feel your best.
When choosing herbs, understanding sourcing is a huge priority. All products in Garden of Life's mykind Organics line of herbals are Non-GMO Project Verified, Certified USDA Organic, and use mindful extraction processes that avoid harsh chemicals and corn-derived alcohols. But not only is herbal quality top of mind, the company is also certified B Corp, meaning that they go the extra mile to adhere to strict environmental, earth-friendly standards and prioritize human well-being across the supply chain. So not only can this beginner's toolbox of natural ingredients help you feel better, but you can feel good supporting Garden of Life, too.
Keep reading for a beginner-friendly list of herbal immunity boosters:
1.
Elderberry: the cold and flu fighter.
Elderberry has been linked to anti-viral activity for a specific kind of virus that's known to cause runny nose, sore throat, and cough. It's been studied for its antioxidant properties and, in a randomized trial, helped people recover from the flu four to five days earlier, on average. It's even been associated with a reduced chance of getting sick while flying in a randomized, double blind, placebo-controlled study. Garden of Life's Elderberry Gummies, made with real fruit and no refined sugar or gelatin (vegetarians and vegans, this is your gummy!) even include organic echinacea, zinc, and vitamin C for extra immunity-protecting power.
2.
Ginger: the digestive aid.
Ginger's most active polyphenol, gingerol, and other compounds in the ancient root are known for their gastroprotective properties. It's perhaps most known for its nausea-soothing powers across immunosuppressed populations like cancer patients, but also helps the general healthy public. It's also associated with assuaging symptoms of respiratory infections, helps with stabilizing blood sugar, and has even shown it can help some people with symptoms of dementia.
3.
Turmeric: the all-in-one inflammation buster.
A native Indian root known for its bright orange to deep yellow color, and a cousin of ginger, turmeric is used for flavor and medicinal effects that seem to touch and positively impact almost all the body's systems. It's most well known for curcumin, a polyphenol that's associated with wide-spread activity against inflammation, including its antioxidant, antimicrobial, and anti-inflammatory properties. In a meta-analysis of clinical trials, turmeric was linked to less perceived pain in arthritic patients. One review of five studies linked turmeric to better dental health, as it can promote less plaque and fewer instances of gingivitis overall. Bonus: It's been known to help dermatologic ails, including acne and aging, too. Turmeric comes in several formats, including tablets and gummies (our personal pick), but just be sure the formula contains black pepper—it's necessary for the body to absorb turmeric.
4.
Ashwagandha: the energy and mood booster.
Known for its important role in Ayurvedic and traditional Chinese medicine, ashwagandha is an adaptogen associated with a feeling of boosted energy. It's become one of the wellness world's favorite "adaptogens" for its stress- and anxiety-reducing effects, for which it has been studied extensively. You can take ashwagandha as a daily herbal supplement—just be sure to double check the quality. Garden of Life's Ashwagandha formula is Certified USDA Organic and Non-GMO Project Verified, ensuring it's grown without toxic pesticides, herbicides or fungicides and cleanly extracted.
5.
Oil of Oregano: a match for infections.