This Feng Shui & Astrology Connection Could Be A Game-Changer For Your Home
mbg Contributors
By The AstroTwins
mbg Contributors
Ophira and Tali Edut, known as the AstroTwins, are professional astrologers based out of New York and Seattle. Their work has been featured in The New York Times, Elle Magazine, Vogue and Good Morning America and they are the authors AstroStyle, Love Zodiac, Shoestrology, and Momstrology.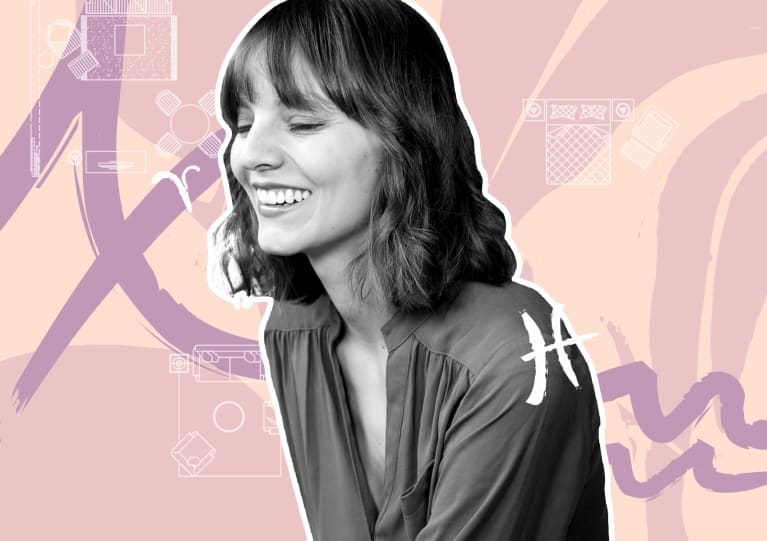 You probably already know your astrology sun sign and how it shapes your personality. Next obsession: designing an environment that brings out the best in you and everyone who shares your space.
In feng shui, just like in astrology, the "elements" of nature are an essential part of the practice. While in astrology we use nature's elements to understand people's temperaments, feng shui uses them to decode the energy in our homes.
Western astrology divides the zodiac sign into four elements: fire, earth, air, and water. Feng shui, like Chinese astrology, distinguishes five elements: fire, earth, metal, water, and wood. Each element is associated with specific colors, shapes, and energy. When all these elements are working in harmony, the idea is that energy will be able to flow more freely around your home. Have a hunch you need some more fire in your life because you're a water sign? Or are you craving some more calming earth energy in your chaotic life? Here's a primer on how to welcome these energies using feng shui, from expert Kate MacKinnon.
Energy: Pulsating, energy, vitality (yang)
Shape: Triangular
Colors: Red shades, pinks
Season: Summer
Design Ideas to Activate Flow/Energy: Lights, candles, candelabras, a fireplace; hang a painting or sculpture with a bold splash of red or triangle shapes.
Energy: Stability, nurturing, sustaining
Shape: Square
Colors: Orange, yellow, earth tones
Season: Transition of seasons
Design Ideas to Activate Flow/Energy: Terra-cotta pots, ceramics, soft fabrics and colors
Energy: Focus, direct, contracting
Shape: Round
Colors: Gray, pastels, white
Season: Autumn
Design Ideas to Activate Flow/Energy: Metal objects, metallic finishes and fixtures
Energy: Fluid
Shape: Wavy
Colors: Black, dark tones
Season: Winter
Design Ideas to Activate Flow/Energy: Fountains, fish tanks, mirrors
Energy: Changing, growth, sprouting
Shape: Rectangular, columnar
Colors: Green shades
Season: Spring
Design Ideas to Activate Flow/Energy: Plants, wood flooring and furniture, sculpture
Now that you have the basics, here are some more of Kate's recommendations on how to use feng shui principles in your home.
1. Visualize a favorite place.
This basic exercise helps you get in touch with your own inner sense of ease and balance: Close your eyes and visualize a place you love to visit or imagine something that feels good to you. Try to engage all your senses by thinking about the sights, sounds, smells, tastes, and touches. Write down what you imagined and let it be a clue to the feelings and elements you want to bring into your living or work space.
2. Set an intention for a specific area of your life.
Next, think about what you would like in your life and visualize that as well. Nine areas of life are examined in feng shui:
Relationships
Wealth and Prosperity
Health
Family
Children
Career
Fame and Recognition
Spiritual Cultivation
Travel and Helpful People
Write an intention for the areas you wish to enhance, expand, or heal. Use the present tense, as if you already have these things in your life. For example, "I am living with the love of my life, and together we are creating a home and family that provides love, laughter, and joy."
3. Get rid of that clutter.
Clutter is just stuck energy. It can be a source of stress and overwhelm that keeps you from having or sustaining peace. If you declutter your space, you declutter your mind!
You've probably heard the idea that everything in your space should have a "home"—a place to go at the end of the day. After you declutter, put the things that are left in their homes. If they don't have a home, create one or get rid of those things.
Display only the things you use or enjoy daily. Put away everything else. Even random paper clips can be clutter—find them a home or get rid of them.
4. Connect with your emotions.
Decluttering isn't about just tossing everything. You can have a meaningful dialogue with yourself about your stuff. In doing so, you will get closer to feeling the benefits of clearing your space.
As you're evaluating each item, ask yourself:
Do I still use this?
Am I hanging on to this for sentimental reasons?
Why am I afraid to let it go?
Am I afraid that one day maybe I'll need this again?
Decluttering is a process that can be emotionally intense, so do one area at a time starting with a single cupboard or drawer or under your bed. Completing one project will make a huge impact. You will feel your spirit lift, which will only motivate you to do more!