Small Things, Many People: 3 Ways To Practice Social Good Every Single Day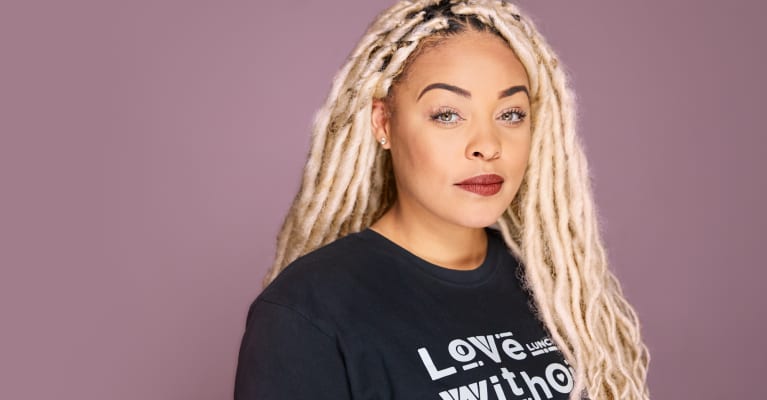 For years, activist and entrepreneur LaRayia Gaston has been inspiring us to implement actionable change.
Gaston has brought healthy food, yoga, and self-care to L.A.'s homeless community through her nonprofit organization Lunch On Me. While breaking the cycle of homelessness is a giant undertaking, she approaches the issue one step at a time: "I don't look at the problem as a whole. I look at how I'm contributing to the solution," she states in mindbodygreen's very first documentary on the topic.
Since its inception, Lunch On Me began with a goal of feeding 500 people; they now serve 10,000 a month. Needless to say, Gaston knows a thing or two about implementing social change, which is exactly why we consulted her on this episode of the mindbodygreen podcast (we were also lucky enough to have her speak at our revitalize event back in 2018).
Here, Gaston explains her equation for social justice success, starting with three ways to make social good a part of your daily life:
1.
First, look where it hurts.
The first step to creating lasting change, Gaston says, is to "look where it hurts." In other words, expose yourself to things that may make you feel uncomfortable. "It's a privilege to look at things rather than experience them," she says. "And it's even more of an advantage for people to look away."
To be able to spark change, you first have to become aware of that suffering. As Gaston notes, "We all want to be loved and acknowledged. Can you imagine what that does to your heart and spirit if no one sees you?" That said, keep your eyes on those who need help. Don't ignore or avoid the problem because it makes you uncomfortable. "We can't fix what we don't see," Gaston adds.
2.
Apply what you've learned.
After exposing yourself to the discomfort, the next step is to apply all that you've learned. It sounds vague, but it doesn't have to be that big of a grand gesture. According to Gaston, "We start with our circles, our conversations. It starts where it started, which is at home."
In other words, it's time to start having uncomfortable conversations with family members and making friends with people who don't look exactly like you. While the thought of ruffling feathers can be a little daunting, use that discomfort to your advantage. "That's the only time you grow," Gaston says. "Complacency doesn't grow us."
Now, for the action bit: Rather than focusing on how you can fix the entire problem (which, for a problem as deeply ingrained into society as systemic racism, might make you feel overwhelmed), focus on small things you can do to help. Gaston explains further: "Look at our society's problems in the sense of a potluck. If everyone brings a dish, we have a feast."
Take homelessness, for example: a social issue with great magnitude, no? In order to implement social good on a daily basis, Gaston urges everyone to carry water bottles, granola bars, or five-dollar bills, if you can. That way, every time you see someone who might need it, you might make that person's entire day. "You don't know who you're going to encounter, but you can give them love," Gaston says. Sure, it's not a grand gesture, but imagine if everyone had the same thought process—those little acts surely add up.
In terms of anti-racism, try not to look at the entire scope of the human rights issue. (It's vast, and it requires long-term action.) Instead, you might want to connect with nonprofit organizations and figure out their simple daily needs. What can you do to help those organizations today? It may be simple, but hundreds of those small acts could ultimately create lasting change. "No one can fix the problem by themselves, but they can fix the problem in their corner of the world," Gaston says.
No matter what, don't let anti-racism become a moment. It's a movement, so do your part to ensure it doesn't become fleeting. If you implement the work into your daily life (again, even small, simple acts can help), it may very well become part of our lifestyle—and hopefully, our culture. "It's like healthy eating and dieting," Gaston adds, "You can't just do it every now and then. It has to be a lifestyle."