Common Hair Changes That Happen As You Get Older + What To Do
Assistant Beauty & Health Editor
By Hannah Frye
Assistant Beauty & Health Editor
Hannah Frye is the Assistant Beauty Editor at mindbodygreen. She has a B.S. in journalism and a minor in women's, gender, and queer studies from California Polytechnic State University, San Luis Obispo. Hannah has written across lifestyle sections including health, wellness, sustainability, personal development, and more.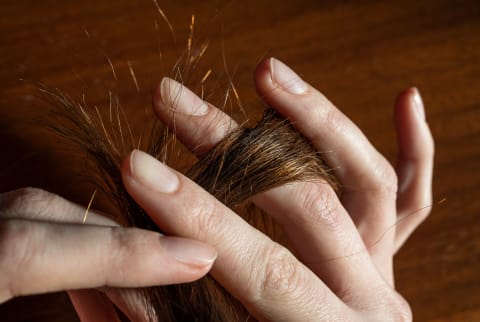 Image by Simone Wave / Stocksy
August 10, 2023
Every beauty professional has their nonnegotiable steps. In our series, Like A Pro, we tap experts for the top three techniques they absolutely swear by. Here, you'll hear from a variety of industry insiders on the fail-safe tricks they always keep in their back pockets. We're all about simplifying your beauty regimen wherever you can, and sometimes the best routines are as easy as 1, 2, 3.
Your body will change as you get older, and that is unavoidable. While you may be able to audit your lifestyle to delay those natural shifts, those changes will come eventually. And for those who menstruate, some shifts will begin to show up years before menopause even starts.
They can't be skipped, but knowing which changes to expect can be helpful, especially when it comes to your hair and scalp. Below, three shifts to consider from board-certified dermatologist Panta Rouhani Schaffer, M.D., FAAD, plus what steps to take:
1.
It may start thinning & lose volume
As your hormones begin to change, you may start noticing thinner hair. "As estrogen fluctuates toward an overall trend of less, the counterpart hormones are increasing," Schaffer says.
When these hormones increase, you may notice your strands feeling lighter. "The rise in androgens shrinks the hair shaft, [so] individual hair diameter shrinks," she explains.
These androgens also stunt growth, so you may experience less volume and fewer baby hairs than you once had. These changes won't happen overnight but may start to take around your mid-30s, Schaffer adds.
2.
Some hair days may be better than others
Here's the thing: These shifts in volume and density don't have one specific starting point—it's not like rolling a ball down a hill. In fact, your strands may ebb and flow much more than you'd expect.
"While menopause is defined as a full year without menstruation, the start of perimenopause is unclear for most women," Schaffer says. So a gradual rollout should be expected.
She notes that because your estrogen levels will fluctuate, the manifestations of perimenopause will also wax and wane. So if you notice your strands looking flat one day and fuller a few days later, just know variety is common; both perimenopause and menopause are not linear experiences for everyone.
3.
You'll respond differently to growth efforts
As we mentioned previously, you can't completely avoid natural changes to your hair as you age; but you can keep your scalp and strands as healthy as possible to ease the impact of those hormonal shifts.
That being said, what works for your parent, sibling, or best friend may not work for you, and what worked last year may not help this time around, so try to embrace the array of hair growth options available. Below, a few suggestions from Schaffer:
Start early: "Starting early when you first detect hair changes can make a big improvement long term," Schaffer says. If you notice thinning or loss of volume, consult your dermatologist to assess the best plan of action.
Manage expectations: Before you jump to conclusions, remember that shifts in hair density are normal and expected. It's easier said than done, but bringing yourself down to Earth and accepting that change is unavoidable may bring you peace of mind and help you pause comparison to others.
Focus on lifestyle & topicals: Hair growth products can be extremely helpful (some of our favorites here), but you can't discount the impact of a healthy lifestyle. "We are also learning more about our mind-body connection and what daily practices may impact our stress and coping mechanisms," Schaffer says. After all, research shows that stress can cause hair loss and shedding1 (even if that means stressing about hair loss). So implement some stress-relieving activities to practice with your hair care regimen.
The takeaway
Your hair will change as you age, and it's unavoidable. You may notice thinning, loss of volume, and even periods of growth and loss. To support healthy hair as you age, be proactive when you first spot changes, manage your expectations, and focus on both lifestyle and topical enhancements. Still curious about menopause and hair loss? Here, you can dive deeper into the science.
Hannah Frye
Assistant Beauty & Health Editor
Hannah Frye is the Assistant Beauty & Health Editor at mindbodygreen. She has a B.S. in journalism and a minor in women's, gender, and queer studies from California Polytechnic State University, San Luis Obispo. Hannah has written across lifestyle sections including skin care, women's health, mental health, sustainability, social media trends, and more. She previously interned for Almost 30, a top-rated health and wellness podcast. In her current role, Hannah reports on the latest beauty trends and innovations, women's health research, brain health news, and plenty more.