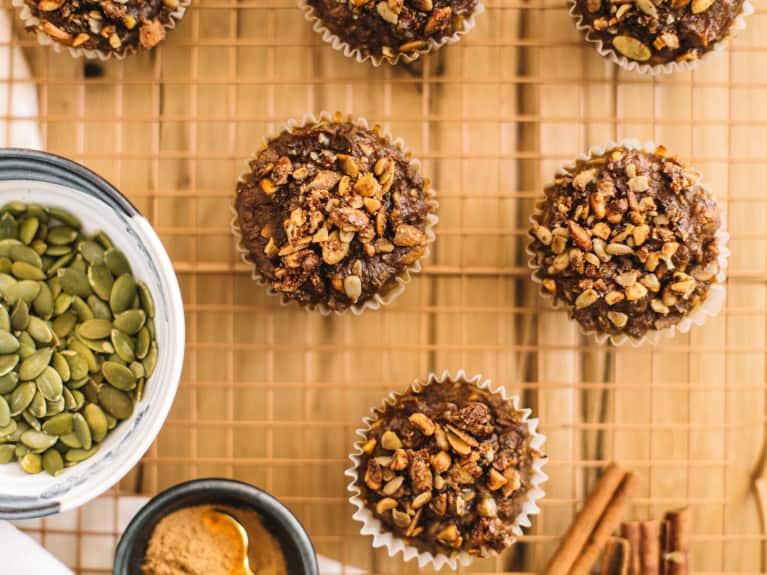 Pumpkin spice and fall go hand in hand these days, but most of the ubiquitous lattes, cookies, and snacks you find come September are full of refined sugar, artificial flavors, and other ingredients that can leave you feeling sluggish and foggy.
Instead, make a batch of these super easy, grain-free muffins for a delicious breakfast or snack on the go. They're packed with protein and healthy fat, and because they use Purely Elizabeth Grain-Free Pumpkin Spice Granola, you can experience decadent granola clusters without all of the grains. The best part? The granola includes the ancient herb Ashwagandha, so you'll get the benefits of an amazing adaptogenic ingredient.
Haven't heard of adaptogens? They're herbs, spices, mushrooms, and minerals that have been around for thousands of years, and they're having a huge renaissance right now in the health and wellness community. These powerful ingredients have been known to boost immune systems as well as balance moods, hormone systems, and energy levels. The coolest part about adaptogens is that they adapt to your body's specific needs, so you can benefit whether you're feeling stressed, anxious, or tired.
Ashwagandha is one of the most commonly prescribed herbs in Ayurevedic medicine and has been used for thousands of years. It is known to alleviate all sorts of symptoms of internal and external stressors and help neutralize endocrine and hormonal systems in your body that are out of whack. Some have experienced reduced brain fog and better sleep by incorporating this adaptogen into their daily routine. And, since no one wants to catch that nasty cold this season, it's the perfect time to add superfood, Ashwaganda, to your fall repertoire.
Whip these gluten- and dairy-free muffins up on a frosty morning—your house will smell heavenly, and you'll have a delicious snack that will benefit your body, your mind, and your taste buds.
Adaptogenic Pumpkin Spice Muffins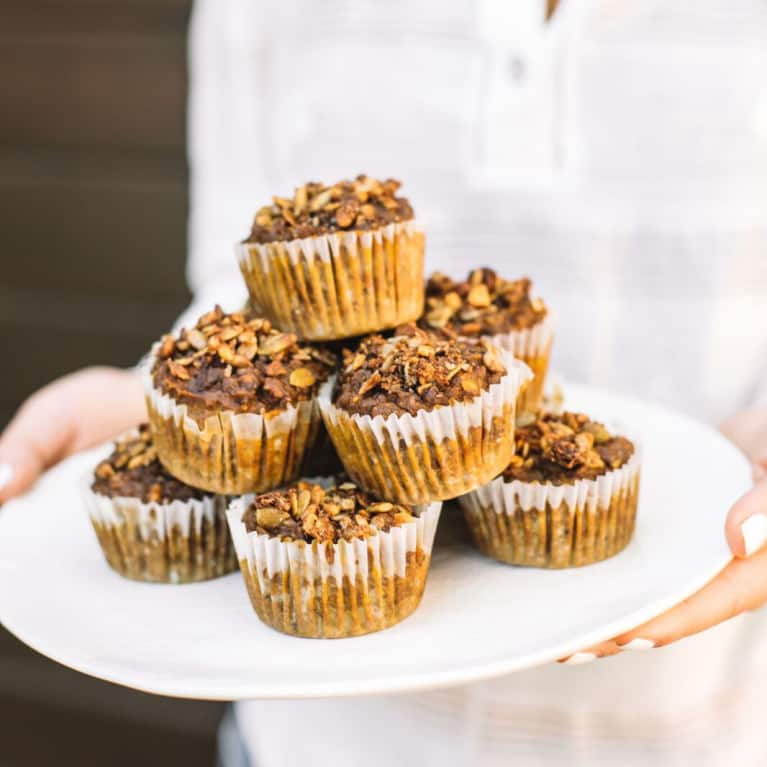 Makes 12 muffins
Ingredients
1 8oz bag Purely Elizabeth Grain-Free Pumpkin Spice Granola with Ashwagandha, about 4 cups
3 eggs
¼ cup honey
2 Tablespoons coconut oil
1 tsp vanilla
1 cup pumpkin puree
2 cups almond flour
1 tsp baking soda
1 tsp cinnamon
½ tsp ground clove
¼ tsp ground ginger
¼ tsp allspice
¼ tsp freshly grated nutmeg
Preheat oven to 350 degrees. Line a muffin tray with paper liners.
In the bowl of a food processor, pulse the granola a few times until broken up into smallish pieces but still chunky. Alternatively, put the granola in a plastic bag, and use a rolling pin to crush.
In a large bowl, whisk eggs, oil, honey, and vanilla together until combined. Add pumpkin puree and stir until combined.
In a separate bowl, whisk together the almond flour, baking soda, and spices.
Add the dry ingredients to the wet and mix just until combined. Fold in 2-3 cups granola, reserving one cup for the crumble topping.
Portion out the batter equally into the muffin liners. Sprinkle remaining crumble topping over the muffins and bake for about 20 minutes, or until set. Let cool. Store in an airtight container.