3 Ways to Fully Show Up in Your Life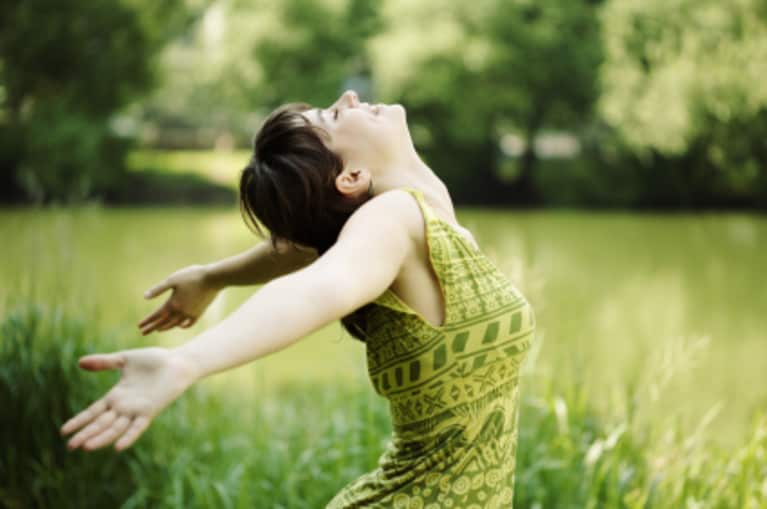 Let's face it... we live in a fast-paced world. We expect our coffee to be made at a drive-thru in less than three minutes -- anything longer would be unacceptable. And the reason why is because we are rushing to work after waking up late from oversleeping, overeating, under-exercising (or maybe not at all), meeting deadlines, texting, calling, tweeting, trying to be friends, daughters, sons, brothers, sisters, wives, husbands, girlfriends, boyfriends and the list goes on and on until you are up against the daunting facet of time. There just never seems to be enough of it, right?
"If I had more time I'd start my own business, I'd take care of myself, I'd make more money, I'd volunteer more, I'd exercise more, I would meditate, watch all 10 episodes of Game of Thrones until my eyes fall out!" And yet again the list goes on.
For almost all of my life, up until about a year ago I was always running against time. And wherever I was, I was thinking about my grocery list, or the mess in my room, or the relationship I hated, or how I should have, would have or could have. I was always thinking about my next move. Then one day I was talking to a friend and she was telling me a story, somehow I started drifting off to into all-about-me-land, thinking about something that had happened or if I had ice cream in the fridge to curb my all day craving or whether or not I would make it to the bank before it closed. After spilling her guts, her deepest feelings and emotions to me, she looked at me and asked me what I thought.
Embarrassingly, I had no idea what she had said. I quickly realized two things: I had pathetically pissed off a pal and I was too busy off in another thought, my own thought. I wasn't showing up fully in the practice of life, in my work, in conversation, my eating habits, my fitness routine, or in my commitments to my peers. In the midst of the madness I learned three helpful tips (all from experience) to begin showing fully in my life.
1. Stop comparing apples to oranges. Simply put, stop comparing yourself to another. In my yoga practice, a wisdom I have learned is to stay on your own mat. We are all at different learning capabilities, physically, mentally and spiritually. Each one of our journeys is different. As a former NFL Cheerleader, I have always felt prone to comparing myself to the beauty and fashion industry. There are times we pick up the magazine and think, "Oh I will never look like that" or "Wow, she is absolutely beautiful". Let's say you look at the mess in your closet everyday when you are scuffling for an outfit and you think to yourself, "Look at this mess!" By comparing your messy closet to that of HGTV's, well it doesn't clean your closet does it!? We must look from within ourselves to find happiness; it comes from the inside out. Only you can change it! Truly, we are all part of much larger consciousness and when we focus on raising our own vibration, we not only heal ourselves, but we help to heal the world. 
2. Release what is no longer serving you. Remember that everything is energy. By clearing out dormant and static energy, you are allowing room for new energy to come through. It's time to throw out physical things you no longer need, old ideas and belief patterns that won't fit into your suitcase as you embark upon the new journey ahead. Physically cleaning out your spaces is one of the most symbolic ones to me because you can see automatic results. If you hate cleaning alone, make an event out of it, take the day with your spouse, your family or friends, order pizza (the healthy kind!) and just do it! If it no longer serves who you are or represents what you want in your life, get rid of it, put it in storage or remove it altogether. Ask yourself if you would want those items to represent you now in the present or in the future. And if you haven't worn something in over a year, get rid of it or donate it. 
In terms of belief patterns, habits, or ignoring the brilliant and intuitive self, we all have things we are not so particularly proud of, those ever haunting "skeletons in the closet". Now is the time to come to terms with them. Remember that is who you were and you now have a chance to be. Just like your credit card statement, don't look at it as a representation of who you are, but who you were. Those were choices you made before, but this is now. Don't beat yourself up over it. Same with our "lose weight" resolutions, whatever it is you want to lose or you think you have gained is a representation of who you were. You now have the power to change it!
Take a slot of time out of your day to literally setup a date between you now and you then. You can do this by meditating, lying down, or actually giving yourself a coffee date. Explore the conversation that occurs within you. You will probably find that your old self made decisions that would no longer serve you now. You will begin to see that these are old thought patterns and ideas that only served you at that time in your life. And by all means, allow room for mistakes. Say goodbye gently and move on.
3. Squeeze the juice until the last drop. Next time you find yourself in the long grocery line, or in one-legged downward-facing dog pose, instead of re-playing your unfriendly performance review from your boss in your head, make the most of the moment you are in. So often we miss out on integral parts of life because we are so absorbed in another thought. You might just miss out on helping someone who really needs to know that you are listening, someone who could use your inspiration, or engaging yourself in the next brilliant idea. Sometimes when I am driving to work I find myself thinking about my to-do list and I forget to look for the beauty that surrounds me. Even in the traffic filled streets, on the sidewalk there is a mother walking her newborn in a stroller and it makes me smile and appreciate the moment. 
The quicker we learn to embrace each moment, the more we can fully show up in each part of our life. We can become better friends, daughters, sons, brothers, sisters, wives, husbands, girlfriends, and boyfriends the instant we squeeze the juice until the very last drop.