It's Not Just For Soup Anymore: 9 Ways To Take Your Bone Broth Obsession To The Next Level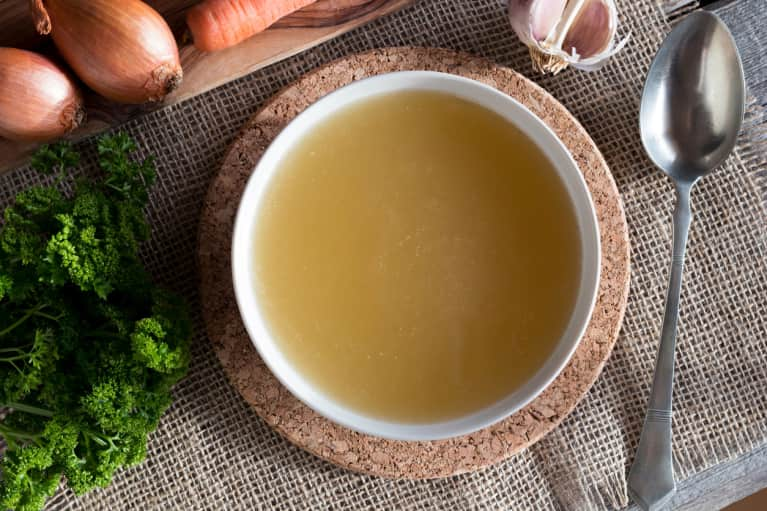 Everyone is talking about bone broth these days, and even though it's trendy now, bone broth is actually not a new concept. Bone broth has been used in traditional societies around the world for generations as a potent and nourishing food medicine.
It is also one of the foods that I recommend to my patients as one tool to aid in healing from gut problems such as leaky gut syndrome, candida overgrowth, and SIBO (small intestinal bacterial overgrowth).
Typically, bone broth is used in hot soups and stews, but this can get boring if you're interested in having it a few times each week. Time to change it up! Let's get adventurous with your brothing and have some fun with this microbiome-healing stuff.
Here are nine of my favorite ways to get bone broth into your day that aren't soups!
Sounds strange, right? Don't knock it until you've tried it. The natural sweetness of fruits used in the smoothie will hide the savory flavor of bone broth. Instead of adding liquids like juice or almond milk into your morning smoothie, bring in the broth! You also can freeze bone broth into ice cubes and add them into your favorite superfood smoothie recipe.
This is a great way to cut down on the fruit sugars of juices! Add one part bone broth and three parts fresh-pressed juice to get a refreshing gut-healing beverage. You can also freeze this and make bone broth and juice ice pops!
On warmer days, or after a hard workout, the last thing you are probably in the mood for is warm bone broth stews. Gazpachos or cold soups, using a little bit of bone broth as part of the base, is a great idea for a refreshing but nourishing meal.
Mix a little bone broth into condiments such as ketchup and mayonnaise to get a healing boost into your favorite meals.
Instead of using a microwave, add a little warm broth to yesterday's leftovers and heat it over the stove to steam your meal back to life!
Add some bone broth to the pan when you are sautéing vegetables to infuse your stir fry with some gut-healing goodness.
Add a little arrowroot starch to some hot bone broth in a pan for some gluten and grain-free gravy.
Want some fluffy, scrambled eggs in the morning? Add a small amount of bone broth to your eggs (in place of milk or butter—just a touch will do!) and scramble as normal for a nutrient-dense breakfast.
Bring a calming ritual to your day by adding some tumeric to your bone broth in your favorite mug and enjoy it on a cold day.
We hope you enjoy these creative ways to consume bone broth. While you're at it check out more bone broth recipes that aren't soup!