What I Eat In A Typical Day: A Functional Medicine Doctor Tells All
As a functional medicine doctor practicing in the heart of New York City, my day job is literally health and wellness — so I have to walk the walk. I'm often on-the-go or traveling, but I've learned how to easily incorporate healthy food into my days no matter where I am. Here's a sneak peek into my typical day of eating!
Photo courtesy of the author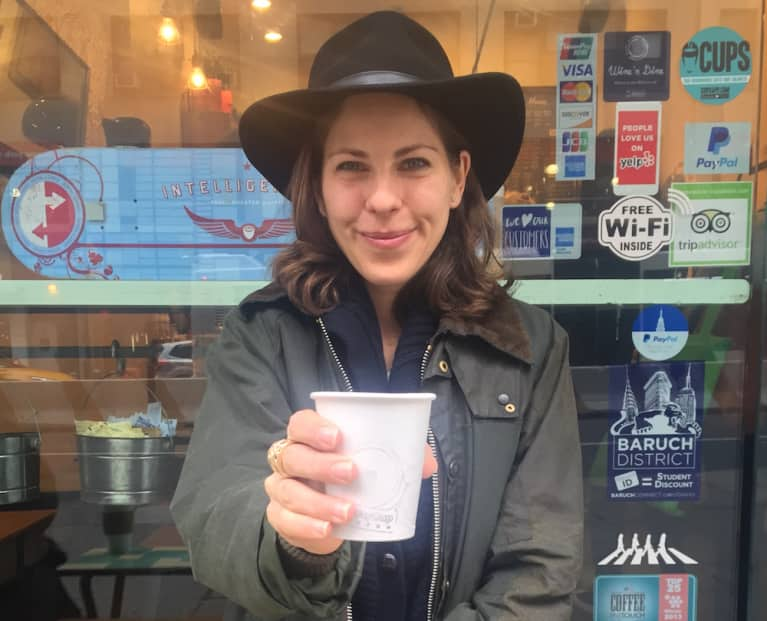 I always enjoy a morning espresso or almond milk macchiato. Many people think coffee is bad for you, but it just depends on the person. It's one of my favorite rituals to help me get my day going and I don't experience any of the jitters or anxiety that some people note. Every Wednesday, we have an early team meeting and order coffee and tea for the whole team — this week I'm enjoying mine at myWayCup coffee near our office on 23rd.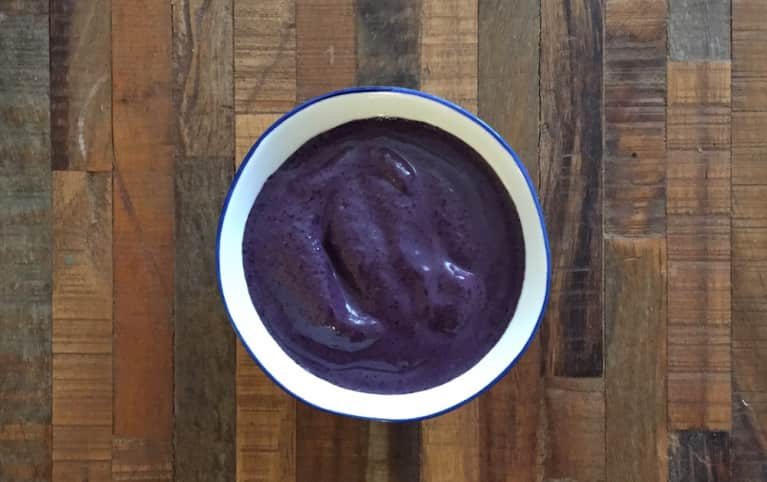 I have protein for breakfast every morning, usually in a protein shake. I blend it up at work, where I always keep almond milk, organic frozen blueberries, and our protein powder on hand (which is packed with phytonutrients, fatty acids, and minerals including activated methyl-B12 and methyl-folate, and has a whopping 26 grams of protein). I also love adding in some avocado or a handful of nuts to my smoothies for an extra omega boost.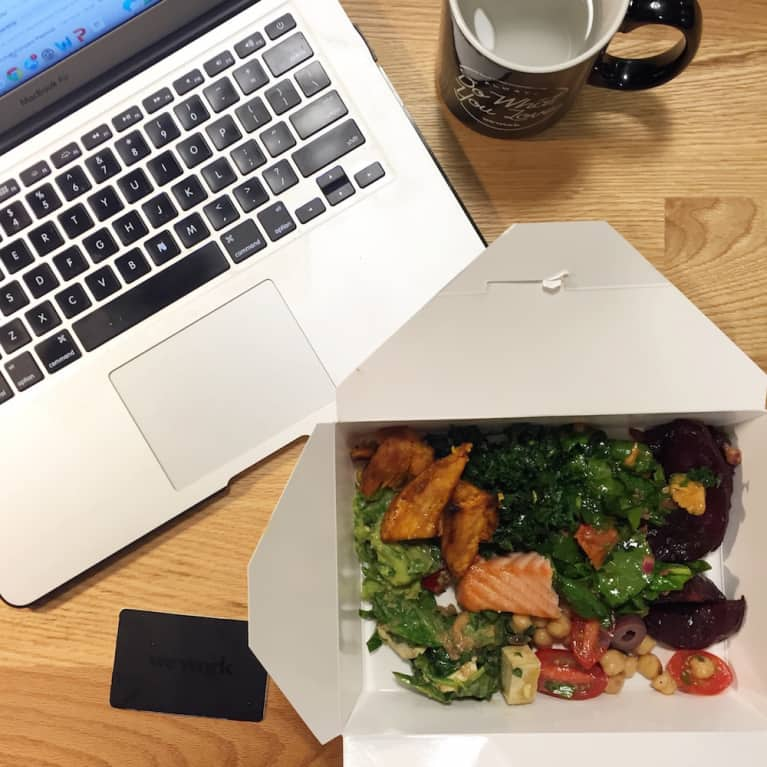 I'm guided by a plant-based Paleo diet and always think about getting greens, protein, and healthy fats onto all of my plates. This is especially important at lunch when you need a brain boost to get you through the rest of the day. More often than not, I'm running downstairs to a cute café in our building called Organique and loading up on roasted vegetables, salmon, and avocado, or visiting Dig Inn for something similar. For dressing I always stick with lemon juice and olive oil.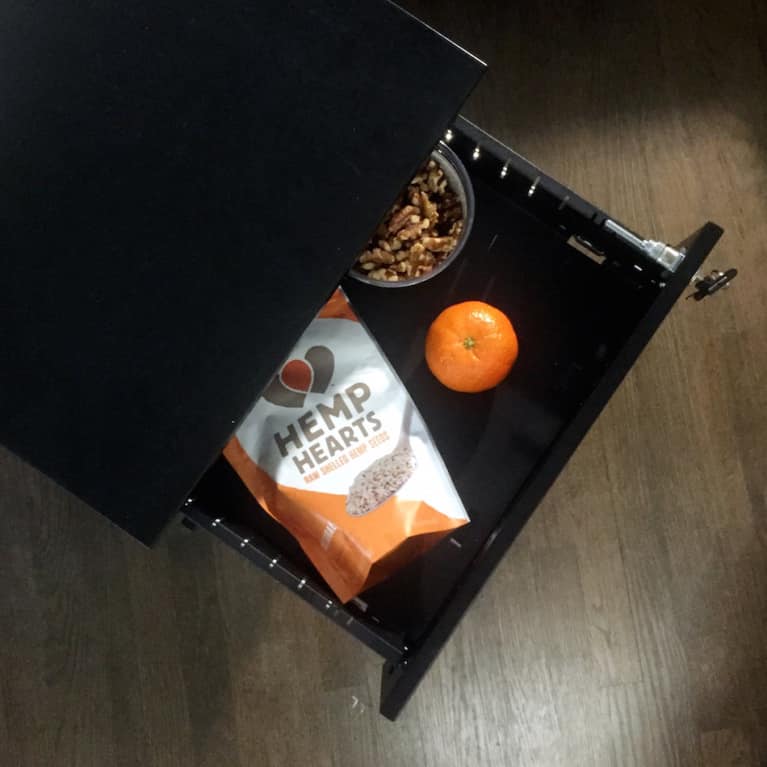 I keep tons of healthy snacks at work since I can't focus if I'm hungry. You'll always find raw almonds, walnuts, nut butters, and even avocados in my desk drawer. I had an extra handful of nuts this afternoon, since I knew I was heading to dinner on the later side. It's so key not to arrive to dinner starving (or else it's that much harder to resist the not-so-healthy apps)!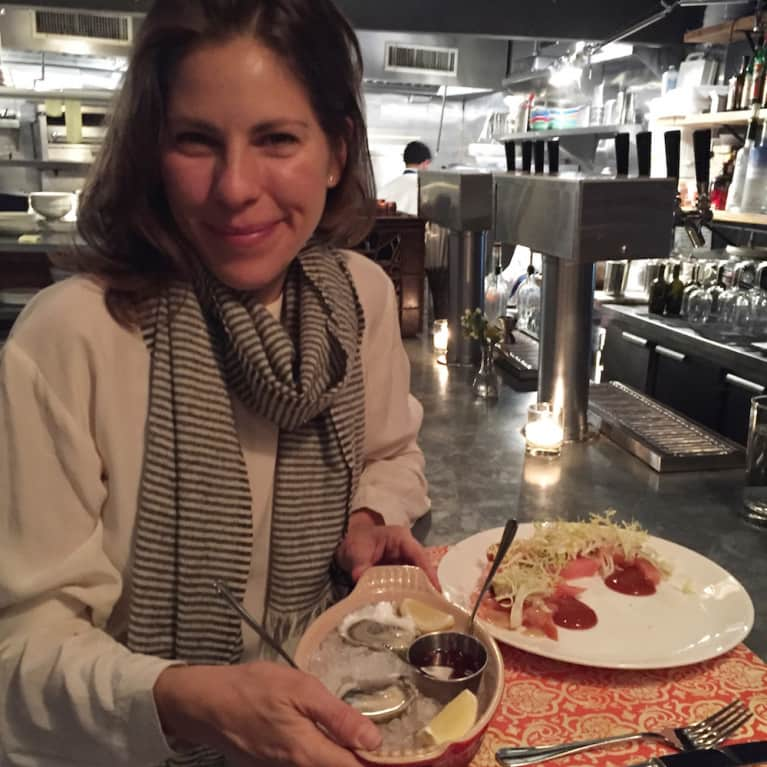 On this particular night, I met my husband David at Le Philosophie for date night. I generally go for the protein and produce on a menu, like grilled or roasted fish or lean meat along with veggies and salads. Tonight we ordered oysters, seared salmon, and a pickled beet salad. If I don't see something simple on the menu, I ask — it's usually no problem to prepare a grilled or steamed fish.
Throughout the day, I'm saturating my body with tons of whole foods that keep me energized and fueled during my busy days. After a particularly hectic week mentally and physically, I lean on our Parsley 7 Day Cleanse which follows many of the principles I already incorporate but that sets some extra boundaries so that I can restore my energy.
Eating this way has cleared up my acne, increased my energy and focus, and improved my metabolism. I feel calmer, more focused and relaxed, and most importantly, ready to be present for all of our amazing Parsley members!
For more tips on how to eat well when you're busy, check out these tips from nutritionists:
10 Things Nutritionists Eat For Breakfast
11 Nutritionists Reveal What They Order At Popular Food Chains
I'm A Nutritionist. Here's What I Eat In A Typical Day
Photos provided by the author
If you're interested in learning more about how to live your life in a more healthy way, check out more of my tips in this course.