No-Bake Vegan Key Lime Pie
Our editors have independently chosen the products listed on this page. If you purchase something mentioned in this article, we may
earn a small commission
.
If there's one dessert I'm known for, it's this raw pie — I make it for every special occasion (and many not-so-special ones, too).
The crust starts with soaked, dehydrated nuts, which I blend with coconut and bind with rich, sticky Medjool dates before pressing into a springform pan.
For the filling, I use cashews because nothing beats the creamy texture they achieve (macadamia nuts will ably sub in though).
You might be tempted to use bottled Key lime juice — but don't! Squeezing the Key limes is worthwhile work, but if you can't find the tiny green fruits, you can use regular limes.
Raw Key Lime Pie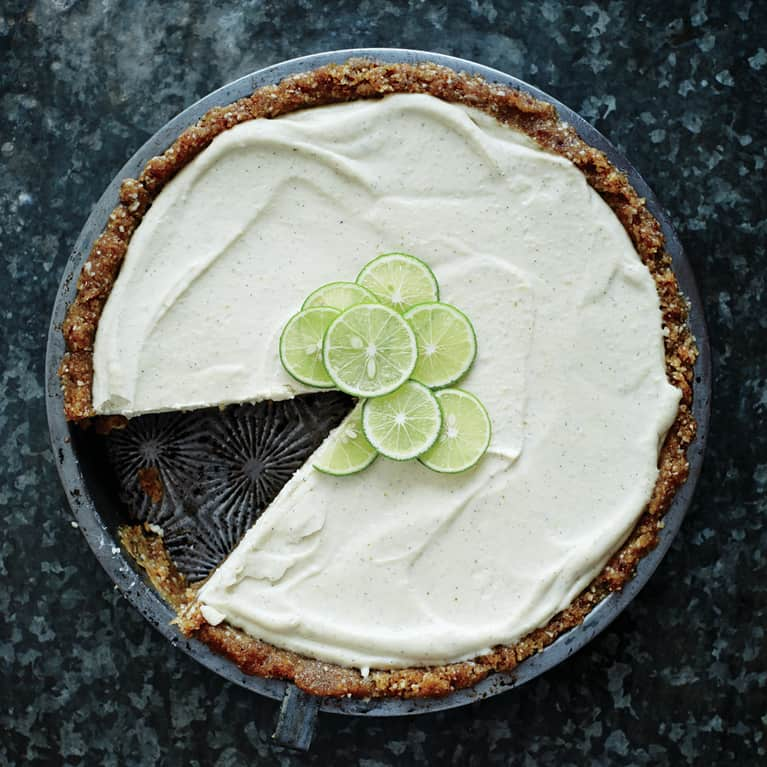 Serves 8
Ingredients or the crust
2 cups pecans, soaked
3 heaping tablespoons hemp seeds
1 cup unsweetened shredded coconut
¼ teaspoon fine sea salt
¼ cup pitted Medjool dates
Ingredients or the filling
3 cups cashews, soaked for 20 to 30 minutes, rinsed and drained (do not dehydrate)
Finely grated zest of 3 Key limes or 1 regular lime
¾ cup fresh Key (or regular) lime juice
¾ cup coconut oil
½ cup agave nectar or coconut nectar
½ cup water
2 vanilla beans, split in half and seeds scraped out
½ teaspoon fine sea salt
1 lime, very thinly sliced
Fresh lime juice
Sweet Coconut Cream (optional, see recipe below)
Preparation
1. Make the crust: In a bowl, toss the pecans, hemp seeds, coconut, and salt. Spread on two dehydrator trays lined with nonstick dehydrator sheets and dehydrate at 118°F for 24 hours, flipping halfway through. Or bake on a parchment-lined baking sheet at 350°F until fragrant and lightly golden, about 15 to 20 minutes. Let cool.
2. Break the mixture apart, transfer to a blender or food processor, add the dates, and pulse until the mixture is sticky and holds together when pinched. Press into a 9-inch springform pan, pressing the crust across the bottom and up the sides of the pan.
3. Make the filling: Combine all the ingredients in a blender and process until smooth, 30 to 45 seconds. Pour into the pie shell and freeze until solid, at least 8 hours or up to 24. Garnish with lime slices and a squeeze of lime juice. If desired, serve topped with a dollop of Sweet Coconut Cream.
Sweet Coconut Cream
Ingredients
1 (13.5-ounce) can coconut milk (not light)
1/3 cup coconut palm sugar
2 tablespoons arrowroot powder
½ teaspoon pure vanilla extract
¼ teaspoon fine sea salt
Preparation
1. Chill the unopened can of coconut milk in the refrigerator for at least 4 hours.
2. Invert the can, open it, and drain off the liquid, reserving it for another use. Place the solidified coconut cream in a stand mixer fitted with the whisk attachment and beat on high speed until thick, 1 to 2 minutes. Alternatively, you can use a hand mixer and a large bowl.
3. Add the remaining ingredients and whip for 1 minute. The topping can be made in advance and refrigerated, covered with plastic wrap, for up to 24 hours.
Recipes and photo from Two Moms in the Raw by Shari Koolik Leidich. Copyright © 2015 by Shari Koolik Leidich. Used by permission of Houghton Mifflin Harcourt Publishing Company. All rights reserved.