paid content
 for

Your Social Bucket List For A Summer Full Of Fun & Flavor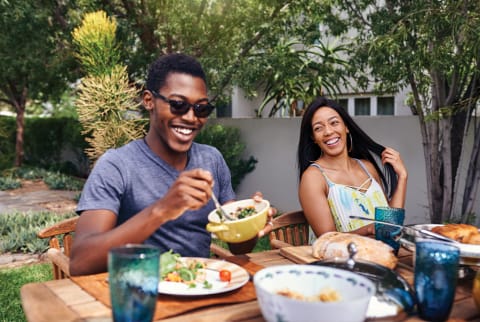 Image by mapodile / istock
May 26, 2022
Summer entices us all a bit differently. When the sun starts shining and warm temps coax us outside, some of us are charmed by adventures to be had in the Great Outdoors. Others are swept up by yoga festivals and farmers markets. It all comes down to your summer personality—the activities, flavors, and essentials that get you in the summer swing. (And if you don't know yours, take our quiz!)
We all love summer, but for the summer socialites out there… Summer is your time to shine. For you, this time of year is about calling up your friends, getting out there, and steeping the season in fun and flavor. Whether that's always having a uniquely refreshing drink on hand—like Waterloo Sparkling Water—or making sure every weekend has its designated pool party or outdoor concert, you like your summers busy and in good company. You're the type who appreciates a social bucket list… So we made one for you!
Advertisement
This ad is displayed using third party content and we do not control its accessibility features.
Your Summer Social Bucket List:
1. Plan your bonfire with the phase of the moon.
Nothing says summer like spending a moonlit night circled around a *safe* bonfire (or even just a firepit). A crackling fire always gets people relaxed and talking, but make a night of it. Give your friends a little nostalgia with a s'mores bar, and complement it with an outdoorsy drink like this Cherry Berry Smash, made with Waterloo Cherry Limeade Sparkling Water.
For extra flavor: Plan your bonfire on a new moon or full moon night for a little intention-setting ceremony. Give everyone a piece of paper. If it's a full moon, have them write something they want to let go of. If it's a new moon, have them write something they want to invite into their life. Once you're all done, throw the papers into the fire and cheers to a more meaningful night.
2. Gather for an outdoor potluck and concert.
A summer socialite like you already lives for live music—but take it outdoors and add your friends? Paradise. Do a little research to determine the best outdoor venues near you. Plan out which shows you want to see, invite your friends, and grab your tickets ahead of time so you can sit together.
For extra flavor: If the venue allows for it, gather beforehand for a little tailgating potluck. Ask your friends to bring their favorite summertime drink or a snack to share, pack a pop-up table, and set up a preshow smorgasbord that gets everyone in the festive mood.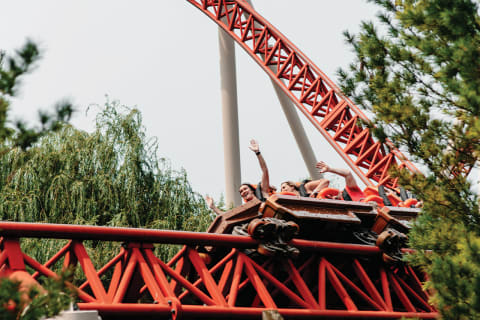 Image by Melanie DeFazio / Stocksy
Advertisement
This ad is displayed using third party content and we do not control its accessibility features.
3. Be a kid again and storm the amusement park.
Most of us haven't been to an amusement park since we were kids and cotton candy was actually something to get excited about. But turns out, roller coasters and Ferris wheels are exciting at any age, especially when you invite your friends and let loose on a warm summer afternoon.
For extra flavor: Create a scavenger hunt for your amusement park day. Write out a list that includes a mix of rides, games, and food (bring on the funnel cake). Split your friends into two groups and challenge them to cross all the items off the list. Whoever makes it back to the starting point first, wins!
4. Make block parties cool again.
Block parties may sound a little retro, and that's exactly why you should throw one. These days, we're connected to people across the world but don't know our own neighbors. Send out an invitation to everyone on your block (or in your apartment complex) and get together at the park. Ask everyone to bring a snack or refreshment, and a plus-one if they want! More the merrier.
For extra flavor: Bring a bunch of yard games to help people break the ice and have fun together—who can resist a little cornhole, Spikeball, or ladder toss? And to give your party that full-out flavor, stock your cooler with Waterloo Peach Sparkling Water. A delightfully ripe flavor with a nostalgic twist? Perfect for making block parties cool again.
5. Go all-in on your pool day.
For you, summer fun might mean checking out the town's hottest spots well past midnight—but it could also look like a simple pool day with your friends. You know better than anyone that a perfect pool day takes expertise. Pick a day, head to the pool, and entertain nothing but sunshine, refreshments, and sunscreen.
For extra flavor: Lying poolside with your pals and frozen drink is one way to pass a hot summer day—but why not add a giant flamingo floatie to that equation? There's something more luxurious about doing all of the above on a flotation device… So order some for you and your friends and set sail.
Advertisement
This ad is displayed using third party content and we do not control its accessibility features.
6. Cross some breweries off your list.
Fun fact: According to the Brewers Association, there are about 8,764 craft breweries in the U.S.—and if we know you, you're all about making a dent in that number. Find a stretch of your town or city that has breweries within walking distance of each other. Grab a group of friends and check out the different vibes and brews that each has to offer.
For extra flavor: Breweries tend to have their own yard games scattered around, but bring the games you personally know and love. Poll your friends on their favorite board game or classic game (hello, Jenga). Splay out that Yahtzee on the picnic table between your IPAs and sour beers—loser buys the next round.
7. Cue the barbecue.
Everyone's summer style varies, but everyone loves a good barbecue—and you love to plan one. Get creative with these vegetarian grilling ideas or even fruits that taste great grilled. And to make sure your barbecue has all the flavor your guests will expect—keep the fun flowing with the full-flavor artistry of Waterloo Sparkling Water.
For extra flavor: Burgers, hot dogs, veggie kebabs—we tend to reserve the grill for savory items. But wow your guests with grilled desserts to seal the deal. Grill up some sliced pineapple, then top it with vanilla ice cream and caramel. Or, stuff a banana with your favorite sweet treats (like chocolate chips and marshmallows), wrap it in foil, and grill until it's perfectly melty.
Explore Waterloo:
Waterloo Sparkling Water
Peach
Advertisement
This ad is displayed using third party content and we do not control its accessibility features.
Devon Barrow
Branded Content Editor
Devon Barrow is a Branded Content Editor at mindbodygreen. She received her degree from the University of Colorado. When she's away from her desk, Devon is teaching yoga, writing poetry, meditating, and traveling the world. She's based in Boulder, Colorado.
Devon's first book, Earth Women, is coming soon. To learn more, join the mailing list, and receive updates, head to www.devonbarrowwriting.com.