Close Banner
Advertisement
This ad is displayed using third party content and we do not control its accessibility features.
paid content
 for
Your Guide To The Perfect Holiday Cheese Board & Why It Needs Plant Milk Cheese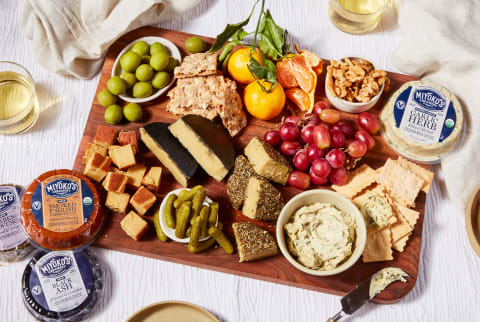 Image by Miyoko's / Contributor
December 16, 2022
Whether it's for the family in town, the company holiday party, or a quiet night in with a bottle of wine and crackling fire—it wouldn't be the holiday season without throwing together a cheese board or two. Gourmet crackers, fruity preserves, artisan cheeses—charcuterie really is a staple this time of year... But we also know (and Pinterest will testify) that a cheese board is nothing short of an art form.
Goat, sheep, and cow's milk cheeses have always made up the cheese-board standard, but it's almost 2023… If there's not a plant milk cheese on the table, then everyone's missing out. You may not know what a plant milk cheese is capable of, but the Artisan Cheese Wheels from Miyoko's Creamery are ready to woo every cheese enthusiast's standards and then some. Once you taste for yourself—you won't make another holiday cheese board without one.
But what is plant milk cheese?
Cheese has always been defined by the type of milk used (like goat, sheep, or cow milk), but now: There's plant milk. And to think of plant milk cheese as a vegan underdog would be a mistake for both your taste buds and future as a cheesemonger. Miyoko's is evolving the art of dairy by using the finest organic ingredients and time-honored creamery methods to craft their award-winning cheeses. They start with a base of organic cashews, milling them to creamy perfection and then culturing for that perfect flavor. From there the cheeses are aged, smoked, or hand-coated, making Miyoko's the real artisan deal!
And they're planet-friendly.
From their sophisticated taste to their traditional craft, Miyoko's Artisan Cheese Wheels will give your holiday menu some plant-based flair. (And if not on a cheese board, then folded into a delicious pasta sauce or crumbled over a fresh salad!) But they're also a cheesy option that's more planet-friendly. We seldom discuss it, but animal milk cheese actually has the third-highest greenhouse gas emissions, behind lamb and beef.
On the other hand, Miyoko Schinner (founder of Miyoko's) has long been on a mission to create an animal-free dairy food system that exists in alliance with our greater planet. In fact, Miyoko's products result in up to 98% less greenhouse gas emissions compared to traditional animal dairy products. That means we can keep our love for cheese going strong through the holiday while feeling better about our impact on the planet. Few things hit like a glass of wine and well-paired cheese, and thanks to Miyoko's, none of that has to change.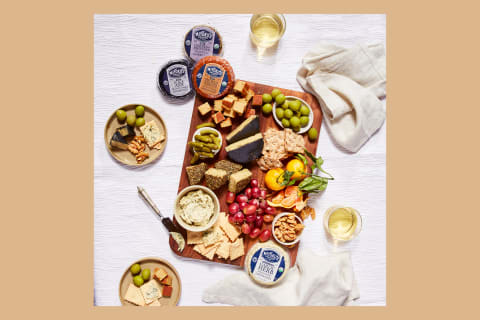 Image by Miyoko's / Contributor
Say cheese this holiday.
Your guide to the perfect vegan holiday cheese board. 
Some of the best conversations and holiday memories are formed with a cheese board at the center. A vegan cheese board can be planet-friendly, full of complex and complementary flavors, and a guaranteed crowd-pleaser. Here's how to throw one together:
Cheese 1: Miyoko's Double Cream Chive
Cheese 2: Miyoko's Black Ash
Cheese 3: Miyoko's Smoked Aged Farmhouse
Step 2: Time to go crackers
Cheese is perfect all on its own—but pairing your cheeses with the perfect array of carbs is the duo everyone's waiting for. Choose two kinds of crackers, and two types of bread (all vegan) to arrange on your board:
1 (4-ounce) box multi-seed crackers
1 (4.25-ounce) box water crackers
1 whole-grain baguette, sliced
1 sourdough bread boule, cut into bite-size pieces
Cheese and crackers are a classic—but throw a spread in between and you've got a showstopper. Choose two vegan spreads to go on your board. (You can't go wrong with fig preserves and hummus.)
1 jar fig preserves
1 (10-ounce) container plain or flavored hummus
Step 4: Add your accessories
This is where your creativity shines. Choose an array of snacks to complement your cheeses: fruits like grapes, dried cranberries, or apples; sliced veggies; seasoned nuts; olives; and pickles are a good place to start.
1 bunch red grapes
1 bunch green grapes
1 red apple, sliced
1 green apple, sliced
½ cup dried cranberries
1 bunch baby carrots, peeled
1 English cucumber, sliced
1 red bell pepper, sliced
1 jar (6 ounces) pimento-stuffed green olives
1 (14-ounce) jar cornichons or small dill pickles
Step 5: The element of surprise
Let's be honest: A simple cheese board will go a long way with any holiday crowd. But the secret to an unforgettable cheese board is one or two elements of surprise, something your guests wouldn't normally expect. Think dark chocolate, yogurt-covered pretzels, or fresh figs (all vegan!).
1 bar dark chocolate, broken into pieces
1 (8-ounce) container fresh figs, sliced in half
¼ cup candied ginger
Now that you have your ingredients, it's time to arrange your board. For the best results, space out the cheeses first. Then the spreads, then the crackers, and then the rest! A certain level of chaos makes a cheese board charming, so ditch the perfectionism. And don't forget the wine!
More On This Topic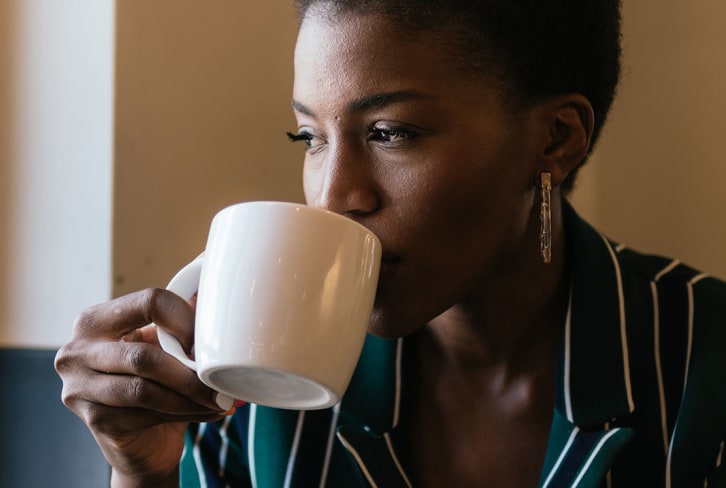 more Food
Advertisement
This ad is displayed using third party content and we do not control its accessibility features.
Advertisement
This ad is displayed using third party content and we do not control its accessibility features.