This One Step Is Crucial For Painting Your Nails & You're Probably Skipping It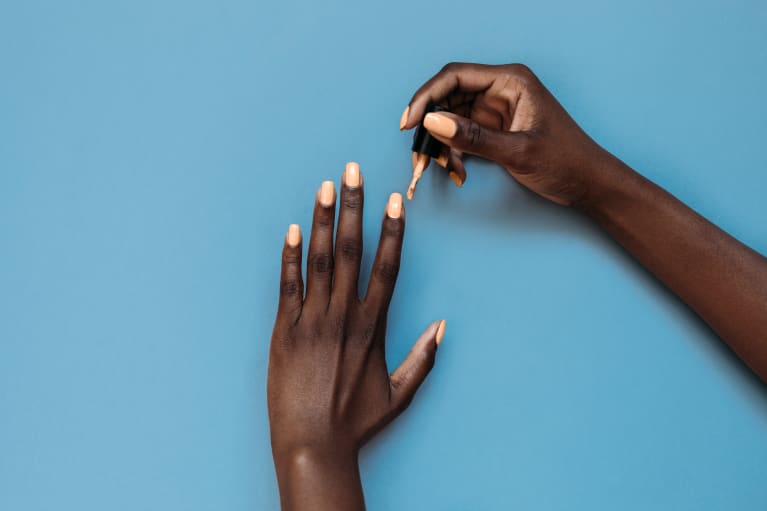 A manicure is a full-on hand care experience, complete with cuticle treatment, soothing essential oils, and a relaxing hand massage (the best part, in my opinion). And while the latter is mostly for a spa-grade feel, it's actually aesthetically important, too: Rubbing in a high-quality hand cream tends to all of the surrounding skin and takes your manicure to the next level. And yet—many of us skip the massage during at-home painting sessions; as a result, I'd argue our manis are not living up to their full potential.
Below, a case for the (not so) humble hand cream. Here's why you shouldn't overlook this important step.
The one crucial mani step you're probably skipping.
We repeat: A manicure is so much more than glossing your nails in color. (In fact, in our at-home manicure guide, you don't even pick up a polish until Step 5.) For proper nail maintenance, it's important to clean and treat before you paint. That being said, skipping the whole hand-treatment step is similar to painting your nails without tending to your cuticles: Sure, the nail plate itself might look nice, but the cracks and frays do take away from an elevated finish.
The same logic applies to dehydrated, flaky hands. There's a good chance your paws are dry right now, given the dropping temperatures and frequent sanitizing—and without a quality hand cream to fill in the cracks, your hands may appear rough and scaly post-mani.
We recommend selecting a formula with rich butters and oils—like moringa oil, squalene, and shea butter—to help fortify the skin barrier and make your hands feel baby smooth. And if you frequently pick or nip at your cuticles, look for a cream with anti-inflammatory actives (oat oil, for example, is incredibly soothing for the skin).
Just make sure your hand cream isn't too greasy since you do have to wield a tiny paintbrush mere moments later—this is obviously less of an issue when someone else is painting your nails, but it's important criteria to think about during an at-home mani (and a likely reason people skip the massage—it's a recipe for a sticky mess). Rest assured, it is possible to find a dense cream that doesn't leave an oily film on your fingertips. For instance, our postbiotic hand cream calls on aloe vera, which gives the formula a lovely, fast-absorbing slip.
Look, I'm not going to tell you that skipping the hand cream will absolutely ruin your manicure. You can certainly just paint your nails and be done with it, just like you might opt for a polish change at the salon—but wouldn't it be nice to sport supple hands, too?