Yet Another Doctor Says This Simple Morning Sip Will Supercharge Your Health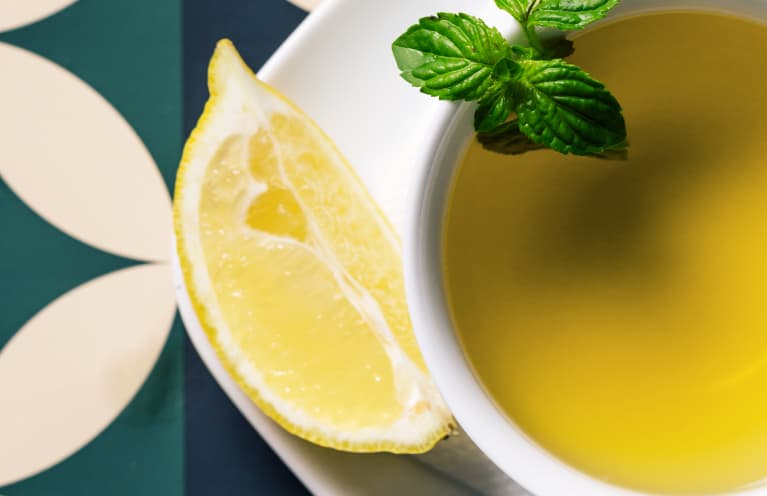 While we adore an array of herbal brews, we always come back to the age-old benefits of green tea. It's incredibly simple and classic, yet it packs a potent, antioxidant-rich punch: Truly, what's not to love?
We're certainly not alone in our perpetual crush on green tea—time and again, top doctors and experts rave about the bittersweet sip. Recently, emergency and integrative physician Eudene Harry, M.D., joined the fan base: When we asked about her go-to healthy habits, she was quick to jump on the green tea train. "Of course, my green tea with my lemon," she says on the mindbodygreen podcast. "It's a nonnegotiable to start the day."
Why you should start your day with green tea and lemon.
As we mentioned, green tea has a treasure trove of health benefits. We'll spare you the robust details (please do check them out here if you need a refresher), but know that the tea is supercharged with antioxidants—the most notable being the catechin epigallocatechin gallate (or EGCG)—that have been shown to relieve inflammation, increase metabolism, enhance fat burning, and reduce body weight.
Not to mention, it offers a nice energy boost—with about 25 to 35 milligrams of caffeine per cup, sipping on green tea can perk you up without going overboard on the caffeine buzz. In fact, Harry considers it a rather soothing morning ritual. "I have to start the day having a calm mindset," she says, which is why she prioritizes meditation in the mornings along with her brew. Green tea helps ground her for the day ahead, no matter what she has on her plate; considering the combination of polyphenols and caffeine in green tea have been shown to improve mental clarity, alertness, and function, Harry might be onto something here.
As for the lemon? Don't sleep on the squeeze of citrus: Research has found that green tea with lemon had more polyphenols than green tea on its own. It's a budding relationship (we don't know exactly why they work so well together—they just do!), but one theory is that lemon's high-acid content enhances green tea's antioxidants, which then makes them more easily absorbed by the body.
There's a reason so many experts are quick to sing the praises of green tea: When it comes to healthy beverages, the sip truly withstands the test of time. So whenever you find yourself thumbing through your tea collection for a morning sip, take this as a sign to go green.
Want to turn your passion for wellbeing into a fulfilling career? Become a Certified Health Coach! Learn more here.