Why It's Important To Reevaluate Your Beauty Routine, From A Derm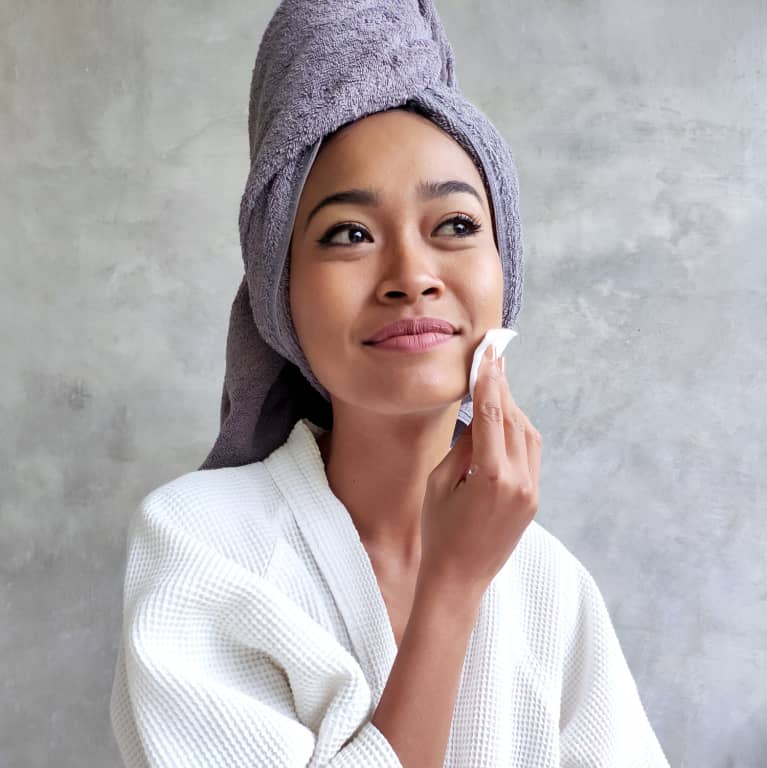 The New Year is often a time for introspection—when we evaluate what works for us, what doesn't, and what we can do to improve our well-being. This, of course, can be implemented in many areas of our day-to-day: in our fitness goals, mental health, creative endeavors, spiritual needs, you name it.
It can also be a time to evaluate your skin care routine. Here at mbg beauty, we are firm believers that you should cultivate a routine that serves you—without overdoing it. (We hold the less-is-more mentality.) We also believe that every ingredient used in your products should be serving a greater purpose and never doing harm to your skin, meaning we think skin care formulas should be minimal and yet highly effective.
And if you've never stopped to think about your skin care routine, and the individual formulations in it, perhaps now's the time to start. Take it from one of our trusted sources, board-certified dermatologist Raechele Cochran Gathers, M.D.
Let this serve as inspiration: Time to take a peek at your beauty routine.
"It's important to really look at your beauty routine: Is it clean? Are the products that you're putting on your skin and in your hair potentially harmful? Are your products adding to your overall health? During this time, more than ever, if part of your beauty routine is potentially irritating, or packed with ingredients that aren't really adding to your well-being, you may want to re-evaluate them," says Cochran Gathers. "For my skin and hair products, this also means focusing on ingredients that detox and help ward off stressors—antioxidant serums and products that contain ingredients that help fight inflammation, like vitamin C and niacinamide. It means using products with ingredients that I can recognize. It means avoiding irritants whenever I can."
And, no, this doesn't mean you need to toss your entire beauty routine and start from scratch—in fact, in the name of not being wasteful, we encourage you not to. But you can absolutely take inventory of your current lineup, noting which products are worth a repurchase, which ones no longer need to be in your regular rotation, and which items you'd still like to include but should look for cleaner or more natural alternatives. Once you have taken stock, you'll be better equipped next time you happen to find yourself scanning the Sephora or Credo websites.
And no one is going to be able to tell you what you shouldn't prioritize and what you should: That requires you to think about your unique skin's needs, what level of clean and natural you are comfortable with, and what sort of routine fits into your daily lifestyle. But what we are saying is you can't take proactive steps toward building a better skin care regimen until you're mindful of what should and shouldn't be included.
It's so easy to keep on repurchasing products we've used in the past. And oftentimes, that's a good thing! Why change what works for us, no? But sometimes, it also keeps us trapped in a revolving door of products that aren't actually serving their purpose. Or we find ourselves impulse-purchasing items we ultimately don't need, and will eventually disregard, without finishing.
We don't have to be on this beauty merry-go-round, however: All it takes is some critical thinking about your products.