Can Retinol Fade Your Freckles? The Answer May Surprise You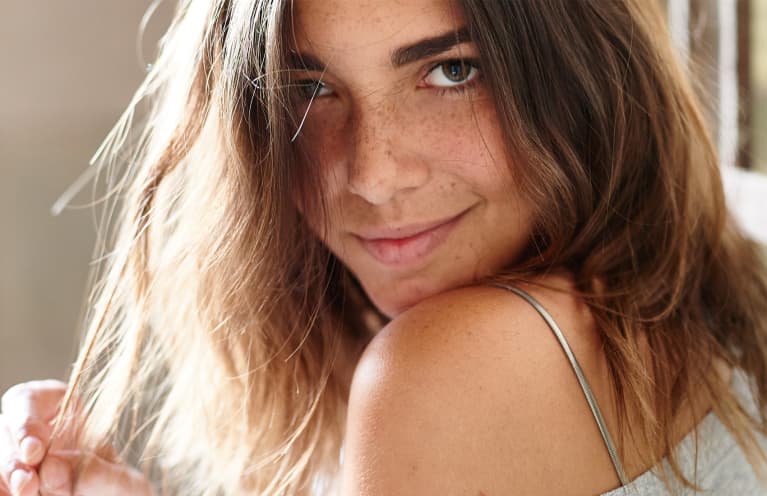 Our editors have independently chosen the products listed on this page. If you purchase something mentioned in this article, we may
earn a small commission
.
Retinols are powerful, to say the least. The vitamin A derivatives are lauded for treating acne, promoting collagen production, and improving the look of fine lines, tone, and texture, but because they are so potent, they also typically include some common side effects. For instance, you may experience a period of initial dryness, redness, irritation, and increased sun sensitivity when embarking on your retinol journey. I repeat: Retinol is a powerful skin care player.
However, I was a bit shocked when scrolling through beauty TikTok to find countless videos reporting one side effect you probably wouldn't expect.
Can retinol fade your freckles?
I consulted the experts to answer this very intriguing question: Can retinol fade your freckles? Here's the short and shocking answer: Absolutely.
"Retinol helps increase cell turnover and therefore can help lighten freckles," clean cosmetic chemist Krupa Koestline explains. This makes sense, given that freckles are actually just a sun spot in a different form.
In some people, the excess of melanin caused by UV exposure can appear as a spread of freckles, while sun spots are the typical result for others. This is because the ability to freckle is genetic, as board-certified dermatologist Loretta Ciraldo, M.D., FAAD, previously told mbg. We've covered how freckles develop before, so feel free to check that out if you want to learn more. But essentially, if your freckles are induced by photodamage of the skin (as opposed to the ones that are genetically determined and tend to appear during early childhood), you may see them fade with products that increase cell turnover.
Perhaps there's another layer to this topic: If you use retinol or retinoids, your skin is more likely to burn. "Sunscreen should be used diligently with retinol in order to avoid further pigmentation and rash," Koestline says. So while the retinol or retinoid may accelerate the fading of freckles, the increased sun protection may also play a significant role in preventing your present freckles from getting darker and the development of new ones.
Either way, it seems that you're more likely to experience fading freckles if you're using a vitamin A topical product, sunscreen, and practicing sun care in general.
While freckles may seem very different from hyperpigmentation and dark spots, they are still caused by UV exposure at the end of the day. Using retinol and retinoid products increases cell turnover, thus lightening spots of all kinds, freckles included. Now, if you love your freckles and want to keep up their appearance sans sun damage, here's a step-by-step tutorial from makeup artists on how to nail the fake freckle look.