The One Mistake Couples Always Make When Trying To Improve Their Sex Life
Contributing Sex & Relationships Editor
By Kelly Gonsalves
Contributing Sex & Relationships Editor
Kelly Gonsalves is a sex educator, relationship coach, and journalist. She received her journalism degree from Northwestern University, and her writings on sex, relationships, identity, and wellness have appeared at The Cut, Vice, Teen Vogue, Cosmopolitan, and elsewhere.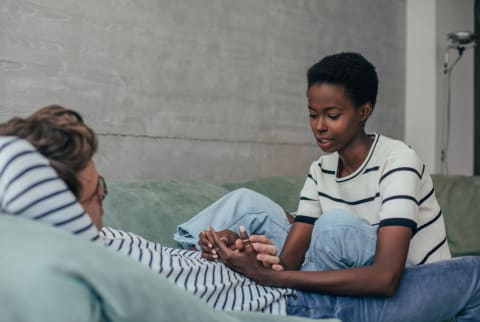 Image by Studio Firma / Stocksy
November 10, 2021
Our editors have independently chosen the products listed on this page. If you purchase something mentioned in this article, we may
earn a small commission
.
When a couple is trying to reinvigorate their sex life, often the implicit goal is to figure out how to do it more often. There's a lot of focus on frequency as a marker of a good sex life.
How often couples should have sex is very dependent on the particular individuals involved and what amount of sex feels good for each of them. But according to Jessa Zimmerman, a certified sex therapist and marriage counselor, one issue some couples can run into by trying to chase the "right amount" of sex is in how they're keeping count.
Advertisement
This ad is displayed using third party content and we do not control its accessibility features.
What counts as sex, anyway?
In relationships between men and women, often couples think of sex as having penis-in-vagina intercourse. Therefore, when trying to improve or ignite their sex lives, the unspoken focus of the endeavor is how to make that particular act happen more often.
That narrow focus is often missing the whole point of having sex in the first place, says Zimmerman, "The point of sex, from my point of view, is to share pleasure with your partner and to feel connected in the process," she explains. So if you're focusing on making a certain act happen, she continues, you're focusing on the wrong thing—not to mention creating a kind of pressure that can even dampen libido.
Great sex isn't about doing certain things with certain body parts. It's about how good you can make your bodies feel and enjoying heights of eroticism, intimacy, and connection as a couple.
How to actually improve your sex life.
"Spend intimate time together, without pressure to hit a goal or do a certain thing," Zimmerman recommends.
You can still try to increase how often you're being intimate with each other as a couple, but the idea is to enter into those moments without expectations for it to lead to a certain sexual act or outcome. Lie in bed and touch each other's bodies sensually. Make out on the couch. Get dressed up, have a romantic dinner, and enjoy the feeling of finding each other attractive. Turn each other on. Look for ways to spark electricity or to lean into a moment of tender intimacy. Focus on how connected—and exhilarated—these moments make you feel.
The key here is being fully present in these moments rather than thinking about what should come next.
"Sex is like going to the playground. It's the outing that counts, not whether you go down the slide," Zimmerman adds. "We don't need an agenda; we can get inspired in the moment and do what we feel like doing. The truth is that you literally cannot fail. Any shared outing like that is a success."
Advertisement
This ad is displayed using third party content and we do not control its accessibility features.
Kelly Gonsalves
Contributing Sex & Relationships Editor
Kelly Gonsalves is a multi-certified sex educator and relationship coach helping people figure out how to create dating and sex lives that actually feel good — more open, more optimistic, and more pleasurable. In addition to working with individuals in her private practice, Kelly serves as the Sex & Relationships Editor at mindbodygreen. She has a degree in journalism from Northwestern University, and she's been trained and certified by leading sex and relationship institutions such as The Gottman Institute and Everyone Deserves Sex Ed, among others. Her work has been featured at The Cut, Vice, Teen Vogue, Cosmopolitan, and elsewhere.
With her warm, playful approach to coaching and facilitation, Kelly creates refreshingly candid spaces for processing and healing challenges around dating, sexuality, identity, body image, and relationships. She's particularly enthusiastic about helping softhearted women get re-energized around the dating experience and find joy in the process of connecting with others. She believes relationships should be easy—and that, with room for self-reflection and the right toolkit, they can be.
You can stay in the loop about her latest programs, gatherings, and other projects through her newsletter: kellygonsalves.com/newsletter