Whoop vs. Fitbit, From A Certified Personal Trainer — Which Is Better?

CPT and certified nutrition coach
By Rachel MacPherson
CPT and certified nutrition coach
Rachel Macpherson is a CPT and certified nutrition coach.

Medical review by
Scott Nass, M.D., MPA, FAAFP, AAHIVS
Board-certified Family Physician
Scott Nass, M.D., MPA, FAAFP, AAHIVS is a family physician and HIV specialist in California. He takes a holistic approach to healthcare, incorporating principles of functional medicine and using food as medicine when working with patients.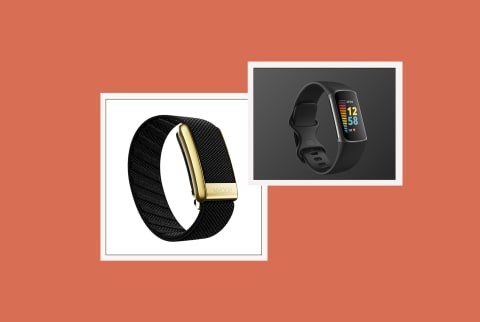 June 23, 2023
We carefully vet all products and services featured on mindbodygreen using our
commerce guidelines.
Our selections are never influenced by the commissions earned from our links.
Tracking your every step, heartbeat, and minute of sleep may seem like overkill to some. But for me (a certified strength and conditioning specialist, personal trainer, and fitness-tech lover), this data is a gold mine of information. Sleep in particular was always elusive for me, so the ability to track how the quality and quantity of my rest fluctuates is priceless. In testing the best wearable devices, I've learned a lot about the differences between Whoop and Fitbit.
As a fit-tech connoisseur, I wear a Fitbit and Whoop band daily—but most people will want to choose one over the other. Each device is popular for tracking steps, overall activity, sleep, heart rate, calories burned, and other metrics. However, when deciding between Whoop and Fitbit, it's a good idea to know what sets them apart and how each one can improve your health and well-being.
What is Whoop?
Whoop is the fitness tracking company behind the Whoop 4.0 and previous generations. The Whoop 4.0 is primarily a screenless wrist-worn band. The tracker can also be paired with the brand's sensor-enhanced clothing. Whoop makes shorts, underwear, armbands, and leggings that can all hold the removable tracking device.
How Whoop works
Whoop is designed to be worn at all times to continuously collect data about your movement and recovery. The device is screenless and button-free, without notifications (except for an optional morning haptic alarm). It's lightweight and small enough to be almost unnoticeable. The knit-like band is super flexible and stretchy, making the device easy to wear during any activity or sleep.
The Whoop 4.0 uses five LEDs and four photodiodes to pick up your vitals, including heart rate and skin temperature. These bits of physical feedback monitor changes in heart rate variability (HRV), blood oxygen levels, resting heart rate, sleep stages, and how intensely you exercise. The app gathers this data to help inform science-backed recommendations and reports on how you are recovering from daily stressors and activity.
Using the Whoop app is easy but can be a tad overwhelming due to the sheer amount of data to sift through. You'll find detailed sleep metrics, recovery data, menstrual cycle, calorie burn, strain, and more. Your experience will be tailored to your individual goal, such as maximizing your performance or increasing your overall activity levels.
In the app, graphs, charts, and daily reports will suggest optimizing your routines for better recovery. A daily journal allows you to monitor how variables such as medication, stressful events, exercise, and social connection time affect your health.
The app also has built-in coaching. With this feature turned on, you'll get prompts suggesting the ideal routines for your goals, such as recommended bedtimes and how hard to push during your next training session. There's also a variety of workout plans and educational content available.
Whoop trackers and bands are water resistant in up to 10 meters for two hours. The tracker comes with a chargeable battery pack, which provides four to five days of power.
How much the Whoop 4.0 costs
The Whoop 4.0 requires membership for the full experience, but the basic black wristband and tracker are included for free with your membership. You can choose from monthly, annual, and 24-month plans, which start at $40 per month, $319 annually, or $539 for 24 months. If you choose to pay monthly, a 12-month commitment is necessary.
You also have the option to pay more for additional bands. The free band with membership includes a lifetime warranty and battery pack. Members have the option to upgrade their devices when a new version of the Whoop tracker is released.
Is Whoop worth it?
Whoop offers a $0 upfront commitment for the device with a paid membership. You can try the band and app for 30 days to see if it's a good fit, so it's a very low-risk investment. If you like using the Whoop and want to continue paying for the membership, you'll likely find there is even more to gain from it.
I find the most value in the coaching and recommendations my Whoop membership provides. Specifically, I've benefited a ton from Whoop's suggestions for adjusting my sleep and training intensities based on how I recover over time.
My quantity and quality of sleep have improved, which is a massive leap for me. After all, better sleep is the key to my ability to train, work, and function as a parent and partner.
As a very active person who tends to push my limits, the detailed coaching is particularly useful. Athletes and active individuals have a lot to gain from the trends revealed by Whoop data.
Jarrod Nobbe, M.A., CSCS, weightlifting and sports performance coach, owns a Whoop and Fitbit and notes that he likes the Whoop band specifically for tracking and assessments. "There is a reason why the Whoop band is becoming a favorite among professional athletes, but the Whoop band is geared more toward recovery feedback than the Fitbit and might be more suited for the fully invested fitness fanatic and athletes," he says.
Nobbe recommends the Whoop band to the athletes he coaches or to anyone who is fully invested in their fitness and health and who enjoys analyzing data. He says the data allows for a better training plan based on that particular day's readiness level, allowing auto-regulation of training to take place effectively.
"I'm a massive fan of the detailed deep dive into statistics that comes with the Whoop band's functionality, but it can become overwhelming unless you know what to do with the data," Nobbe adds.
What is Fitbit?
Owned by Google, Fitbit is synonymous with fitness tracking. The brand produces a wide variety of devices with various features and price points. For the purpose of this review, we're comparing the Whoop 4.0 to the Fitbit Charge 5, a popular option that tracks similar metrics.
How the Fitbit Charge 5 works
The Fitbit Charge 5 tracks heart rate variability, sleep quality, blood oxygen levels, readiness, and recovery. Every Fitbit has a display screen that doubles as a watch and allows you to see primary data throughout the day. The screen shows metrics such as current heart rate, step count, active minutes, and even phone notifications.
Unlike other Fitbit versions, the Charge 5 has no buttons. To activate the screen or switch between displays, you'll simply tap the sides or top. You'll also use taps to choose and track exercise sessions, check stats, set alarms and timers, complete stress reduction sessions, or measure your heart rhythm.
The Charge 5 utilizes an accelerometer to track movement, with red and infrared sensors to detect oxygen saturation. The device also detects skin temperature and has electrical sensors for electrocardiogram heart rhythm measurements.
What's more, the Charge 5 acts as a stress wearable, too, with electrodermal responses to detect stress levels during mindfulness sessions. Just note, some features and reports are only available if you pay for a Fitbit Premium membership.
How much Fitbit costs
The Fitbit Charge 5 costs $149, and the Premium membership costs $9.99 per month or $79.99 annually. Premium memberships provide additional features and access to partnered content from Obe, Calm, Les Mills, and other similar platforms.
The Fitbit app is free with any device, but some features and programs (such as your daily readiness score, fitness and nutrition plans, and in-depth sleep and stress insights) are only included in paid Premium memberships.
The free version of the Fitbit app provides reports on stress management with daily mood journaling, menstrual cycle tracking, basic sleep metrics, activity, calorie burn, zone minutes, resting heart rate, and other data you can enter, such as your weight and calorie intake.
Is Fitbit Worth It?
Fitbit devices are top sellers for a reason. They are user-friendly, straightforward, and easily customizable with various band styles and colors. The Charge 5 is a mid- to low-priced option and is a durable, functional device that can boost motivation and help you make informed decisions about your health and habits.
I've owned and used my Fitbit Charge 5 for about three years and have no complaints. I feel the investment was worth it. While I did have a Premium membership for a while, I am content with the information provided by the free version of the app. If you are looking for a tracker for essential health and wellness insights, you can't go wrong with the Charge 5.
Nobbe says the Fitbit Charge 5 is more interactive and easier to use than the Whoop. He uses his Fitbit to provide immediate feedback and daily maintenance when performing daily tasks or training. He also favors his Fitbit when training for mountain bike races since he can link it with Strava to get excellent details about time splits, exertion levels, and time trial PRs.
As a coach, Nobbe also recommends Fitbit to his clients. "If we are discussing the daily user, I would recommend the Fitbit over a Whoop band for these factors of ease and accessibility while still getting readiness and exertion feedback promptly for workouts—the Fitbit does more as far as function," Nobbe adds.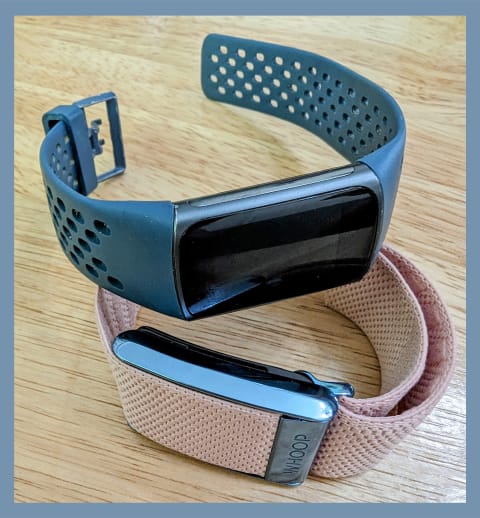 Whoop vs. Fitbit
| Product | Cost | Warranty | Waterproof | Battery life |
| --- | --- | --- | --- | --- |
| Whoop | From $30 per month | 1-year | Up to 10 meters | 4 to 5 days |
| Fitbit Charge 5 | $149 | 1-year | Up to 50 meters | 7 days |
FAQ:
Does the whoop count steps?

Whoop devices do not count steps. Instead, Whoop calculates your total activity and shows which heart rate zone you worked in according to your maximum heart rate. Many fitness trackers use "steps" to represent total activity. This means total step counts include more than just steps, such as arm movements (playing piano, typing). Whoop uses heart rate and body temperature to track real-time exercise instead.
Is Fitbit as good as Whoop?

Fitbit and Whoop are both excellent choices. Which one you'll prefer will depend on your goals and lifestyle. If you are invested in tracking and assessing your data on various levels and want detailed, personalized coaching at a cost, then Whoop is a great option.

Fitbit is more versatile, affordable, and easy to use. It still provides plenty of metrics and data but does not go as deep into what it means or the intricacies of each data point as Whoop does.
Fitbit readiness score vs. Whoop

Fitbit's Readiness Score measures how well you recover from workouts and daily stressors by incorporating your sleep data, heart rate information, and previous activity. It informs which you should prioritize more on a given day, rest or exercise.

Whoop uses similar scores to calculate Strain and Recovery. Strain is a measurement of your activity levels and how hard you push your body and guides how much strain you should strive for each day. Recovery metrics show how your body handles activity based on sleep, heart rate information, body temperature, and more and guide your daily activity and Strain goals.
The takeaway
Tracking your health and fitness data can increase bodily awareness and help you make choices that better suit your needs. However, just how much data you want to receive depends on personal preference, training style, and needs. If you want a functional, easy-to-use tracker that provides a wealth of basic info while functioning as a smartwatch, Fitbit has you covered. For more advanced data and coaching focusing on recovery, Whoop is an excellent choice. Still not sure which to choose? Learn more in our roundups of the best fitness trackers and sleep trackers.

Rachel MacPherson
CPT and certified nutrition coach
Rachel MacPherson is an expert writer and content creator, certified personal trainer (including pre-natal and post-partum experise), and nutrition specialist, among other certifications. She has written for various publications and brands, such as Livestrong, Verywell Fit, Clean Eating Magazine, Business Insider, Shape, and more. She is also the author behind radicalstrength.ca