Here's What Iconic Supermodel Veronica Webb Is Using In Her Beauty & Wellness Routine As Of Late
mbg Beauty Director
By Alexandra Engler
mbg Beauty Director
Alexandra Engler is the beauty director at mindbodygreen and host of the beauty podcast Clean Beauty School. Previously, she's held beauty roles at Harper's Bazaar, Marie Claire, SELF, and Cosmopolitan; her byline has appeared in Esquire, Sports Illustrated, and Allure.com.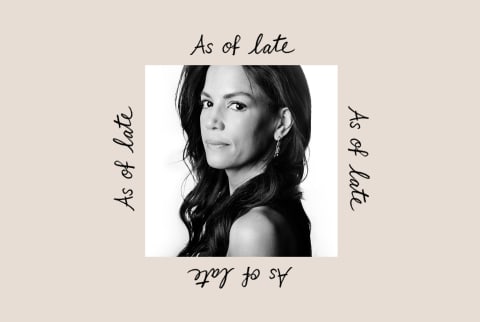 January 24, 2023
We carefully vet all products and services featured on mindbodygreen using our
commerce guidelines.
Our selections are never influenced by the commissions earned from our links.
Beauty routines are never truly stagnant—practices evolve and change like we do. In As of Late, we chat with influential folks about their current products and rituals. Here, we get a snapshot of what they're doing right now: the sacrosanct formulas they use until the last drop, the fresh launches they've got their eyes on, and of course, the why behind it all.
The iconic supermodel, entrepreneur, and actress Veronica Webb is beloved in the fashion and beauty industry for her lengthy (and groundbreaking) career. In 1992, she became the first Black woman to have a long-term cosmetics contract (that being with Revlon). She's appeared in almost every major magazine and written for several of them too (including Interview, Paper, and Esquire). And she's walked for the likes of Victoria's Secret, Chanel, and most recently Sergio Hudson's viral Spring 2022 show.
And as I've come to realize, her career longevity is thanks to the fact that she puts in the work—while making sure she cares for herself in the process. "I think indulgence in self-care is an oxymoron. How can you possibly be too indulgent when you're caring for your body? Our bodies are designed to work themselves out of a job—so you have to keep giving your body bonuses so that it will continue to want to work," she jokes.
Personally, I also adore her for how damn funny she is—every conversation I've had with her is peppered with laughter, including this phone call we had to discuss what beauty and wellness products she's into lately.
Here, how the model and entrepreneur looks so good (spoiler alert: we talk about Star Wars more than one might expect for a beauty article).
Tried-and-true: Cardio.
"The great thing about cardio is that there's so many different ways to get it done. I had a rotator cuff surgery about a year ago, which leaves you surprisingly immobile for a long time when it comes to walking, running, and stuff like that. So, at the advice of my physical therapist, I tried Orange Theory.
"It's a great class because you can adjust it to what your level is. And there's so much instruction—they've got the video monitor and there's a coach walking around the floor who doesn't yell at you. So there's constant demonstration of how to do the exercises correctly, so you don't get hurt.
"They've really helped me a lot. I went from—a year ago after my surgery where I couldn't even walk more than a few blocks—to yesterday when I was on the treadmill and at my old marathon pace."
The up-and-coming: A new scalp serum.
"Beauty routines evolve and sometimes it's because certain things about us devolve—like, for example, the density of our hair. I'm like two weeks into using Defenage Hair Growth 150K Follicle Serum. What I love about it is that it's so lightweight. When you put it in your hair, it's not messed up at all. There are some formulas that after you put them on your scalp, the only thing you can do is pull your hair back because it feels so nasty. This is just so light.
"It works with Minoxidil, which I've been using with a prescription through board-certified dermatologist Michelle Henry, M.D., who is wonderful and has been helping me a lot with my hair."
Defenage Hair Growth 150K Follicle Serum
$75
This cosmeceutical scalp treatment works with your hair follicle's natural regeneration process to encourage healthy growth and thickness. The price point is on the higher end, but it's justified because it combines several high-tech activities, including defensins (a natural molecule in the body that help activate your body's nutrition supply), organic pea sprout extract, microalgae extract, antioxidants, and a vitamin B complex.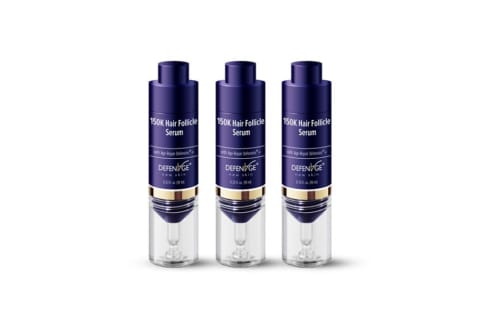 The obsession: Lasers & non-invasive treatments. 
"I'm a laser freak. Like ever since I saw Star Wars, I believe in the force. I think they're good for everything. I do Ultherapy for skin tightening and lifting of the face. Even though it's been like a huge battle over the last 10 years with menopause and melasma, I still have a glowing complexion thanks to the Pico laser.
"They're not lasers, but I've also tried Sofwave for lifting the skin. It feels like these hot pulses, almost like you're briefly touching the stove. I've heard it described as a 'hot stone massage,' but unless you've had natural childbirth in the woods, you probably wouldn't describe it as that. But I like it because there's no downtime. For my body, I've tried Endosphere therapy, which gives you surface tightening all over the body."
"You know, you've never seen a scalpel in Star Wars. So I'm still pretty scared of scalpels. I'll stick to lasers and these treatments."
The secret: A drugstore gloss to cover grays. 
"How I cover my grays is really simple: a glossing treatment from L'Oreal. I get one in black, and I just put it on in the shower—it takes just 15 minutes. Or you can put it on when your hair is dry, put a shower cap on, and vacuum the floor or whatever you have to do. Then you just rinse it out, and it makes your hair glossy, covers the grays, and it works on your eyebrows!"
The ritual: Dry brushing.
"I have really dry skin. If I don't dry brush, it's like a dead skin snowstorm inside my clothes all winter. I'd rather stand in the shower, brush it off, and then it'll wash down the drain. Unfortunately, we're not like reptiles so we can't just shed all of the dead skin off and go.
"I do it two or three times a week. You just have to make time for it. You know, when you think about it, what else are you doing? You're looking at Instagram or you're doom-scrolling. So you can definitely make time for dry brushing."
The surprise hit: Magnetic liner.
"I can't imagine a more amazing thing to happen to anyone at any time than magnetic lashes. Just the idea of living a mascara-free life? Amazing! No offense, mascara—I mean, you know I love you and we'll never actually break up, but you're just really messy. Seriously, mascara is the friend you go out with and they're really fun—but then they have their second drink and they're crying.
"That's why I love magnetic lashes: They avoid all that mess! But for some reason I find them to be so hard to put on. I could have gone to medical school with the amount of time I've spent putting on magnetic lashes.
"Well, this makeup artist Ashunta Sheriff—she does Taraji P. Henson and all these beautiful ladies—introduced me to magnetic liner. You put the eyeliner on, wait five minutes, and then because the eyeliner is literally magnetic, the lashes go to it like a heat-seeking missile. It's fantastic."
Magnetic Eyes Magnetic Eyeliner
$30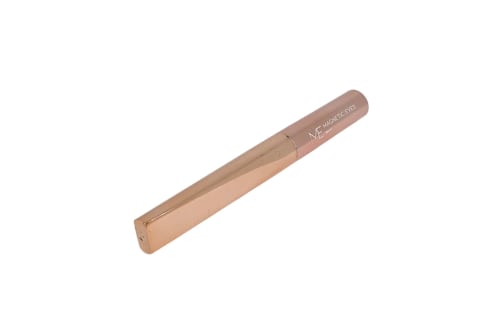 The thing my mom taught me: Care for your hands and feet. 
"Growing up in Detroit, we did a ton of gardening—like in our backyard, and in vacant lots that we urban farmed. My mom had grown up on a farm, so it was a big part of our lives. I would literally be barefoot from April until September. As soon as it was warm enough we'd be outside digging and planting.
"So of course, I had scandalous hands and scandalous feet. This continued through my adult life, between yoga and running. When I go get a pedicure, I always apologize and tip the lady in advance for what she's about to deal with.
"But my mom, growing up, would always put something that was called Bag Balm on our hands and feet at night. They literally use it to milk cows.
"So I continued to do this too—when I go to bed, I put on a really heavy cream on my feet and put my socks on. Or when I'm soaking in a tub or watching TV, I'll put a heavy cream on my hands. The Burt's Bees Foot Cream is one of my favorites."
Alexandra Engler
mbg Beauty Director
Alexandra Engler is the beauty director at mindbodygreen and host of the beauty podcast Clean Beauty School. Previously, she's held beauty roles at Harper's Bazaar, Marie Claire, SELF, and Cosmopolitan; her byline has appeared in Esquire, Sports Illustrated, and Allure.com. In her current role, she covers all the latest trends in the clean and natural beauty space, as well as lifestyle topics, such as travel. She received her journalism degree from Marquette University, graduating first in the department. She lives in Brooklyn, New York.