These Are The Books mbg Staffers Are Getting Lost In Right Now
Assistant Managing Editor
By Abby Moore
Assistant Managing Editor
Abby Moore is an assistant managing editor at mindbodygreen. She earned a B.A. in Journalism from The University of Texas at Austin and has previously written for Tribeza magazine.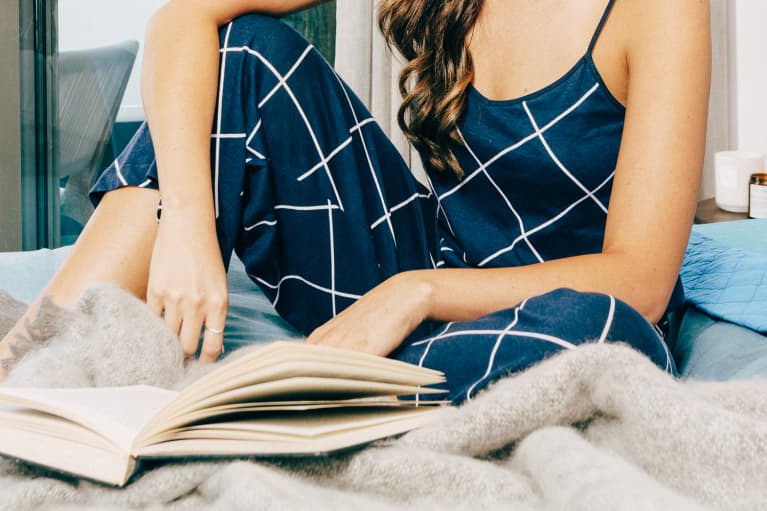 Our editors have independently chosen the products listed on this page. If you purchase something mentioned in this article, we may
earn a small commission
.
Aside from getting your daily dose of nature or taking quick trips to the grocery store, people are spending a whole lot of time indoors these days. Figuring out what to do with all this added time can be tricky, but getting lost in story is almost always a good idea.
We rounded up a list of books our staff is currently reading. Hopefully these four inspire, entertain, and help you escape—mentally at least.
A longer read, because there's time.
I figure now is as good a time as any to commit to a longer read, so I'm diving into the 600-page tome New York 2140. The scene of this sci-fi is almost too real: an apocalyptic New York City where people have to band together to stay safe and sane.
It takes place in a future where global warming has caused sea levels to rise enough to engulf downtown (again, potentially too real) and the city has shifted to this new reality. I'm about a quarter of the way done and am loving it so far.
If you live in or love NYC, you'll enjoy the descriptions of various neighborhoods reimagined in this world. And even if you don't, the book's underlying message is pretty universal right now: Humanity can rise out of chaos, but only if we all work together.
—Emma Loewe, Senior Sustainability Editor
For inspiration in difficult times. 
It might be a little on the nose, but I find myself drawn back to When Things Fall Apart. These smart lessons from Pema Chödrön have the power to shift my consciousness just enough to get me out of a dark place, if I start to go there, which is easy after reading the news these days.
It helps that the chapters are bite-size because after long days of working from home with the kids, I need something quick and impactful.
—Olessa Pindak, Editor at Large
To revel in the miracles of the immune system. 
I'm reading An Elegant Defense: The Extraordinary New Science of the Immune System: A Tale in Four Lives by Matt Richtel. It's for sure not escapist literature—more like devouring a book about wildfires in the middle of a wildfire. That said, it's a mind-blowing, page-turner with moving yet playful human dramas.
The author covers immune systems gone haywire, T-cells saving the day in the nick of time, and perfect immunity overcoming the most dangerous pathogens. Even if you have hypochondriac tendencies, the main take-away is that our immune system is pure magic, so maybe there is some escapism in this enchanting tale after all.
And of course, Dr. Anthony Fauci makes a few pre-pandemic appearances, which I find comforting. At this point, he feels like an old friend.
—Andreas von Scheele, Head of Film & Video Production
I recently finished reading The Idiot by Elif Batuman. It tells the fictional story of Selin, a daughter of Turkish immigrants, through her freshman year of college. The story is clever, funny, and has a wandering, long-walk-in-the-park feeling that helps me escape the current reality.
Word nerds will rejoice at the literary and language references—my husband, a former Latin major, grew tired of me reading paragraphs aloud (but that didn't stop me).
The characters are wonderfully relatable, smart and stupid all at the same time, as all college students are. They will stay with you long after the last page.
—Chloe Schneider, VP of Brand and Integrated Marketing
Along with reading, here are a few other ways mbg staffers are staying healthy right now.