What It's Like To Lose Your Hair & Live With Alopecia Universalis

By McKenna Reitz
mbg contributor
McKenna Reitz is a teacher, mom, TEDx speaker, and a Challenge Coach who works with men and women to reframe life's challenges into gifts and opportunities so they can pursue their purpose with clarity and confidence. Reitz has alopecia universalis.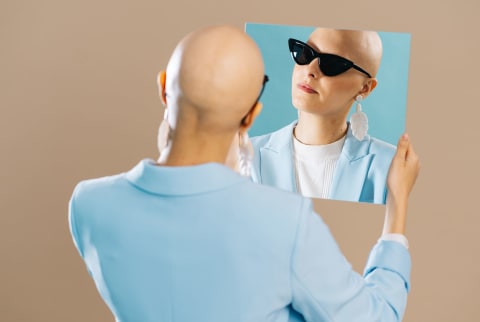 Image by Javier Díez / Stocksy
September 6, 2021
September is
Alopecia Awareness Month
. To learn more about the condition—and what it's like to lose all of your hair—beauty director Alexandra Engler spoke with teacher and TedX speaker McKenna Reitz on today's episode of
Clean Beauty School
about her experience with alopecia universalis. In the episode, we discuss the problem with identifying with physical traits, finding strength, and coping with hair loss. She tells her story in the accompanying essay, but listen to the episode for more.
"There is a chance you could lose all of your hair." This is the worst sentence any human being has ever said to me.
It was September of 2015, four months after having our youngest daughter when I first noticed excessive hair on my clothes, but I dismissed it as common postpartum hair loss. But when I noticed a tiny bald spot on my scalp, I made the decision to visit a dermatologist. That is when he uttered those words to me and prescribed topical creams and suggested using Women's Rogaine to help slow the loss of my hair.
Never in my wildest dreams did I think I would one day live my life as a bald woman. And finding that confidence to do so did not come easy.
When I knew my hair loss was getting serious.
I conned myself into believing that my hair loss had started to slow until I saw family pictures that were taken a month later. My hair was noticeably thin. This was the last picture I would take having any hair. The following week, I stood in complete disbelief in the shower with my hands full of hair. I felt as though my identity was being ripped away from me as each strand fell out of my head.
See, my hair was my identity. I had been known for my thick, brown, beautiful hair since childhood. Who would I be without it? What would my daughters think of me? Would my husband still love me? How would society react? All questions of a woman reassessing her entire life.
I will never forget standing in front of my AP Psychology students (I am a high school teacher in Ohio) nervous and scared when my hair started to fall out in clumps. I was wearing a headband covering my receding hairline, the last of my hair in a ponytail, with makeup and hair fibers covering the bald spots as best they could. And I had to explain that I was going to start to look different, and I didn't know why.
By the end of November, 90% of my hair was gone, and I was diagnosed with an autoimmune disease called alopecia that was attacking my hair follicles and causing my hair to fall out. My doctors had no explanation as to the cause of alopecia, and they could not find anything physically wrong with me.
What it feels like to lose all of your hair. 
Even though I wanted to hide, my life carried on. My mom, who had a bout of alopecia during her childhood, asked me how I still woke up and faced each day. My response was the only one that made any sense to me: There was no other choice. I have two young daughters who are watching my every move, I have a family to take care of and I have students who rely on me to show up and give them my best every day.
For the next eight months, I did everything in my power to grow my hair back. I tried topical creams, medications that compromised the immune system and made me extremely ill, steroids injected into my scalp every week for six months. Nothing worked. During that time, I couldn't look at my own reflection or allow anyone to see me bald. I went to bed with a hat on and waited for my husband to turn off the lights before removing it.
It even took me a few months to finally purchase a wig. I was in denial and felt that if I bought a wig, I was giving up on ever growing my hair back. But when I did, it gave me a sense of normalcy. I could finally walk into the grocery store without people staring or asking me if I was going through treatment. I could hide. And I have to admit, it was nice. But I also realized that I was so concerned about what other people thought—how they looked at me—that I wasn't focusing on what was most important: how I viewed myself.
How I learned to accept and love my new look.
The decision to stop any and all hair regrowth treatments was a momentous moment in my journey; it was then that I realized that my alopecia, and my hair loss, was out of my control. One of my favorite lines from a movie is a phrase I often tell myself, as it gave me comfort as I adjusted to my new normal: "The problem is not the problem. The problem is the attitude about the problem."
I realized that I was putting all of my energy into something that was out of my control. Instead, I needed to focus on what I did have control over in my life—and that was my attitude toward alopecia. I was too concerned about how society viewed my new identity. I had not given nearly enough power to viewing myself in a positive way. After all, I was still the same mother, the same wife, the same teacher, the same daughter, the same friend, the same person I had been before I lost my hair.
Every day became easier and easier. I started to have more good days than bad.
It wasn't until I went to my first National Alopecia Areata Foundation National Conference in June 2019 when I finally made the decision to go out in public bald. I was surrounded by incredible strength and support from others (including my mom) who truly understood what I was going through.
It was the beginning of the beginning.
What I learned about losing all of my hair. 
Hair is not our identity. It is our character and how we show up in this world that truly defines who we are. My mom told me at the beginning of my hair loss journey, "God gives the strongest people the toughest challenges." At the moment, I didn't understand. I didn't want to be the strongest. And I didn't want to go through this.
But now, I understand what my mom meant. I am blessed to have been on this path as it has shown me that everyone is battling something and that we all have a story!
Most importantly, I found my purpose: I was going to find my strength for my daughters. A fear I'm still battling is the reality that alopecia is genetic. What if this happens to my daughters? How will this autoimmune disease affect them? How will they be able to handle it?
As I continue to fight this battle, more than anything else, I want them to look back on my journey and know that through having alopecia, I was able to find strength. I was able to define what mattered in my life. I want my girls to understand that whatever obstacles or challenges life throws at them, not that they can persevere but that they can thrive.
If you're looking for more engaging beauty conversations, listen to our new beauty podcast, Clean Beauty School. Subscribe on iTunes, Google Podcasts, or Spotify.

McKenna Reitz
McKenna Reitz is a teacher, mom, TEDx speaker, and a Challenge Coach who works with men and women to reframe life's challenges into gifts and opportunities so they can pursue their purpose with clarity and confidence. After losing all her hair due to Alopecia, McKenna uses her journey of having this autoimmune disease to help others overcome the loss in their life by resetting the mindset of their "loss" into growth and opportunities in their lives. Teaching AP Psychology and coaching varsity volleyball for the past 16 years, McKenna resides in Toledo, OH with her husband Greg, and two beautiful daughters Karsen (9) and Maddox (5). McKenna has been featured in Global Woman Magazine, Thrive Global, Healthy Women, Medium, Love What Matters, and featured on Good Morning Washington, theList, ABC, CBS, NBC, Ticker News, and Cheddar TV.