What Haircut Should I Choose? These 3 Tips Will Help You Decide
Assistant Beauty & Health Editor
By Hannah Frye
Assistant Beauty & Health Editor
Hannah Frye is the Assistant Beauty Editor at mindbodygreen. She has a B.S. in journalism and a minor in women's, gender, and queer studies from California Polytechnic State University, San Luis Obispo. Hannah has written across lifestyle sections including health, wellness, sustainability, personal development, and more.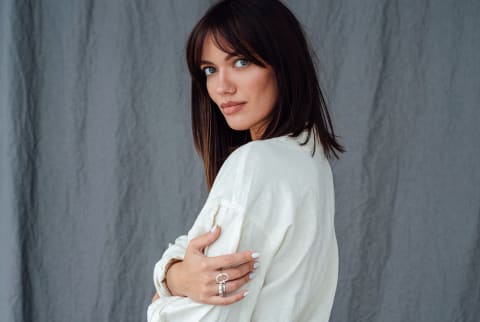 February 9, 2023
We carefully vet all products and services featured on mindbodygreen using our
commerce guidelines.
Our selections are never influenced by the commissions earned from our links.
Every beauty professional has their nonnegotiable steps. In our series, Like a Pro, we tap experts for the top three techniques they absolutely swear by. Here, you'll hear from a variety of industry insiders on the fail-safe tricks they always keep in their back pockets. We're all about simplifying your beauty regimen wherever you can, and sometimes the best routines are as easy as 1, 2, 3.
Oftentimes when you visit the hair salon, you have something in mind—be it a color range, trendy cut, or even a few photos for inspiration. However, you may have run into a different situation in the past: not knowing what you want exactly, just hoping for something better than what you've got right now.
This can be a frustrating feeling (for both you and the hairstylist, we should note). To help spark some inspiration, we asked celebrity stylist Joseph Maine for the 101 on choosing the best haircut that's unique to your strands and preferences—keep reading for his top three tips:
1.
Take your face shape into account.
The first step: Figure out how long you want your hair. If you don't have a preference already, then you may consider looking at your face shape for some inspiration.
"For length, most face shapes suit hair collarbone length or longer," Maine says. "I would encourage those with long face shapes to choose shorter lengths or add face-framing layers or bangs to add width and balance," he adds.
To be more specific, Maine breaks down three popular face shapes:
Round: "Round face shapes look best with mid to longer lengths with minimal layers around the face. If layers are desired, it's best to keep them shoulder length or longer."
Heart: "Heart-shaped faces are great candidates for bangs, whether they be blunt or feathered. This closes in the upper face while framing the lower face well."
Oval: "Oval face shapes also look great with light fringe or face-framing layers."
2.
Determine your favorite facial features.
"All of these 'rules' should be light suggestions, as you should highlight the features that make you feel best," Maine says. Take a look at your face and try to determine whether you want to highlight your eyes, cheekbones, forehead, etc.
"Sometimes a blunt bang puts a lot of focus on the mid-face," Maine says. So someone who doesn't want to draw attention to their nose may steer clear of strong bangs, for example. Wispier bangs that fall just below the brows pull the attention toward the eyes, while longer curtain bangs can accentuate the cheekbones. You get the point.
3.
Assess your potential styling efforts.
Lastly, you'll want to take your styling skills and efforts into consideration. Are you the type of person to rush out of the house with wet hair, or do you prefer to dedicate time to your daily style? This may have more to do with your hair type (straight, wavy, curly, or coily), but it's also up to personal preference.
Also keep in mind that some haircuts require more upkeep at the salon. Bangs are the most notable addition, so opt for bangs or layers that don't require constant attention if you know you prefer to stick with biannual hair appointments.
"The curtain bang can be cut in a way that grows out really nicely and can be created with a very small section in the hairline, giving the haircut some added style when wearing your hair up or down without the maintenance required with a traditional bang," Maine explains.
For those who crave a cut that will grow out seamlessly without frequent salon visits, light layers or a blunt cut are the way to go, Maine says.
One last tip
"I always recommend finding a celebrity who has a similar face shape and hair texture to you and find images to bring to your stylist. They will help guide you on what is realistic and work with you to find something that suits your level of styling," Maine says.
The takeaway. 
If you know you want a hair makeover but don't know what to ask for, start with these three tips: Take your face shape into consideration, highlight your favorite features, and consider your level of commitment to daily styling. Ready to decide the best color for your new look? This quiz will help you out.
Hannah Frye
Assistant Beauty & Health Editor
Hannah Frye is the Assistant Beauty & Health Editor at mindbodygreen. She has a B.S. in journalism and a minor in women's, gender, and queer studies from California Polytechnic State University, San Luis Obispo. Hannah has written across lifestyle sections including skin care, women's health, mental health, sustainability, social media trends, and more. She previously interned for Almost 30, a top-rated health and wellness podcast. In her current role, Hannah reports on the latest beauty trends and innovations, women's health research, brain health news, and plenty more.