paid content
 for

We've Discovered Organic Sunscreen & Will Never Turn Back. Here's Why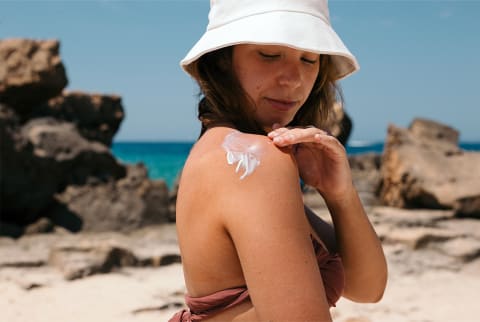 Image by Lucas Ottone / Contributor
May 24, 2022
Nothing says summertime like the perfect sunscreen. Days spent sprawled on the beach, hot hikes in the sunshine, and picnicking in your favorite park are all made more enjoyable with a little SPF. While smearing aloe on fresh sunburn may be what you're used to this season, it shouldn't be a summer staple. Proper sun protection is an important part of looking and feeling your best all season long.
Advertisement
This ad is displayed using third party content and we do not control its accessibility features.
The benefits of sunshine.
Spending time in the sunshine does more than provide the perfect summer glow, it also offers a slew of amazing health benefits for your mind and body. Studies show that spending time in the sun can increase vitamin D levels, improve sleep, decrease symptoms of depression, and strengthen the immune system. Plus, most people in America are highly deficient in vitamin D, which is crucial to our health and well-being. Vitamin D can help prevent disease, regulate mood, and support weight loss—all the more reason to get outside and bask in those summer rays.
Long days of summer sun may feel like just what the doctor ordered, but it's easy to overdo it without proper protection. While sunshine has countless benefits for our health, it's also important that we enjoy it responsibly—which means going all-in on sun protection. Lathering on the sunscreen can help us prevent skin cancer, discoloration, and premature wrinkles. But it's also important to note that not all sunscreens are created equal.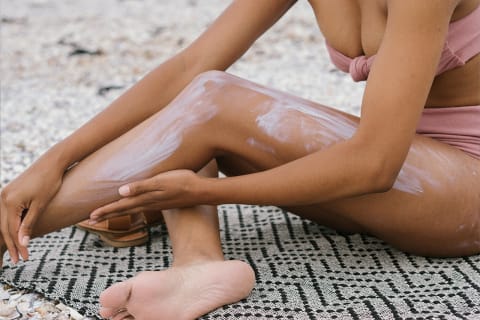 Image by RF._.studio / Pexels
Advertisement
This ad is displayed using third party content and we do not control its accessibility features.
Rethinking your SPF.
Time spent in the sun is supposed to be all fun—but when your sunscreen contains harmful ingredients that are toxic to our bodies and environment, it's time to rethink what products you have in your summer rotation. Many of the ingredients in traditional sunscreens can flood the body with toxins and can damage our reefs and oceans. This summer, be sure to choose an SPF that provides the proper defense with ingredients you can trust, more specifically, organic ingredients. Using personal care products with organic ingredients offers our skin natural nourishment without the toxic residue from pesticides and other harmful chemicals.
COOLA's organic sunscreen is made with plant botanicals and natural ingredients to enhance the health of your skin while protecting it from the sun's rays. COOLA provides your skin the protection it deserves, so that you can focus on what really matters this summer—like reading all the romance novels poolside or packing up the picnic of your dreams. Summer already goes by too quickly—so we've saved you time by compiling the top ingredients you should expect in your go-to sunscreen:
Plant cell actives.
Our skin is our largest organ, and it's important that we use discernment when choosing what products we use on the daily. Choosing to nourish and protect our skin with products that use natural and plant-derived ingredients is a part of a healthy summer lifestyle. COOLA harnesses the power of natural, organic ingredients and uses plant cell actives to support healthy skin while protecting it from excess sun exposure. Their Peach Blossom Classic Organic Sunscreen Spray contains all of their incredible nutrient-rich ingredients with peach blossoms' added natural scent for a refreshing summer spritz.
Antioxidants.
Suncare should also be skin care. Using products that contain antioxidants can significantly improve our skin's overall radiance and texture. Antioxidants help to protect skin from oxidative stress and fight free radicals while reducing fine lines and inflammation, and who doesn't want that in their sunscreen?
COOLA's sun care, like the Classic Face Organic Mist, contains a Plant Protection® complex, a blend of plant-derived ingredients packed with antioxidants for nourishing and hydrating effects. Not only is this mist easy to apply and highly protective with SPF 50, but it also features antioxidant-rich ingredients like Buriti Oil, Green tea Extract, Cocoa Seed Extract, and Prickly Pear extract. With a non-greasy feel that will give you an all-day glow, it'll be the first thing to go in the beach bag.
Organic Flower extracts.
Plant extracts are a powerful way to add new life to sun-exposed skin. Flower extracts are not only great for our skin, but they also smell amazing and can add a soothing and refreshing effect to the products that we use. All of COOLA's products contain safflower oleosomes, a flower extract used to increase the efficacy of their formulas. COOLA's Classic Face Organic Lotion provides everyday protection packed with the healing power of plants for a sheer and lightweight sunscreen perfect for every occasion.
The bottom line.
Your sunscreen should never hold you back from enjoying summertime to the fullest. Choosing an organic SPF can help you have a summer of fun and freedom without worrying about the safety of your skin and the environment. COOLA uses the power of natural ingredients to make skin protection an enjoyable experience for everyone this summer season. Incorporating organic SPF into your skin care routine this summer is a recipe for success to look and feel amazing all season long.
Advertisement
This ad is displayed using third party content and we do not control its accessibility features.

Gabrielle Marchese
Gabrielle Marchese is a writer, yoga instructor, meditation teacher, PSYCH-K facilitator and Ayurvedic wellness educator. She has been a long time contributor for Yoga Journal and writes for Chopra.com, Bennd Yoga, and various other wellness sites. When not writing, you can find Gabrielle in the ocean, road tripping, connecting with nature, creating and exploring her community. For more information on Gabrielle and to explore her offerings visit gabriellemarchese.com