paid content
 for

Wellness Leaders Are Obsessing Over These Workouts. Here's What You Need To Know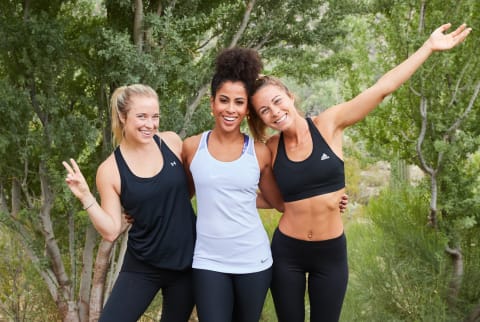 September 29, 2017
What makes a good workout? Ask wellness leaders, and they'll probably tell you that it doesn't come down to one big thing but a combination of tiny factors that come together to create a perfect heart-pumping, soul-satisfying hour of movement.
But here's the thing: Just because you enjoy healthy food, tend to get enough sleep, and have a solid meditation practice doesn't mean you're inspired by the same workouts that your friend is. Which is why we asked three important leaders in the wellness world—Alicia Archer, Sophie Jaffe, and Jordan Younger—what workout they're most inspired by. We caught up with them at the Kohl's workout at mbg's revitalize event: Here's what they had to say.
Alicia Archer's Fave: Circus Arts.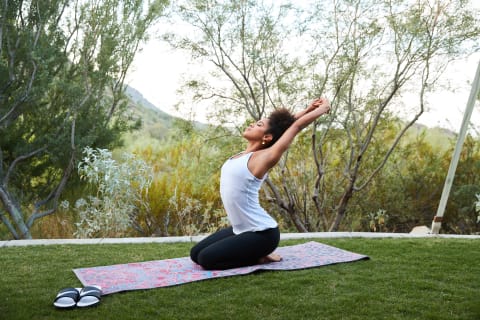 For Alicia Archer, who spends a few hours of her day stretching, circus arts are particularly inspiring. "I love training my contortion and hand balancing, because it encompasses strength and flexibility," she says. "Even with the extreme flexibility, there's a huge amount of control involved. Improving my body's control and articulation is important to me, and building stronger shapes feels incredibly satisfying."
How she makes it happen:
When it comes to actually making these difficult workouts (which require intense concentration) happen, Alicia believes a versatile wardrobe is key. "Having the most popular brands in one place makes for easy shopping," she says. "Kohl's creates a seamless experience in purchasing activewear for a variety of workouts. Teaching body weight workouts doesn't require me to always wear sneakers. It's nice to switch it up with comfortable sandals that are still walk-friendly."
So, what are her top choices of activewear? She says that whether it's summer or winter, Nike's power-training workout tights are her No. 1 choice for exercise. "And no matter what the activity, having a sweat-wicking sports bra ensures comfort during any workout," she says, adding, "Layering can prove helpful when dealing with different climates and studio temperatures. Becoming too hot or cold can be handled with pieces that are easy to put on and take off."
Last but not least, Alicia makes sure to stay hydrated. "Staying hydrated is key, and having a durable bottle that can be refilled throughout the day takes care of that necessity."
Sophie Jaffe's Fave: HIIT Workouts.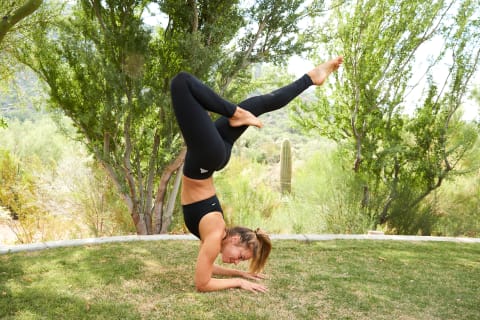 As a mother of two, it isn't exactly easy for Sophie Jaffe, founder of Philosophie, to fit in a workout—which is why she loves jumping rope so much. "My hubby and I have been using a jump rope to squeeze in a workout whenever we have some spare time in between the busyness of our day-to-day lives," she says.
How she makes it happen:
For Sophie, it's all in the gear. "I love getting cute fitness gear from Kohl's and totally think it makes a difference in my workouts," she says. "When you look good you feel good and perform even better. These adidas pants and bra are so cute that I can transition from a yummy yoga flow to a nourishing lunch meeting or walk in our neighborhood with the kiddos."
As for the jump rope, Sophie says it doesn't get much easier than tossing one of those into her bag so she has it on hand whenever she has a spare moment. Preparation is half the battle!
Jordan Younger's Fave: Yoga.
Formerly a huge fan of high-intensity cardio, Jordan Younger started slowing her workouts down and immersing herself in the world of yoga when she found that it was exactly what her body was craving. "These days, my favorite workout is a sweaty vinyasa yoga class because it gets my heart pumping and also gets me deeper into my body and my heart center," she says.
How she makes it happen:
Ever since then, Jordan has been doing everything she can to create the perfect conditions for herself so she can do yoga whenever the mood strikes. "Who doesn't want to be comfy and feel cute when they are working out? I always find that when I don't have as much activewear on hand—like when I have a lot of laundry to do, or I'm on an extended vacation—I am less motivated to get on my mat or go for a run. I love my activewear from Kohl's because it couldn't be comfier, and I love how I can mix and match all of the items!" We love how she paired these Under Armour sneakers with this ombre sports bra for a chic active look.
And as a lover of yoga, there's almost nothing Jordan loves more than her mat. "This Gaiam mat is one of my faves because I love the print on it, and it's perfect for practicing at home or keeping in my car when I want to pop into a studio."
Alicia, Sophie, and Jordan each got a chance to share their favorite type of workout during the 3-in-1 fitness class (livestreamed here!) that they co-led at mbg's 2017 revitalize event. Jordan started things off with a juicy yoga flow, Sophie got everyone's heart rate up with a pumped-up HIIT workout, and Alicia cooled the class off with some serious stretching and flexibility action.
Decked out in head-to-toe activewear from Kohl's, each woman felt (and looked!) her best. The guests even sweated their way through the class on Gaiam mats from Kohl's, proving that the brand's massive selection of active and wellness gear truly helps you live your healthiest life and reach your fitness and wellness goals. Shop their full selection of clothing and accessories from top activewear brands like Nike, adidas, and Under Armour here.