Close Banner
Advertisement
This ad is displayed using third party content and we do not control its accessibility features.
paid content
 for

From A Cardio Nut To Low-Intensity Exerciser: How Slowing Down Changed My Body & My Life
By Jordan Younger
mbg Contributor
Jordan Younger is an LA-based blogger behind the wellness and lifestyle blog The Balanced Blonde.
It all started with a yoga retreat in Cabo I went on last May. It was a very transitional time in my life—think recent breakup, post-L. A. Marathon, severely overworked. You know the drill. On the retreat, I did yoga twice a day for the first time since the last yoga retreat I had been on, which was basically a year and a half before that.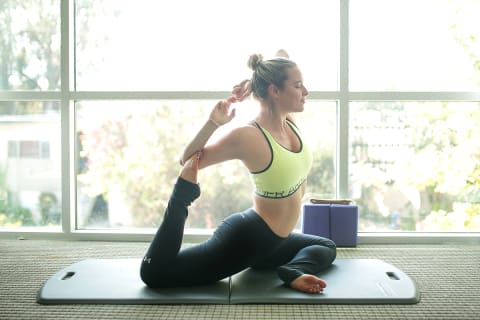 My lightning-bolt moment.
While I was there it hit me hard that I needed to do my 300-hour yoga teacher training. I had wanted to do the training since 2012, when I completed my 200-hour teacher training with YogaWorks. I knew that I wanted and needed more training in order to feel like a really comfortable, prepared, well-rounded yoga teacher.
On the retreat, I was away from my everyday life and all of the excess and stress, so I was able to tune in, journal, and meditate, all while listening deeply to what my internal being had to say. Basically, my internal, spiritual being was saying, "Slow down! You need to switch things up!" and my rational, everyday self said, "Yes, you're right. You're overworking yourself in every area of life. It's time for a change." I knew it was time to get a new start.
From there, my deepest self and my everyday self worked together to help me slow down my life and commit to something that was purely for me and not for work, or for anyone else. I finally found the courage and motivation to start something new: to commit to that teacher training that I'd put on the back burner for nearly four years.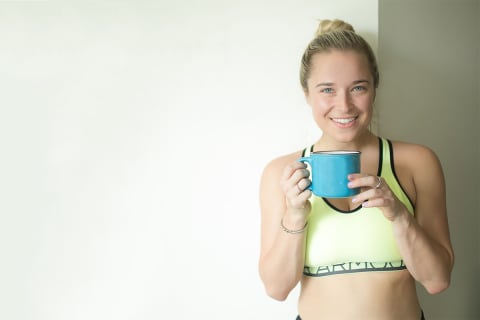 Admitting to myself that it was time for a change.
On the yoga retreat, I was also running like a nut every day in Cabo. Three miles one direction, three miles back, and doing two yoga classes a day. No wonder my cortisol was spiked and off the charts! Around this time, I had just finished a full marathon and was training for a half. I took HIIT classes way too many days per week, and although I still love running and HIIT once or twice a week, I don't push myself too hard and favor body weight exercises to supplement my yoga practice over ultra-intense boot camp classes.
Now that my training is over and I'm teaching yoga at studios around Los Angeles (my dream come true, after all this hard work!) I am starting to find a balance again. It was scary to make a change, but it couldn't feel more "right." Now, I like to combine yoga with body weight exercises such as bear crawls, planks, and squats to increase my strength and endurance while controlling the pace and intensity.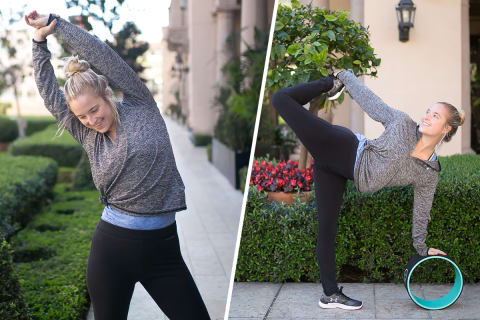 How a low-intensity lifestyle has changed my body.
The low-intensity lifestyle has worked wonders for my skin, hormone levels, and even my weight. If you can believe it, I lost about 10 pounds when I toned down my exercise…if that tells you anything about the "stress weight" I was hanging onto.
Now that I'm getting back into body weight exercises and running, it's fun to experiment and play around with different moves. I decided to take on the Kohl's Bear Crawl Challenge because it's an amazing core workout and really supplements my daily yoga routine. I'm working on my inversions in yoga, so any core strengthener is way up my alley right now! It's amazing that you can work your body so hard without having to use any equipment at all when doing a Bear Crawl. Simplicity is key for me these days.
I've also loved being a Kohl's wellness ambassador and having the opportunity to try out all their amazing activewear items. I am a huge Under Armour fan and have been for years, so finding out that Kohl's now carries Under Armour, and being able to sport my favorite Under Armour looks from Kohl's, is kind of a dream come true!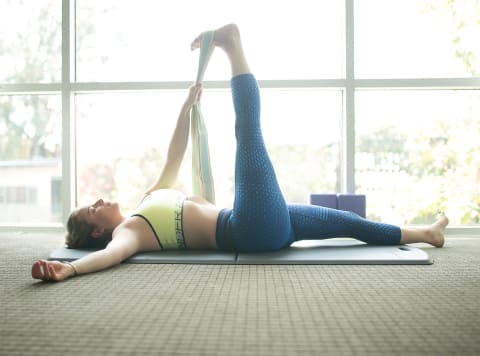 Tune into what your body is telling you.
Overall, I'm a big proponent of people finding what works for them, and allowing yourself to change and evolve over time. Right now, I'm all about that yoga life (because that's what my body wants), but maybe one day I'll run a marathon again! I encourage you to #GetYourStart as well, and find new ways to move your body that don't put so much physical and mental stress on you…I promise it's worth it!
If you're a natural over-exerciser or have an inkling that you might push yourself too hard, it's always good to listen to your body and tone it down a bit. Working too hard and too often depletes our muscles and kills our hormone balance. Trust me, a few times a week is great (I love a good sweat-pour session when I really need it) but for the most part, low-intensity gets the job done and is far more sustainable as far as everyday workouts go.
More On This Topic
more Movement
Advertisement
This ad is displayed using third party content and we do not control its accessibility features.
Advertisement
This ad is displayed using third party content and we do not control its accessibility features.