This Alaska City Is An Outdoorsy Dream: Hotels, Hikes, Packing Recs & More

mbg Sustainability + Health Director
By Emma Loewe
mbg Sustainability + Health Director
Emma Loewe is the Senior Sustainability Editor at mindbodygreen and the author of "Return to Nature: The New Science of How Natural Landscapes Restore Us."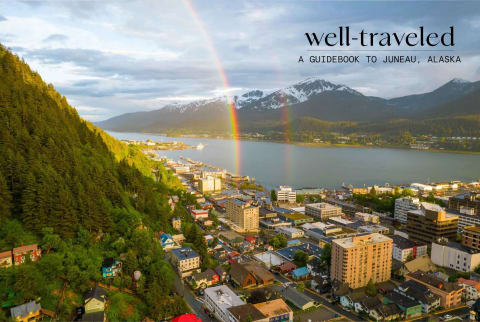 September 13, 2023
We carefully vet all products and services featured on mindbodygreen using our
commerce guidelines.
Our selections are never influenced by the commissions earned from our links.
Travel can restore your well-being. We're here to help you on that journey with
Well-Traveled
, a go-to destination for travel recommendations and tips.
About 45 miles outside of Juneau, Alaska, all roads end. Literally. Juneau is the one U.S. state capital that can only be accessed by plane or boat, making it a uniquely tight-knit and self-reliant place.
It's clear the moment you land in Juneau that the people here are close—partially because there are so few of them (31,685 as of the last census) and partially because they don't have access to the same goods and services we do in the Lower 48. Luckily, the area's pristine forests, mountains, and channels provide locals with all the natural abundance they could need. Eavesdrop on conversations here, and you're sure to hear tales of picking sweet berries, catching fish the size of one's torso, and hunting enough caribou to last the cold winters.
The varied nature surrounding the city makes it any hiker's, fisher's, or adventurer's dream, but Juneau also has plenty to entertain those who would rather stay indoors and enjoy the view. While it does have ski access during winter, the city is best visited in the summer—when the sun shines on whale-watching tours, glacial hikes, and beach picnics for up to 18 hours a day.
While it may not be your typical wellness destination, Juneau is a treat for the eyes, the taste buds, and the soul. Once your plane touches down or your barge pulls up, here are some ways to explore all it has to offer.
The Jorgenson House
Built in 1915, the Jorgenson is a historic bed-and-breakfast filled with photographs that tell the rich history of Alaska. But it also has all the modern amenities a weary traveler could want: luxurious beds, blackout shades to shield the everlasting summer sun, and hot showers to soak in after a long day exploring.
You may come here for the cozy rooms, but you'll stay for the food. When I visited the Jorgenson on a recent trip to learn about the Alaska seafood industry, Chef Amara Enciso made three-course breakfasts worth writing home about. Think avocado lox toast with perfectly poached eggs, mouthwatering fruit pastries, and flavorful homemade granola. If you're as wowed by the eats as I was, you'll want to book a private cooking class with Chef to get your hands on delicacies like fresh rhubarb pulled from just up the street and oysters caught in the bay that day.
The Jorgenson is well situated between downtown Juneau and nearby scenic trails. Once you're done exploring for the day, return to sit in its quaint garden and see if you can keep your eyes open late enough to catch a summer sunset.
Price point: $$$$
Area: 5-minute walk to downtown Juneau
Amenities: Complimentary breakfast, garden and greenhouse
Book now: http://www.jorgensonhouse.com/
Four Points by Sheraton
For a more affordable option that's even closer to downtown, Four Points features sizable rooms with unobstructed views of the Gastineau Channel and neighboring Douglas Island. It also has a 24-hour fitness center and bar and grill if you don't feel like venturing out for a workout or a bite to eat.
Price point: $$
Area: Downtown Juneau
Amenities: Sports Bar and Grill, 24-hour fitness center

Seasoned fishers and newbies alike will want to check out the fishing charters available just a short drive from downtown Juneau.
Even though I'm a city girl with zero experience fishing, I really enjoyed the half-day charter with 49th Fathom Charters on the Lynn Canal, the longest and deepest in North America. My guides were very helpful in showing me the ropes, walking me through the process, and helping to filet the halibut I caught (yes, I caught a fish!) so I could enjoy it at home. It didn't hurt that we were surrounded by stunning mountains and glaciers throughout the voyage. I could have, however, done with another layer of clothes or two. Even if you head to Juneau during summer like I did, I strongly advise packing more warm clothes than you think you'll need.
Another thing to note is that Alaska is very strict on fishing quotas, and you'll need to get a permit in order to fish recreationally. This hearkens back to the state's commitment to sustainable fisheries: Alaskans take great pride in ensuring that their stocks of salmon, sablefish, king crab, and more are healthy.
2.
Head out on a whale watching voyage
Not looking to take home dinner? Whale-watching tours offer a more relaxing way to enjoy Alaska's picturesque waters and sea life. I loved hopping aboard Alaska Tales tours, which bring you right up alongside humpback whales that frequent the area. Knowledgeable tour guides are able to identify each whale by its tale and tell you a bit about its back story. If you spot a whale that is new to the area, you even get to name it! And on the off chance you don't see any whales on your trip, they'll refund you.
As you trail these stunning creatures, you'll probably spot some other incredible wildlife too—including Steller sea lions, bald eagles, and plenty of bears.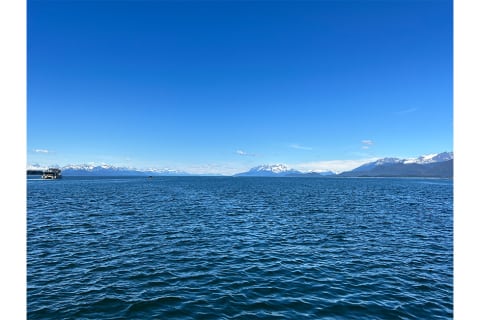 Image by mbg Creative / Emma Loewe
3.
Hike Perseverance trail
A short five-minute drive from downtown Juneau, Perseverance Trail is a scenic ~5-mile out-and-back route with awe-inspiring views of Mount Juneau and Gold Creek below. The trail is very well-kept and not too steep, so it's approachable to beginner hikers or trail runners. It can get a bit busy later in the day, so I'd suggest visiting in the morning. Even though I was only in Juneau for a long weekend, I hiked it no less than three times—it was the best way I could imagine starting each day.
While Juneau's natural splendor is hard to beat, its downtown is special in its own right. Some must-visits include the Sea Alaska Heritage Store for jewelry, art, and provisions made by Alaska Native artists; Taku Fisheries processor for boat-fresh fish and seafood products to bring (or ship) home; and The Rookery Cafe for a quick pick-me-up. Wellness-conscious travelers can pop into Alaska Probiotics for teas infused with the flavors of the surrounding landscape. And if you're in the market for a different kind of fermented brew, the Amalga Distillery down the street sells locally made gin in a historic converted building.

Taku Glacier Lodge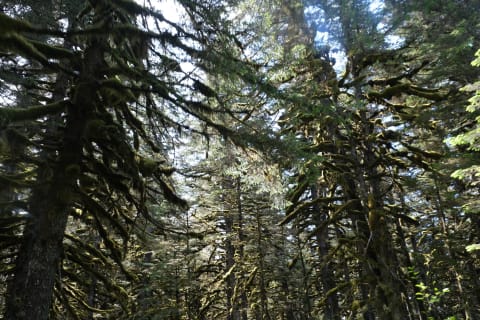 In Juneau, it's not uncommon to eat at least three servings of seafood in one day. And you should definitely make the salmon lunch at Taku Glacier Lodge one of them.
Taku Lodge is a century-old outpost with a fascinating history (which you'll learn all about over your meal). Lunch is only served for a handful of guests a day, so it's on the pricey side. However, Taku isn't so much a meal as it is an experience: To get to the remote lodge, you'll need to take a 15-minute seaplane ride from downtown Juneau. Along the way to lunch, you'll weave through the ice-capped mountains and fly above glacial moraines. What other meal starts with that appetizer?
Upon landing, you'll have some time to explore the surrounding woods and wildflower trails before your lunch. After feasting on grilled salmon, biscuits, beans, and other barbecue fixins, you can spend some time soaking up the nearby glaciers (potentially spotting a curious bear, too) before hitching your ride back to town. As someone who doesn't love heights, I was nervous about the seaplane, but the views made it well worth it. It's an experience I'd highly recommend—even to my fellow airplane-phobes.
Price point: $$$$
Area: 15-minute seaplane from Juneau
Dietary consideration options: Pescatarian-friendly
Setting: Rustic lodge
Menu & info: https://wingsairways.com/
Deckhand Dave's
Deckhand Dave's is a food truck located in an open-air market in downtown Juneau turning the day's freshest catch into delicious tacos. You'll find blackened rockfish, beer-battered halibut, and breaded salmon tacos on the menu, along with a rotating array of specials based on what's in season (if the shrimp and corn tacos are in the rotation, you must get them). If you want to make an afternoon of it, you can always stay for briny oysters and crisp Champagne.
Price point: $
Area: Downtown Juneau
Dietary consideration options: Pescatarian-friendly
Setting: Outdoor food market (note: only open during the warmer months)
Menu & info: http://www.deckhanddaves.com/
In Bocca Al Lupo
The dining scene in downtown Juneau is somewhat limited, but In Bocca Al Lupo is as tasty as any Italian spot you'd find in a more bustling city. The name translates to "into the wolf's mouth"—a phrase for good luck in Italian—and epitomizes the spirit of the place: It's a little funky and whimsical but comforting all the same.
Its menu rotates based on what the Alaska wilderness has in season. When I visited, the marinated spot prawns, fresh scallop pasta, and anchovy-laden Caesar dressing were highlights. The chef, Beau Schooler, is a James Beard nominee who was named "Best Seafood Chef" at the Great American Seafood Cook-Off a few years back, so you can bet that all the seafood is wonderful. This place is beloved by both locals and visitors, so make a reservation.
Price point: $$$
Area: Downtown Juneau
Dietary consideration options: Vegetarian-friendly
Setting: Cozy and casual
Menu & info: http://www.inboccaallupoak.com/

Juneau weather is, shall we say, indecisive. In the four days that I visited in early summer, the weather ranged from 75 and sunny to 50 and rainy. Whenever you visit during the year, you can probably expect at least some rain and fog. (Juneau is technically a temperate rain forest, after all.) This makes packing a bit of a challenge, but your best bet is to stock up plenty of waterproof layers, sportswear and outdoor apparel, and cozy socks and walking shoes.
Advertisement
This ad is displayed using third party content and we do not control its accessibility features.
Advertisement
This ad is displayed using third party content and we do not control its accessibility features.
Juneau is a tight-knit community of friendly people, stunning scenery, and plenty of opportunities for outdoor adventure. I'm already dreaming up my return voyage. See you there?
Meet The Experts
Emma Loewe
is the Senior Sustainability Editor at mindbodygreen and the author of "Return to Nature: The New Science of How Natural Landscapes Restore Us."